"A dynamic drive for a youthful driver seeking a more engaging driving experience."
Toyota revitalises its RAV4 range with plenty of smart updates for the well established compact SUV in 2016.
Having debuted at the 2015 New York Auto Show earlier in 2015, the 2016 edition RAV4 sparks the attention of eco-minded drivers, with a hybrid model amongst its latest range.
Considering it's been over 15 years since Toyota championed hybrid technology with the Prius, some may argue a hybrid RAV4 is long overdue.
With a new and improved face-lift to go with the innovated engines and swankier interiors, can this organically evolved Japanese heavyweight hold its own with the latest hi-tech crossover newbies?
Exterior
The 2016 RAV4 has an all new front face with a thin upper grille to contrast with a the large, lower air vents.
Along with thinner styled LED headlights, the overall tone of the vehicle bears a much more aggressive tone than its predecessor.
From the side view, it is evident the RAV4 has been raised from the front to give the driver a much needed higher seating view.
Toyota states: "The 2016 RAV4 line ushers in refreshed exterior styling that lends the vehicle a sleeker, more dynamic stance.
"The new rocker panels sharpen the sides and tie in restyled front and rear bumpers for a more flowing profile."
Three new colours are also introduced – Silver Sky Metallic, Black Currant Metallic and Electric Storm Blue.
Interior
Toyota has obviously been listening to its market research, because it has finally decided to add premium materials to the interior.
Gone is the cheap lacklustre plastic, being replaced instead with an elegant looking 'gun metal' trim.
The premium feel extends to the seats also, with finer SofTex fabrics used in a number of colours like cinnamon and nutmeg (tan and beige to the rest of us), with a soft brush padded armrest.
Higher spec models like the RAV4 SE will come with six speed paddle shift gears as standard.
On the technology side, Toyota states: "The intuitive, high resolution Toyota Touch 2 multimedia system provides a range of useful features on it 7 inch touch screen.
"This includes full-map navigation, hands-free calls via Bluetooth, MP3 connectivity and a rear view camera."
Whilst all models come with some form on satellite navigation, the SE and higher models will come with voice controlled system, where a mobile phone navigation app can be transmitted directly onto the in-car screen.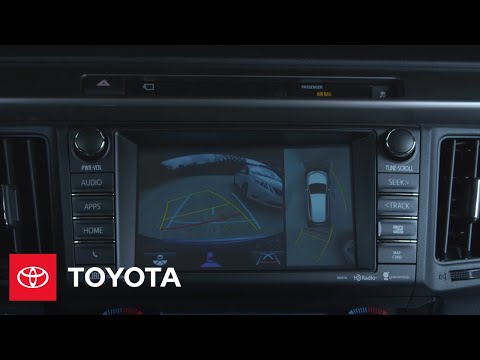 Better than this is Toyota's Panoramic Bird's Eye View Monitor, which uses new technology to give the driver a 360 degrees view around the RAV4 on the internal screen whilst parking.
Performance
For an SUV, previous RAV4 models weren't applauded for their off-road capabilities, and Toyota looks to have also addressed this issue with more powerful engines, combined with all-wheel-drive models.
A towing capacity of 1,650kg will give no problems to getting that caravan down to Devon for that getaway break.
Bill Fay, Group Vice president of Toyota Division says: "Mark my words, the RAV4 Hybrid will have segment leading fuel economy by far.
"The SE offers a more dynamic drive for a youthful driver seeking a more engaging driving experience."
The standard diesel and petrol models aside, the dual-motor petrol hybrid all-wheel-drive model will use a 2.5-litre engine with electric motors on either side.
Toyota goes on to mention: "The RAV4's Hybrid system excels at taking the stress out of daily life; the commanding driving position and refined Hybrid power ensures the cabin is a haven of calm.
"In contrast, the RAV4's Hybrid system gives you a hit of instant power, whenever required, to find the space you need on the road."
Economy figures are yet to be released, however are likely to be similar to that of its sibling, the Lexus NX300h which gives just over 54mpg.
Eco mode and Sport mode will offer different driving experiences and performance figures to suit.
The Toyota RAV4 is priced at £23,695 and available to drive from December 2015, with the hybrid version to cost around £26,195 and available in January 2016.