"I'm telling you, each script I give you, it will happen, happen and happen."
Al Jazeera investigations present a fresh documentary titled: Cricket's Match Fixers: The Munawar Files.
The news channel based in Doha, Qatar, exposes new evidence of extensive fixing involving top international cricket stars.
It involves more than a dozen fixes across fifteen international cricket matches.
Al Jazeera's Investigative Unit has acquired recordings of phone calls made by a dishonourable match fixer linking back to a bookmaker set up in India.
Match-fixer Aneel Munawar from Mumbai allegedly makes calls to late Dinesh Kalgi, a betting king who was deeply rooted with organised crime. He passed away in 2014.
In undercover recorded meetings, Munawar can be heard saying:
"I'm telling you, each script I give you, it will happen, happen and happen."
Aneel featured in a secret investigation conducted by Al Jazeera early in May 2018.
During these meetings he provided more details into spot fixers of Test cricket, These were allegedly related to cricketers from England, Australia and Pakistan.
Through fresh recordings in the possession of Al Jazeera, Munawar who spends most of his time in Dubai points to twenty-six fixers from 2010-2012.
In the film Cricket's Match Fixers: Munawar Files, Aneel reveals that six Test matches, Six One Day Internationals (ODIs) and 3 World T20 games had allegedly been corrupt.
In a secretly recorded conversation, Munawwar says:
"There will be a session fix in England's batting. The batting market will open at 46-48.
The recordings suggest that around 2-3 players are connected with each fix. The evidence indicates that a few England players were allegedly involved in spot-fixing seven matches.
Australian cricketers were allegedly carrying out spot fixes in five matches. Players from Pakistan were allegedly involved in the spot-fixing of three matches.
Cricketers from other teams allegedly carried out spot-fixing in one match.
Fixes of international games allegedly took place around the world.
This includes England against India at Lord's Cricket Ground in London (Test match: July 21-25, 2011), Australia versus South Africa at Newlands Cricket Ground in Cape Town (Test match: November 09-11, 2011) and a number of games between England and Pakistan in the United Arab Emirates (Including Test Match: January 17-19, 2012).
In some instances, a match was delivered a fix by the two teams competing. Referring to a specific game, where players from both teams were fixing for him. Aneel said:
"Today the fix will be with both sides. The betting market will open at 64-66. It will be a low score."
Cricket Author, Ed Hawkins believes these new revelations will shock England and Australia, along with the cricket fraternity around the world.
"Traditionally, historically, England and Australia are not supposed to be fixing matches. That will stun the cricketing world."
An alleged call made by Munawar to a supposed English cricketer is also part of the recordings shown in the new video.
While discussing spot-fixing, Aneel can be heard saying that he is transferring an amount into the cricketers' account.
"Congratulations for the Ashes. Last payment is ready for going in the account. You will be credited in a week."
Following an examination of the recording, a forensic speech scientist in his conclusion says that the material had not been doctored.
The alleged cricketer believed to be communicating with Munawar dismissed that the two spoke. He also indicated that the recording was a concoction.
Spot-fixing only affects part of a match and does not necessarily determine the overall outcome of the game.
Most of the spot fixers associated with Aneel are sessional according to the Munawar Files. This is when cricketers intentionally underachieve in a session or during a brief period of overs (6,8,10).
With the seriousness of the accusations, Al Jazeera has not yet revealed the fixed sessions because that will pinpoint the batsmen alleged of fixing.
Multiple spot fixers are apparently involved in many of the cricket matches.
Cricket Correspondent, Scyld Berry talking of accountability mentions in the documentary:
"What is going on. How on earth do we account for these eventualities all panning out exactly as forecasted."
The Australia cricket board describe the fresh claims as "contemplatable."
The England and Wales Cricket Board rejecting the claims said the "information we have been given by Al Jazeera is poorly prepared and lacks clarity and corroboration."
Meanwhile, the International Cricket Council (ICC) has said it will take the allegations very seriously and investigate fully.
However, David Harrison of Al Jazeera who conducted the investigation feels that the ICC is not necessarily the best choice to probe these revelations further:
"As one of the experts in our new films says 'the cricket world is in denial about match-fixing, particularly where it affects the upper reaches of the game,' Test matches in particular."
"The evidence we have in this film is overwhelming that there is indeed match-fixing, particularly spot-fixing, fixing a small part of the match, rather than the overall result.
"The captured recordings we have this time around involve all the top teams and suggest that these are very well known players who are involved in spot-fixing.
"We and many other people have serious concerns about the ICC'S ability to govern the game."
"The ICC anti-corruption unit is a small part of a vast organisation that exists to promote cricket and make money from it. And they make billions from television rights.
"Clearly there is a potential conflict of interest there between an organisation that sets out to promote and make money and a small part of that organisation which purports to tackle corruption."
The ICC had come to know about Aneel 8 years ago. But had only issued a global appeal to locate him, after Al Jazeera had advised them that they were planning a documentary.
Out of the 26 claims made by Munawar, 25 have proven to be correct.
An unnamed firm in the UK analysing sports betting said the likelihood of Aneel correctly forecasting 25 of the 26 results without fixing them were "9.2 million to none."
In conversation, Munawar uses a similar style and language that he employed during Al Jazeera's hidden investigation in 2016 and 2017. At that time his predictions about alleged fixes in two Test matches in India were also accurate.
5 Facts on Cricket's Match Fixers: The Munawar Files
Aneel lives and travels between the two cities of Mumbai and Dubai.
Munawar has international links in India, Pakistan, Bangladesh, UAE, South Africa, Australia and the UK.
Match fixer Aneel gives advance information of spot-fixing to wealthy clients during domestic and global cricket games.
Munawar is known for targeting and fixing Test Matches, ODIs, T20s, including world and league events.
Aneel has underworld connections, particularly with match fixing and betting syndicates run by the D-Company.
A dossier produced by Al Jazeera also includes images of Aneel and his affiliates hanging close and "purportedly" talking to, international cricket stars during the 2012 World T20 held in Sri Lanka.
However, there is no evidence whatsoever that these cricketers were involved in match-fixing of any sort.
One photograph shows Indian captain and ace batsman Virat Kohli near to Munawar.
In another picture, Pakistan's Umar Akmal seems to be looking into a bag allegedly handed over by an associate of Aneel. Though the images do not necessarily imply that Umar took the bag with him.
Former Australian cricketer Andy Bichel and experienced Indian cricketers Suresh Raina, Rohit Sharma and Laxmipathy Balaji also appear in the photographs.
As aforementioned all these players in the photographs are innocent.
But people will raise questions after seeing these images.
This is because the ICC claim that "spotters" are present at international events for the protection of players from potential match fixers.
In the new documentary, a man who was employed by Munawar confirmed his identity and role in match-fixing. He also took his calls about the fixes and recorded them.
Days after the initial Al Jazeera documentary went on air, Pradeep Sharma, a senior Indian detective further confirmed Aneel's role, following the arrest of Sonu Jalan, an alleged criminal.
Fighting organised crime in a Mumbai area, Sharma said Jalan had confessed to officers about knowing Munawar.
Speaking about this, Senior Inspector Pradeep Sharma said:
"He had met him in Dubai. He informed us that he is connected to the D-Company."
D-Company is a strong South Asian mafia group that is allegedly operating from Pakistan, India and Dubai. It is believed that they are one of the major orchestrators of match-fixing.
You can watch Cricket's Match Fixers: The Munawar Files here: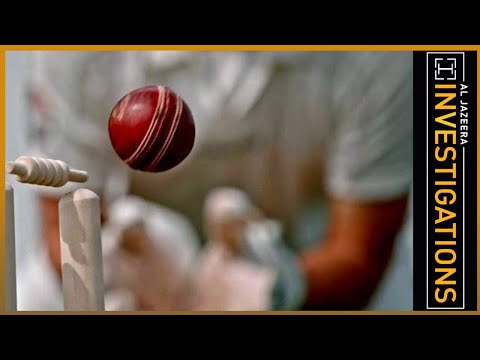 Lawyers representing the England and Australian teams have dismissed Al Jazeera's evidence. There has been no official comment from the ICC about Munawar.
A spokesperson from the Pakistan Cricket Board (PCB) has also denied the allegations expressing:
"The PCB stands firm on its zero-tolerance policy."
Despite many of the international teams and players dismissing these claims as "unsubstantiated," Al Jazeera plans to hand over the raw material to the concerned police authorities.
Match-fixing and spot-fixing have tarnished the image of cricket, a sport which was once known as the 'gentleman's game.'
Many believe enough is enough as these fresh claims put cricket and the ICC in a very awkward position.
Top cricket stars allegedly involved in fixing could be investigated and banned for life if found guilty.