"My songs, are the wounded birds and their painful moans are my poetry."
Shiv Kumar Batalvi was a Punjabi poet made famous for his romantic, passionate and sad Punjabi poems.
He was born on 23rd July 1936 in a small village Bara Pind Lohtian, Shakargarh, Sialkot, now in Pakistan.
His father was a tehsildar in the Revenue Department in India.
During the partition of India and Pakistan in 1947, his family moved to Batala, District Gurdaspur, Punjab, India, when he was 11 years old. Where he went on to got his elementary education.
As a student in school, he was a daydreamer and light-hearted child. He used to bunk his classes and spent time instead sitting by the riverside or under a tree lost in deep thoughts.
The rural surroundings in which he spent his childhood have been featured as the reference objects in his poetry. For example, snake charmers, characters of Hindu Epics, Ramayana, wandering singers, etc.
The young Batalvi fell in love with a beautiful Punjabi girl who was the daughter of a famous Punjabi writer, Gurbaksh Singh Preetladi.
This was his first love whom he loved more than his life.
But unfortunately the two had different castes and the girl was eventually married to a UK citizen. Thereafter, the young Batalvi resorted to alcohol to console himself for his lost love.
Day by day his addiction to alcohol increased and so did his love to write poetry in her name.
In agony, he wrote a poem, 'Ajj Din Chadeya Tere Rang Varga', which has been sung by an eminent Punjabi singer Hans Raj Hans in an album dedicated to Shiv.
Aaj din chadheya tere raang varga
Tere chumman pichchli sanng varga
Hai kirna de vich nasha jiha
Kise chimbe saapp de danng varga..aaj din
Today is the day which has risen like your colour
Just like the way you blush when I kiss you
The rays of sun also look toxic
Just like the bite of a poisonous snake.
Shiv Kumar Batalvi could not get his first love and the intense feelings of this separation are reflected through the verses in his poems. Finally, under family pressure, in 1967, he married Aruna, a Brahmin girl.
It is said that he agreed only because Aruna had a small resemblance to his first love.
Shiv Kumar Batalvi continued writing poems and slowly his fame grew in small gatherings or mehfils. He released his first book called Peerhan da Pragga in 1960. It was a huge success.
Slowly when the readers started to ask for more, he released a series of renowned books including, Lajwanti, Aate diyan Chiriyaan, Birha tu Sultan, Dardmandaan diyan Aahaan, Mainu Vida karo, and his masterpiece Loona.
Loona fetched him much fame and glory and he was finally conferred with the Sahitya Akademi Award in 1967. He was the youngest conferee of the Sahitya Akademy Award.
Kuldip Dhiman says:
"Shiv used to recite his poems in tarannum, and those who have been fortunate enough to have heard him say that although many great professional singers have rendered Shiv Batalvi's songs, none of them bettered the poet's own style of recitation."
Mohan Bhandari, an eminent writer and one of Shiv Batalvi's closest friends believes:
"A lyrical poet, Shiv Kumar Batalvi has no equal in Punjabi literature."
"There was something extraordinary about his diction, his metaphors, his imagery, that he could paint a verbal picture of whatever he was writing about — a picture so vivid and real that people have his poems on their lips; no other poet can boast of such popularity."
Many notable singers have sung verses of Shiv Kumar Batalvi in the past. Including singers Deedar Singh Pardesi, Jagjit Singh ('Maye Ni Main Ik Shikra Yaar Banaya'), Kuldip Deepak ('Nee Jinde Kal Main Nahin'), K Deep and Jagmohan Kaur (Shiv Kumar Batalvi De Geet), Asa Singh Mastana ('Mainu Tera Shabab Lai Baitha'), Surinder Kaur ('Hai Oye Mere Dadhia Rabba'), Mahendra Kapoor ('Asaan te Joban Rut Te Marna'), Nusrat Fateh Ali Khan ('Maye Ni Maye'), Mohammed Rafi ('Jach Mainu Aa Gaye') and many more.
A Punjabi play namely, Dardaan Da Darya was performed at 'Punjab Kala Bhavan', Chandigarh in 2004 which depicted the life of Shiv Kumar Batalvi.
Describing himself and his poetry Shiv said:
"These, my songs, are the wounded birds and their painful moans are my poetry."
Three years before his demise, Shiv Kumar Batalvi came to England and did an interview with Mahindra Kaul for the BBC programme Nai Zindagi Naya Jeevan.
Here is the video of that rare interview: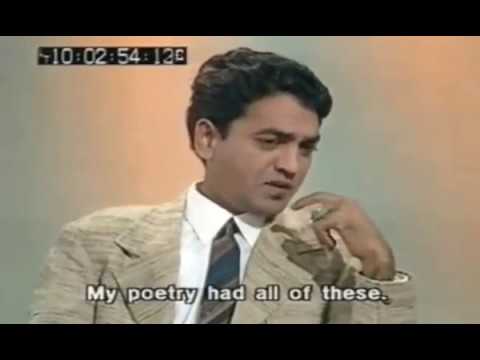 Amrita Pritam, a renowned Punjabi novelist and poet, said in praise of the legend:
"Shiv Kumar Batalvi is the only modern Punjabi poet who sung like a phoenix and his own fire eventually consumed him."
Through his writings, Shiv often said that he was going to die soon. Excessive alcohol consumption took him away from the world in 1973 at a young age of 36 due to liver cirrhosis:
"Asaan taan joban rutey marna . . . . Kabraan udeekadiyan."
It was indeed sad to lose a precious gem of Punjabi poetry. His poems will be treasured in the history of Punjabi art and culture for many generations to come.