"The idea was to do a track that was solely dedicated to my father."
Tulsi Kumar is a leading Bollywood playback singer who has lent her harmonious voice in many films.
The Delhi born Tulsi has sung in over 65 Bollywood movies and has garnered countless awards for her melodious voice.
Since her collaboration with Himesh Reshammiya in Chup Chup Ke (2006), Kumar has reigned over the Bollywood music industry.
Her versatility as a singer is quite evident through her track record.
From emotional hits like 'Akele Tanha' from Darling (2007) to upbeat songs such as 'Nachange Saari Raat' in Junooniyat (2016), Kumar has mastered all.
Other popular tracks of Tulsi include: 'Love Mera Hit' (Billu, 2009), 'Dil Ke Paas' (Wajah Tum Ho, 2016) 'Gulabi 2.0' (Noor, 2017) and 'Mere Rashke Qamar' (Baadshaho, 2017).
Over a decade, Kumar has worked with many music artists and composers including Anu Malik, Arjit Singh, Pritam, Sajid-Wajid, Shaan and Ustad Rahat Fateh Ali Khan.
During her 2018 UK tour featuring Punjabi singer-songwriter, Guru Randhawa, DESIblitz met the gracing star for an exclusive conversation about her career, personal life and father's legacy:
Singing Career
As the daughter of T-Series music label founder, Gulshan Kumar (late), she was an avid music enthusiast from a young age.
With her family encouraging her relish for singing, she began musical training from the age of six or seven.
Speaking about her enthusiasm for singing and musical training, Tulsi exclusively told DESIblitz:
"I was extremely bent towards music and my parents saw that. Whenever a song would play I would start humming.
"I was going to Suresh Wadkar Ji's academy where I started my light classical training and that's how my journey began."
After dominating Bollywood's playback scene, she has also transcended borders, singing with artists from neighbouring Pakistan.
She mentions an earlier track she dubbed, 'Tum Jo Aye Ho Zindagi Mein' from the film Once Upon A Time in Mumbai (2010) was a duet with veteran Pakistani singer Rahat Fateh Ali Khan.
"I dubbed the track for the music director Pritam and I dubbed my part.
"I didn't know who was doing the main vocals. When I heard it I realised it was Rahat Fateh Ali Khan Saab and that was a huge thing for me.
"This song has been a turning point in my career."
Most recently she sang 'Paaniyon Sa' from the film Satyamev Jayate (2018) with Pakistani heartthrob, Atif Aslam.
Kumar explains that she had no qualms in singing with Pakistani artists. She astutely points out:
"Music knows no boundaries. That is something that is universal. Everybody loves songs and music. It's something for the good of the music industry."
After achieving global success, she also shares her intentions of singing in English for her UK and Western fans:
"I'd definitely like to try an English track whenever I get the opportunity."
Personal Life and 'Mere Papa'
Since her debut in 2006, much has changed for Tulsi both career-wise and on a personal front.
Initially, she set her career off with multiple duets with Himesh Reshammiya. After that, she has seen growth personally and professionally.
"I got to work with a lot of music directors and have gained a lot of musical experiences. Personally, life has changed too. I got married and I have a baby now."
Since adopting her new role as a wife and a mother, she tells us that her son's future choices and career plans are for him to decide:
"I will leave it entirely up to him. The way my parents left it up to me. I think that decision should be left to the child."
Her father, Gulshan Kumar, was one of the most prominent figures in the Bollywood music industry.
He met his untimely death in 1997, after being tragically murdered by the Mumbai underworld syndicate D-Company.
Kumar's emotional 2016 hit, 'Mere Papa', touched the hearts of millions worldwide and was dedicated to her father.
The lyrical masterpiece was performed at the 30 year anniversary of T-Series, where attendees paid tribute to Gulshan Kumar.
She tells us more about 'Mere Papa':
"The idea was to do a track that was solely dedicated to my father. Not just my father, I'd say all the fathers. It was a universal emotion.
"I discussed the personal relationship with my father but it's more than going on a personal level. It's more generalised, where every child can connect with their fathers through this song.
"It was tough for me to go on stage without breaking down. Everyone who's heard Mere Papa has felt that emotional connection."
Father's Legacy
One of her father's dreams was to offer opportunities to upcoming talent and provide them with the support required in order to flourish in the world of arts.
Her mother, Sudesh Kumari, and Tulsi's husband (Hitesh Ralhan) took the initiative to establish the T-Series Stageworks Academy. She and her brother continue her father's legacy:
"It's a dream of my father that we're trying to take forward. He gave so many chances to upcoming talents. So now we thought we should have a proper academy to groom people who are interested in their fields.
"We have certificate courses, diploma courses, acting, singing, dance, modern photography, camera and lighting – everything that goes into getting into the industry so the professional training under the guidance of the right faculties."
They are now venturing further, creating the Gulshan Kumar Film and Television Institute of India, which came to existence in February 2018.
His vision was to improve the working and professional conditions of media employees, by creating an affordable film school for budding artists.
Watch our exclusive interview with Tulsi Kumar here: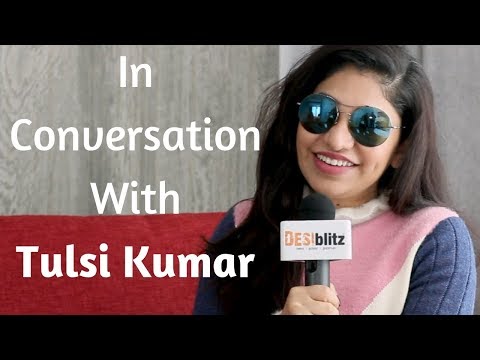 Besides filmy songs, in 2015 Tulsi also sang 'Mainu Ishq Da Lagya Rog,' released under T-Series. This track is a contemporary remade version of the original song from Dil Hai Ke Manta Nahin (1991).
Her sister Khushali Kumar making her screen debut featured in this song.
Kumar has won several awards, with her most notable being 'Best Playback Singer Female' for 'Soch Na Sake' – Airlift (2016) at the 18th IIFA Awards in 2017.
Tulsi Kumar is certainly a multitalented artist who has balanced her career and home life, along with carrying forward the legacy of father Gulshan Kumar.
We are certain she will continue to grow in the industry. Hence fans look forward to seeing her on more UK tours in the future.