"It is a priceless moment that we have captured in Thugs of Hindostan."
Thugs of Hindostan will see an iconic moment in Bollywood cinema. Aamir Khan and Amitabh Bachchan will dance together for the first time in the song Vashmalle.
The upcoming film is one of Bollywood's most anticipated movies and Vashmalle, which was released on Tuesday, October 16, 2018, shows the two legends dancing with each other.
In the adventure film, Amitabh plays Khudabaksh while Khan portrays Firangi.
While Firangi has been ordered by the British to pretend to join forces with Khudabaksh's gang, they dance with each other to Vashmalle after getting drunk.
It is a fun dance number which has been directed by renowned choreographer Prabhu Deva.
The dance choreographer is responsible for many memorable dance performances in Bollywood films.
Though he is trained in the classic dance of Bharatanatyam and ballet, his style has seen him dubbed the 'Michael Jackson of India.'
Vashmalle, which means dance your heart out and make merry, is a high-energy dance, according to Prabhu.
This is showcased by the two actors as they are seen dancing their heart out during the upbeat song.
Watch their marvellous dance performance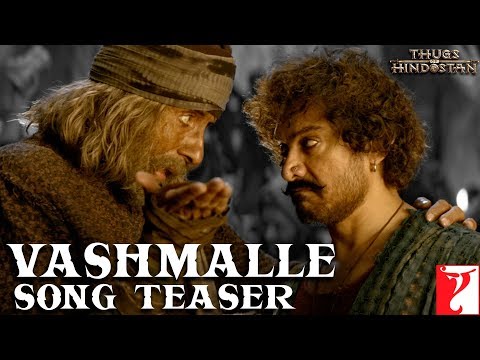 The song opens with lyrical introductions to Khudabaksh and Firangi's character.
Both characters are separate from one another at the beginning.
Amitabh begins the dance sequence surrounded by many women and displays his strong character.
It then moves to Aamir whose moves are more flamboyant which reflects his coy and mischevious character in the film.
His dances sequences are of that swashbuckling nature eased into the tempo of the song.
In the song and the way they dance, there are hints of Firangi's true intentions while Khudabaksh is oblivious of his supposed ally's identity and plan.
As the two characters move towards each other for the merry dance, their styles do contrast.
With a 'pirate like' essence to the overall mood and shoot of the song, there are sprinkles of humour shown by their facial expressions in the song too.
Aamir's choreographed dance moves are much more energetic and are more upbeat, keeping with Vashmalle's tempo.
This changes when the two legendary actors appear together on the screen. Both actors are in sync with each other and are a joyful watch.
Amitabh's dancing even reminisces a scene with iconic dance steps from his films in the 70s. which include one step forwards, followed by the other, in a slow motion like movements. These are copied by Aamir with a lower lip biting expression.
Their performance also tells a story of the interactions their characters will have in the film.
The dance moves of Amitabh highlights the fact that he is the leader, whereas Aamir is trying to be part of the gang.
One of the most memorable parts in the dance snippet is when Aamir's character kisses Khudabaksh's hand.
It highlights the intention of Firangi who is trying to infiltrate the gang but needs to gain the trust of the leader.
This preview highlights the chemistry between Aamir Khan and Amitabh Bachchan in not just Vashmalle, but the entire film.
Throughout the dance sequence, the two actors do justice to the song's translation.
Vashmalle is the first song and first dance performance release from Thugs of Hindostan, potentially the first of many high-energy dances within the film.
Prabhu Deva is known for his full of life dance creations which boast unique dance moves. This song does just that.
The reveal of Amitabh and Aamir dancing together in this type of song is the perfect way for this moment.
Vijay Krishna Acharya, director of Thugs of Hindostan said:
"It is amazing that we could write a suitable moment in the film that sees these two icons of Indian cinema shake a leg with each other and the song will stand out because of their infectious energy and camaraderie."
"The song presents Mr. Bachchan and Aamir Khan in the mood to celebrate."
"I have to reveal, the sequence will show them getting drunk during the celebrations and then breaking out to dance on this high-energy number."
"It is a priceless moment that we have captured in Thugs of Hindostan."
The song with the tipsy but fun dance instantly went viral with millions of views.
Many Bollywood fans were quick to commend this historic performance.
User KaunteyH wrote: "Aamir and Big B (Amitabh) both dancing together, a treat and dream to watch."
"This will go down as one of the most memorable scenes of Bollywood."
The high-tempo performance of Vashmalle was an enjoyable experience for Aamir Khan and admitted that he "had a ball."
His performance with Amitabh Bachchan was also the first time he enjoyed dancing, despite being part of many Bollywood dance sequences.
He took to Twitter to admit his first enjoyable dancing experience.
Was so excited to do a song with Mr Bachchan, that for the 1st time in my career I have enjoyed dancing!!! Had a ball 🙂https://t.co/Rd8g5rp8yN#ThugsOfHindostan | @yrf | @TOHTheFilm | @SrBachchan | #KatrinaKaif | @fattysanashaikh

— Aamir Khan (@aamir_khan) October 16, 2018
Along with Prabhu Deva creating the dance element, Sukhwinder Singh and Vishal Dadlani sang the catchy song.
Celebrated lyricist Amitabh Bhattacharya wrote the song and it was composed by Ajay-Atul.
Thugs of Hindostan is set in 1795 and follows a gang of thugs' battle against the East India Company to free India.
The film, which also stars Katrina Kaif and Fatima Sana Shaikh, promises a visually immersive experience.
It releases on November 8, 2018.