"I believe that MS Dhoni can do it faster"
Shoaib Akhtar, the fastest bowler in the history of world cricket, believes that former team India cricket captain Mahendra Singh Dhoni is faster than a computer.
Shoaib specifically praised Dhoni's cricketing judgment prior to India's opening match against South Africa on his YouTube channel.
Ever since the Cricket World Cup 2019 has begun, Shoaib has been making several predictions. Earlier his prediction of Pakistan beating England, the No 1 ranked side team in the world' was absolutely correct.
And on June 4, 2019, in his India vs South Africa pre-match analysis Shoaib Akhtar went onto  compliment Dhoni saying:
"Dhoni is faster than a computer. Whatever a computer can say about playing on a certain wicket, I believe that MS Dhoni can do it faster"
His comments about Dhoni's cricket acumen are also spot on. Dhoni began his fourth and final world cup on a decent note against South Africa.

Behind the wickets, He was quick to stump Andile Phehlukwayo (34) off Yuzvendra Chahal.
And then despite chasing a below par total of 228, Dhoni made a crucial seventy-four runs partnership with Rohit Sharma.
Playing sensibly and according to the situation, Dhoni hit thirty-four off 46 balls. India won the game by six wickets, with 15 balls to spare.
Even though Dhoni is no longer captain, many believe he is best ever Indian skipper. After all, he has led his country to glory at the 2007 World T20 and 2011 Cricket World Cup.
Virat Kohli will certainly be picking the brains of Dhoni during the 2019 Cricket World Cup.
Shoaib Applauds KL Rahul Once Again
Meanwhile, Shoaib Akhtar also admires Indian batsman KL Rahul. Shoaib says that Rahul will potentially take the number four slot, post the Kohli era.
Sharing the same YouTube video on his Twitter account, Shoaib applauded Rahul as he said:
"I really like KL Rahul as a cricketer. I think KL Rahul can follow the footsteps of Virat Kohli and he can become a brilliant batsman in the future.
"When we met, I said that whenever you are not playing, release your anger in training.
"Do not lose focus and I believe you will become a big player in the future."
Watch video of Shoaib Akhtar analysing MS Dhoni and KL Rahul here: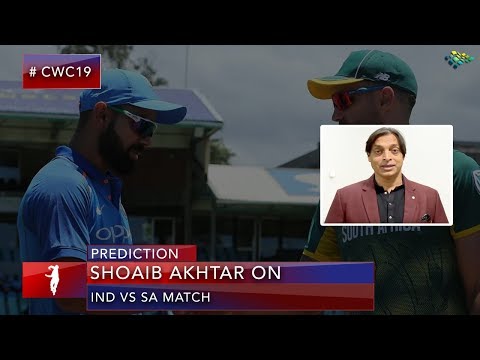 Rahul who batted ahead of Dhoni against South Africa also made an important eighty-five runs partnership with Sharma, scoring twenty-six off 42 balls.
With India facing Pakistan in the big match on June 16, 2019, it will be interesting to see if Shoaib's predictions continue to be right.
Shoaib Akhtar has already predicted a Pakistan versus Indian final at the 2019 Cricket World Cup. Now that would be a mouth-watering prospect if that happened.