"I have had many golden moments on the field."
Cricketing sports hero and legend, Sachin Tendulkar has a long line of achievements that he can be proud of.
Whether this be an impressive right-handed batting style, a spinner's bowling technique, and an unpredictable playing style, there is no doubt that he is a daunting and intimidating opposition.
But now he has something else to add to his successes: a shiny gold coin. The coin, which weighs 10 grams is made from 24 carat gold and features an embossed headshot of the famous personality on one side and his signature on the other.
Commissioned by Indian jewellers, Valuemart Gold and Jewels, Tendulkar was present at the unveiling which took place on the auspicious day of Akshaya Tritiya, which coincidentally is a good day to buy gold:
"I have had many golden moments on the field. There are some wonderful memories but this is something really different. Let me first wish everyone happy Akshaya Tritiya because it is an important day in Hindu calendar," Tendulkar said at the unveiling.
Valuemart has minted 100,000 Tendulkar coins as part of a memorabilia for the cricketer. Each coin is expected to be sold for Rs. 34,000 (India), which is roughly equivalent to US $620 or GBR £406.
Of course, it really comes as no surprise that Tendulkar has been favoured by his home country in this way.
For the last quarter of a century, Tendulkar has been largely considered as one of the best cricketers the world has ever known, next to the legendary Sir Donald Bradman.
In his cricketing career so far, he has scored an impressive total of 15,837 Test runs, and 18,426 One-Day International (ODI) runs more than any other play. He is also the first batsman to have scored 100 international centuries.
Dubbed by Indians as 'The Little Master', it seems that Tendulkar has truly filled a place on the great sporting legends wall.
Currently, Tendulkar is competing in the Indian Premier League with his team, the Mumbai Indians. He recently scored 48 runs from 28 balls in their match against the Kolkata Knight Riders, managing to defeat their opponents with a 65 run win.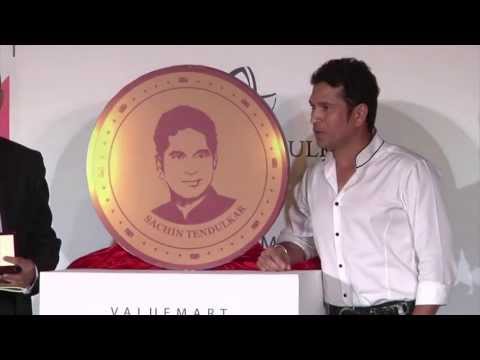 There have been some concerns however, that Tendulkar has somewhat passed his peak on the cricketing stage. His diminishing role as a key player on the International field has sparked rumours that Tendulkar make finally retire from the sport when he passes his 25 year mark.
He has already insisted that he will no longer play ODI at the end of 2012, and it appears that he may also retire from T20 International matches as well.
But Tendulkar hopes that with these pretty gold coins, his fans and peers won't forget him too soon:
"I like to buy gold. It was a thing to have nice gold chain around the neck and I did that as a teenager. But mostly on this day it is the better half who takes all the effort in shopping. Obviously how can you keep women away from that," Tendulkar said at the launch.
"It is not just about that but also investing in gold, especially in India when you bring out gold coins, it also becomes a memorabilia and you can keep gold along with something special and it becomes a rarity."
"Gold is popular among sportsmen also. On a lighter note you could go and ask the West Indian team. It is something which everyone looks forward to. The first thing you want to have is a gold chain with a nice pendant around it," he added.
Something tells us that these gold coins are just the beginning of what India has in store for their sporting hero, with much more celebratory memorabilia on the horizon.
The coins once released, will me made available on valuemartgold.com and in leading jewellery stores across India.