"Well done Tendulkar great stuff talent not restricted to batting only."
Cricket legend Sachin Tendulkar has made his singing debut in the song "Cricket Wali Beat."
The song features famous singer Sonu Nigam on backing vocals.
The duo sang the song live on Sunday 2nd April 2017, performing it on the finale of Indian Idol's ninth season.
While Sachin released "Cricket Wali Beat" on his music app, 100MB, fans can now watch the music video on Youtube.
Although the music video was only released on 3rd April 2017. As of 4th April 2017, the video has over 300,000 views on YouTube.
Speaking of the collaboration to NDTV, Sonu says:
"He is a very good singer. We did not use pitch corrector on his voice as he was singing in the right sur (tone) and [despite being] the shy person that he is, he got extremely comfortable the moment I kind of increased the masti (fun) quotient while we were shooting the video."
Watch the Cricket Wali Beat Music Video here: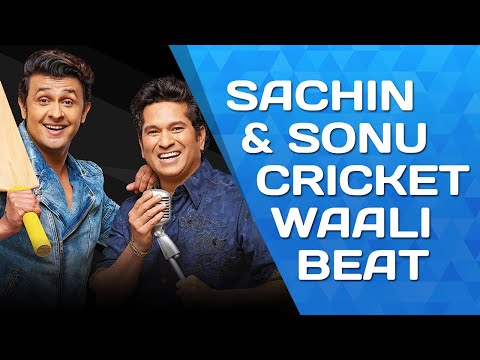 The song and the music video have received positive reviews, both from former colleagues and from fans.
Sourav Ganguly, Sachin Tendulkar's former opening partner, says: "Well done Tendulkar .. great stuff .. talent not restricted to batting only."
Meanwhile, fans took to twitter to express their support for the song:
Love love love @sachin_rt in the new song #CricketWaliBeat!! Is it wrong if I can't help joining in the 'Sachin Sachin' chant? ? #memories

— Varsh (@varshabagadia) April 3, 2017
He named all the players he played with in the song. Amazing. #100MB #CricketWaliBeat @sachin_rt

— Ashish Gupta (@ashishgupta87) April 3, 2017
Sachin Tendulkar had a storied career on the field. He finished as the leading run scorer in both Test and One Day International Cricket. He also played the highest number of Test and One Day International Games.
Respected throughout the cricketing world, Sachin Tendulkar is also one of the most recognised faces in the world, thanks to his many brand endorsements.
Tendulkar's acclaim is so high that a documentary on his life and career titled "Little Master" will be released on 23rd April 2017, the eve of his 44th birthday.
And now, he can add the success of "Cricket Wali Beat" to his career highlights.