The biopic on the world renowned legend is sure to be a hit.
The official trailer for the much anticipated movie about Indian cricketer Sachin Tendulkar has been released on April 14, 2016.
Sachin: A Billion Dreams has generated quite an excitement around the world. From cricket to Bollywood, everybody is talking about it.
Actor Ranveer Singh tweets: "SACHIN! SACHIN! SACHIN! bringing His indelible luminosity to [the] silver screen! Congrats Ravi & James!"
Virat Kohli also shows his support: "The wait is finally over. Here's the teaser of @sachin_rt paaji's upcoming movie @SachinTheFilm."
Sachin: A Billion Dreams is a biopic of the life of Sachin Tendulkar, whom fellow cricketer Harbhajan Singh describes as 'the greatest son of India'.
The ambitious film will display Sachin's journey 'from a wild child…to a virtuous hero'. The biopic on the world renowned legend is sure to be a hit, and people are already going crazy about it.
After watching the minute-long trailer, former Indian cricket captain and bowling sensation, Anil Kumble, has this to say:
"It brought back all the memories we shared in the last couple of decades! Looking forward to the movie."
The duo of course shared some amazing moments together. Most notably, their victory over Australia in the Shajrah (UAE) 1998 Coca-Cola Cup – Tendulkar vs Warne.
Tendulkar hit 143 to fire India into the final of the tri-nation tournament. He did the same again to the Aussies in the final, smashing 143 on their way to victory.
Kumble was as economical as ever in that vital match, but it was Tendulkar who took the player of the series award.
The memories between them are endless, but this was possibly one of their most special.
Fans are shivering with excitement in anticipation of the movie showing Sachin's journey.
Dhillon says: "I have seen the trailer like ten times! I got chills each time I saw and heard the chants… 'Sachin… Sachin… Sachin'."
Watch the trailer here: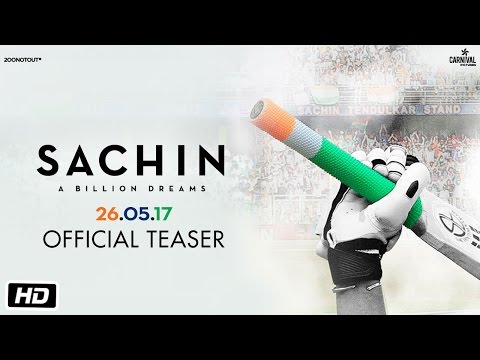 The movie is directed by Emmy nominated director, James Erskine. Meanwhile, the music for the film was done by Grammy and Academy award winning musician, A. R. Rahman.
As of yet, there is no official release date for Sachin: A Billion Dreams, but it is set to appear in theatres soon.
Yuvraj Singh calls him 'my idol and inspiration', while Sid sums it up excellently, saying: "This is going to be epic." It sure is.