"Great to see British actor Riz Ahmed holding his own."
British Asian actor Riz Ahmed gives a head-turning performance in one of the most anticipated films of 2016, Jason Bourne.
The 33-year-old star plays Aaron Kalloor, the CEO of a social media enterprise called Deep Dream.
He enters the film as a confident speaker, filling the lecture hall with his belief in protecting users' privacy in a world where data has become the most valuable currency.
Yet, his next scene with the legendary Tommy Lee Jones rips open his socially responsible facade and reveals a less savoury side.
At their meeting in a restaurant, we discover his under-the-table dealings with CIA Director, Robert Dewey.
Aaron has traded his conscience for a lucrative financial backing from the agency, to develop Deep Dream into an all-powerful surveillance tool and a new black op program called 'Iron Hand'.
But he eventually comes to his senses and decides to confess his wrongdoings at a high-profile convention in Las Vegas.
As the gripping story unfolds, Aaron's life is at risk. He also has to deal with a colossal amount of media queries of his relationship with the CIA.
Meanwhile, Jason Bourne (Matt Damon) eliminates Dewey and disappears after Heather Lee (Alicia Vikander) proves she cannot be trusted.
Watch the trailer here: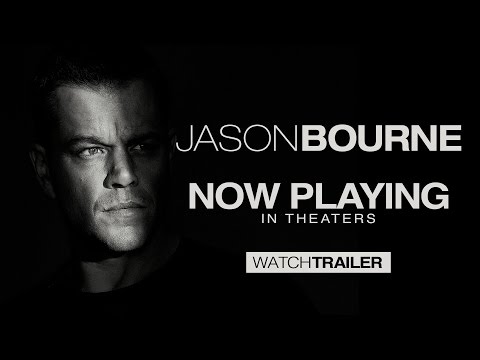 Riz discusses his character in an interview, saying:
"In some senses, Aaron sees Dewey as a dinosaur, as someone from another time. And the future belongs to people like [Aaron], who tries to move us forward rather than control people.
"But I think he really does respect Dewey. Because he is someone who believes in Aaron and helps finance Aaron's company.
"So I think it's quite a complex relationship. It's almost like an estranged father and son relationship, where there is a grudging respect and instinctive deference.
"On the flipside, there's this voice in Aaron's head that says 'why am I instinctively deferential to this guy that stands for everything that I'm trying to get rid of in the world?'"
Jason Bourne, the fifth instalment in the franchise, has taken $60 million in the US on its opening weekend.
In the UK, the Paul Greengrass directorial has drawn in £7.6 million in its first week.
While reception among critics and audience has been mixed, many feel Riz Ahmed has delivered a convincing performance as a tech guru – almost reminiscent of Facebook CEO Mark Zuckerberg.
Twitter user 'SahiraSays' comments: "After finding out Riz Ahmed is in Jason Bourne, that's probably about the only reason I'd watch it for. Lol. [Couldn't] care less about the movie."
KanderGlee adds: "Well, Jason Bourne was BORING. What a waste of Riz Ahmed's beautiful face…and talent."
Gentleman_Punk gives the British Asian talent a shout-out: "#JasonBourne not my usual kind of film. Great to see British actor Riz Ahmed holding his own."
The US audience first encounters his brilliance in 2014's thriller Nightcrawler. He plays an ethnically ambiguous character that has created some of the best chemistry with the lead (Jake Gyllenhaal) on screen.
Earning critical acclaim for his role in Jason Bourne, he is beaming on Hollywood's radar in the all the right ways.
Riz is also currently taking over the small screen in the US, starring in HBO's The Night Of.
Look out for him in Star Wars: Rogue One when it comes out on December 16, 2016!