"I got into production to give directors a platform to make the movies they want to make."
One By Two is all ready for romance and comedy to fill the air, with a 'there's a first for everything' philosophy.
Abhay Deol has for the first time, ventured into being a producer for this film whilst his girlfriend, British Beauty Queen, Preeti Desai, will star alongside him.
Abhay is no stranger to Bollywood success. Some of his biggest films have included the super hit Zindagi Na Milegi Dobara (2011) alongside Hrithik Roshan and Farhan Akhtar, and Raanjhanaa (2013) with Dhanush and Sonam Kapoor.
He also featured in BBC TV Musical, Bollywood Carmen (2013) with Meera Syal and Preeya Kalidas.
Abhay mentioned that One By Two is not like a typical Bollywood rom-com, as there's more to it: "Well, rom-com toh hai but thodi different tarah ki romcom hai.
"In a way this will work for me since people want surprises from me. The film is a cross between Socha Na Tha and Zindagi Na Milegi Dobara," Abhay says.
Directed by Devika Bhagat, One By Two is about two strangers, Amit and Samara who are fed up of their boring lives and want to be free from their repeated day to day routine.
Amit played by Abhay Deol develops a strong hate for his job, as he doesn't know how to deal with the society and decides to become a musician. Whilst Samara played by Preeti Desai is busy trying to fulfil her dream of becoming a famous dancer, but her dream is far from being fulfilled.
The two strangers meet in Mumbai. Samara breaks up with Amit, as she find everything about him boring, his job, his song writing, his personality and even his name 'Amit Sharma' is perceived as boring to Samara.
They are 'Pakoaed' with everything that is going on in their lives. The film will see Abhay and Preeti overcoming their differences and breaking through together as one.
Devika Bhagat has certainly picked out the right cast to star in One by Two, as the roles the actors will be seen playing looks promising.
Alongside Abhay and Preeti are a fabulous cast, including Rati Agnihotri, Lillete Dubey, Darshan Jariwala, Jayant Kriplani, Geetika Tyagi, Yudishtir Urs, Preetika Chawla, Tahir Bhasin, Maya Sarao, Yashika Dhillon and Anish Trivedi.
Abhay admits he chose to be a producer in order to offer more creative freedom to film makers: "I got into production to give directors a platform to make the movies they want to make, with the best service possible and no creative interference.
"Most of the films I have made so far have not been mainstream formulaic Bollywood films, and almost all the film makers were either very new or début directors. It was disheartening to see how hard they worked with so little support."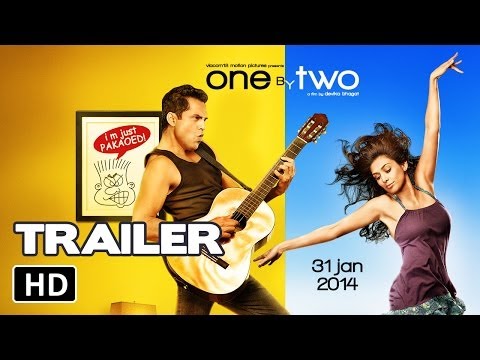 Preeti, who admitted that she was nervous about her on-screen chemistry with boyfriend Abhay, added:
"It's been a great deal of fun filming One By Two! As a British girl building her career in India, it's been an incredibly exciting and rewarding experience!"
Although the film looks intriguing and comical with a splash of romance, Abhay Deol has been facing some legal issues with T-Series, as they initially refused to release One By Two music soundtrack.
The marketing of the film has taken a blow as Abhay Deol refused to follow the outdated and unjustified conditions that were given by the great record label company, T-Series.
Abhay Deol was seen at the Screen Awards 2014 with a black eye on the left side of his face. He stated that he wished to send a message 'visually and symbolically'.
In a post on Facebook he stated: "I believe in their rights and even if a musician was ready to sign it, I would advise him/her against it. As a result, I have no album in the market."
As it is the producer's responsibility to get the music composer's to sign a contract in order to release the music into the market, Abhay Deol felt that the contract was illegal and limited for the musicians.
Therefore he persuaded the composers for One By Two, Shankar, Ehsaan and Loy, to not sign the contract, and the trio supported Abhay with his decision. In response, T-Series refused to promote the music and release it in the market.
Ram Sampat and Sona Mohapatra, Amit Trivedi, Vishal and Shekhar, Javed Akhtar and of course Shankar Ehsaan and Loy, all expressed their support with Abhay regarding this dispute with T-Series.
The issue with releasing the music for One By Two was soon resolved however, and Viacom Motion Pictures confirmed this saying: "There was some misunderstanding regarding the factual positions and we are happy the same stands clarified and resolved between all parties.
"Viacom18 Motion Pictures and Abhay Deol being the producers now look forward to the release of music on all platforms and T-series is happy to provide their support to ensure One By Two gets the best release."
Despite the trouble with the music's release, Abhay does not want his film to suffer as a result, but he believes that the power is in an individual, and continues to support the hard work and efforts of all artists and their talents.
One By Two has surely hit some ups and downs but is expected to open to a good Box Office taking. A light-hearted rom-com, One By Two releases from January 31, 2014.