"We all know how important this game was and I am glad I did it."
Arch-rivals India and Pakistan have been involved in some thriller matches, spanning several decades.
Over the years, fans have got to witness some of their favourite players performing under pressure. These include Javed Miandad, Joginder Sharma, Inzamam-Ul-Haq, Sourav Ganguly and Shahid Afridi.
The Miandad six off the final ball has to be the biggest highlight of an India versus Pakistan game.
The team absorbing pressure the most has often won these thrillers. Pakistan has the better One-Day International (ODI) record overall.
However, India has an edge when it comes to Word Cup encounters between the two South Asian nations.
Here is a rundown of 10 fascinating contests featuring India and Pakistan across all three formats.
Austral-Asia Cup ODI, Sharjah, 1986
The inaugural Austral-Asia Cup ODI final between India and Pakistan came to a tense nail-biting conclusion.
Played at the Sharjah Cricket Stadium on April 18, 1986, legendary batsman Javed Miandad hit a winning six off the final ball.
Pakistan won the toss and put India in to bat first. The Men in Blue made 246-7 in their fifty overs. During the Indian innings, Sunil Gavaskar (92) fell eight runs short of a century.
Requiring 247, Pakistan lost four early wickets with only 110 on the board.
However, India were unable to dislodge the brave and fighting spirit of Miandad. With the help of Abdul Qadir and the tail-enders, the masterful Miandad took the game to the last ball.
With almost a billion people watching, Pakistan needed four runs from the final delivery.
But Miandad went two better, smacking a full tosser of Chetan Sharma for a six to stun the 1983 Cricket World Cup champions.
This was a memorable one-wicket win for Pakistan, with many describing Miandad's final flurry as the "Shot of the Century." There is no doubt that this was also the most impactful single shot in the history of cricket.
Remaining unbeaten on 116,  Miandad picked up the player of the match award. Most important, he went onto receive several cash awards and gold medals.
This was the first major trophy for the Green Shirts. For Sharma, his last ball became like a nightmare for all his life. For Pakistan, the six became a symbol of triumph.
Watch Javed Miandad hit the last ball six here: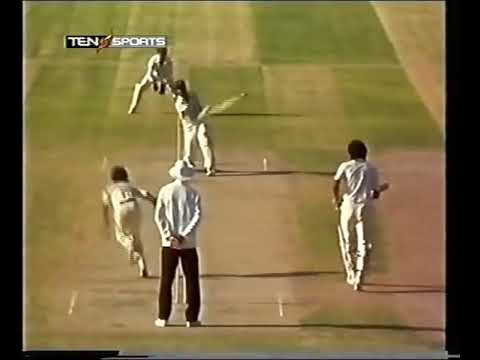 ODI Series, Kolkata (1987)
Salim Malik came to the party at Eden Gardens, Kolkata, India on February 18, 1987.  India were put into bat after Pakistan won the toss in the 2nd ODI of the six-match series.
In a match reduced to fourty overs, India scored a mammoth 238 in fifty overs.
In reply Pakistan found themselves struggling on 161-5. This is after an initial opening stand of 106 between Rameez Raja (58) and Younis Ahmed (58).
From then on it became a one-man show, with Malik extraordinarily scoring 72 off just thirty-five balls. The explosive innings saw Pakistan yielding 65 runs in the final six overs.
The assault from Malik was particularly harsh on the slow left-arm orthodox bowler, Maninder Singh.
Malik took Pakistan across the winning line, with three balls to spare and two wickets remaining.
The 90,000 fans inside the stadium were left stunned with Malik's magical innings during this amazing contest.
Malik was rightly given the man of the match award. Having a strike rate of just over two hundred was simply a magnificent feat during the 80s.
Watch the sublime Salim Malik here: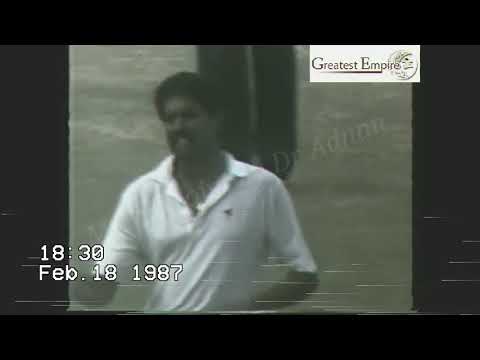 Test Series, Bangalore, 1987
The fifth and final five-day game of the 1987 series was Test Cricket at its very best, featuring India and Pakistan.
The engrossing South Asian rivalry came head to head at the M. Chinnaswamy Stadium, Bangalore, between March 13-17, 1987.
With the first four test matches coming to a draw, this game was the decider. The spinning track was ideal for the slow bowlers.
Calling the toss right, captain Imran Khan decided to bat first. The visitors did not do themselves any favours as they were knocked out for 116 in their first innings.
Despite an outstanding spell from Maninder Singh (7-27), India were unable to take real advantage.
India went past the score of the Green Brigades with the loss of only four wickets. But, they only added twenty-nine more runs, as they lost their final six wickets.
Iqbal Qasim and Tauseef Ahmed spun their way to fivers as India could only manage 145.
With a twenty-nine runs deficit, Pakistan went into the second innings with better determination.
On a bowler-friendly difficult surface, Ramiz Raja (47), Salim Malik (33), Qasim (26), Imran (39) and Salim Yousaf (41*) all made vital contributions.
All out for 249, Pakistan set India a target of 220 runs. Whilst a defiant Sunil Gavaskar took the game deep on a vicious wicket, even he could not avoid the looming defeat.
Gavaskar eventually succumbed on 96 and so did India. Iqbal Qasim and Tauseef  Ahmed were once again the destroyers, with four wickets each.
Pakistan left-arm fast bowler Wasim Akram also skittled two key wickets at the top of the order.
Pakistan reached a new summit, after conquering India by sixteen runs. This was the first time that a South Asian nation won a Test series on either home soil.
Realising his dream, the influence of Imran was huge in this series. Millions of his fellow Pakistanis across the globe celebrated beating India.
Watch the famous Test victory of Pakistan in Bangalore here: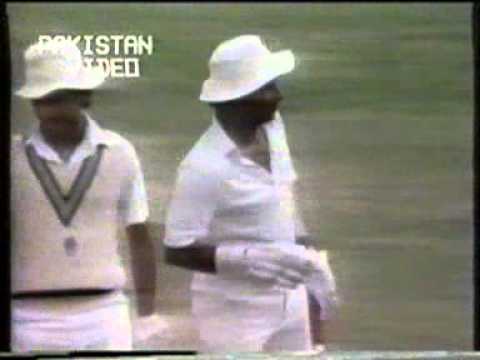 Silver Jubilee Independence Cup, Dhaka (1998)
The third-final of the Silver Jubilee Independence Cup between India and Pakistan came to an exciting climax.
Due to bad light, the final became a 48 over day/night contest. Centuries from Saeed Anwar (140) and Ijaz Ahmed (117) gave Pakistan a total of 314-5 in their fifty overs.
Opener Sachin Tendulkar made a quickfire 41 off twenty-six balls to give India control early on.
Trinidad born, all-rounder Robin Singh (82) then came to the crease, joining opening batsman Sourav Ganguly (124).
Ganguly and Singh made sure that they paced their innings well, staying level with the run rate. The two put on a partnership of 171.
Despite losing six wickets in the space of fifty-six runs, Hrishikesh Kanitkar and Javagal Srinath completed a remarkable three-wicket win.
With Kanitkar hitting a four on the penultimate delivery, India clinched the trophy, wrapping up the best of 3 finals, 2-1.
Ganguly was declared the man of the match, for his exceptional innings.
Watch Sourav Ganguly and his team chase a big total here: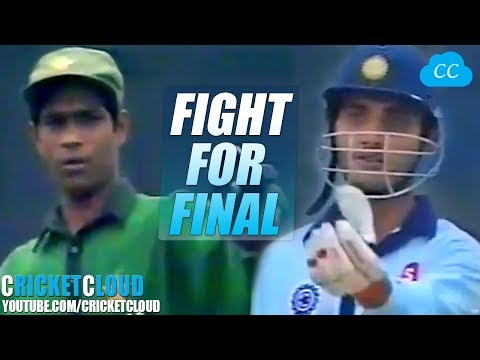 ODI Series, Karachi (2004)
Ashish Nehra kept his cool for India in a tense ODI match against Pakistan at National Stadium, Karachi, Pakistan on March 13, 2004.
Pakistan won the toss and chose to field first. Virender Sehwag got India to a terrific start, scoring 79 in fifty-seven balls.
Then wicketkeeper-batsman Rahul Dravid made 99, enabling India to reach a mighty 349-7 in their fifty overs.
A century from Inzamam-ul-Haq (102) did put the home side in contention, but they wavered during the latter stages.
With Pakistan requiring ten off the last six balls, fast-medium bowler Nehra bowled the perfect 50th over.
Trying to smash a six off Nehra, Pakistan wicketkeeper Moin Khan (16) sliced an easy catch to Zaheer Khan.
The 30,000 noisy spectators went silent as India managed to squeeze out a five runs win in the first ODI of the series.
India went on to win the 5-match series 3-2, with victories at the Gadaffi Stadium in Lahore.
Watch highlights of this epic match here: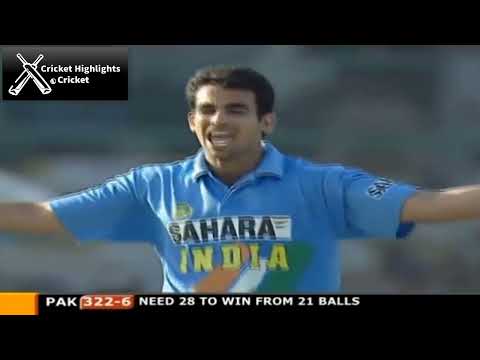 ODI Series, Ahmedabad, 2005
Captain Inzamam-ul-Haq was the man for Pakistan in this nerve-wracking fourth ODI match against India.
The home side chose to field first after they won the toss.
The match saw a reduction of two overs (48) per innings. The high-octane clash was held at the Sardar Patel Stadium, in Motera, Ahmedabad, Gujarat.
India stacked up an enormous total of 315-6, thanks to 121 from opener Sachin Tendulkar.
Pakistan's run chase was helped by the fact that their top five batsmen made useful double-figure contributions.
Afridi gave the visitors early impetus with his rapid 40 off twenty-three balls. Afridi smashed five 4s and two 6s in his innings.
But it was Inzamam who remained calm under the severest pressure.
The Multan born cricketer smacked the final ball to the boundary off Tendulkar. Inzamam bagged the player of the match award for his 60 off fifty-nine balls.
With this victory, the six-match series was level on 2-2. The series came to an end also on a 3-3 draw.
Watch Inzamam-ul-Haq in prime form here: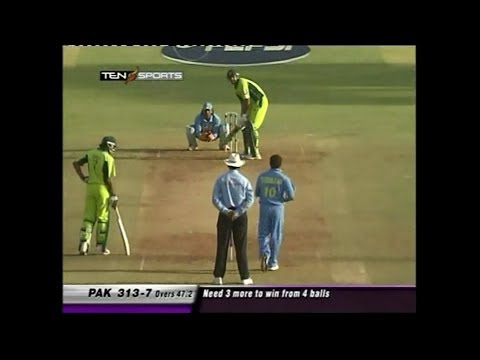 World T20, Johannesburg, 2007
Joginder Sharma held his nerves as India became champions of the inaugural ICC T20 Cricket World Cup.
India won the toss and made the decision to field first in the epic final against Pakistan.
The match took place at The Wanderers Stadium in Johannesburg, South Africa on September 24, 2007.
India got to 157-5 in their fifty overs, courtesy of a wonderful innings by opener Gautam Gambhir. He made 75 off fifty-four balls, including eight 4s and two 6s.
Pakistan's run chase went pear-shaped after the needles run out of opener Imran Nazir (33).
However, Misbah-ul-Haq gave Pakistan some hope, taking the game to the wire. With one wicket remaining, Pakistan had to get 6 runs off four balls.
But a scoop shot from Misbah agonisingly found Shanthakumaran Sreesanth at short fine leg off medium-pacer Sharma.
Keeping his cool, Sharma became an instant hero as India were victorious by five runs.
At the post-match presentation, captain Mahendra Singh Dhoni in a jubilant mood stated:
"It's one of the things I will treasure for the rest of my life. I'd like to congratulate the boys and thank them for the response they have given me.
"No-one expected us to win and the way we played today we deserve a big celebration.
"I thought I should throw the ball to someone who really wants to well in international cricket. Jogi did a really good job."
There were unbelievable scenes inside the stadium, with Bollywood actor Shah Rukh Khan leading the celebrations.
Watch India become World T20 2007 Champions here: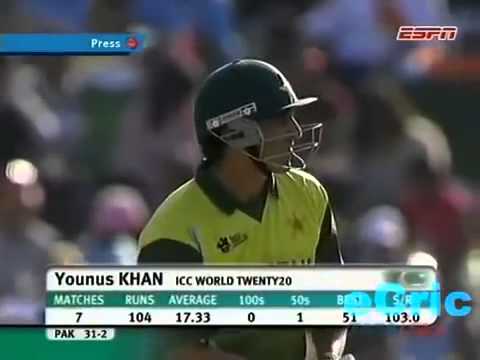 Asia Cup, Dambulla (2010)
Gautam Gambhir and Harbhajan Singh stole the show in this closely fought India versus Pakistan match.
Winning the toss, Pakistan chose to bat first in the fifth pool game of the Asia Cup at the Rangiri Dambulla International Stadium in Sri Lanka.
Pakistan were unable to play their full fifty overs, as they were all out for 267 in 49.3 overs. This was going to prove very costly later on in the match, which had many twists and turns.
Chasing a pretty modest total, India went from high to low before scraping it at the end.
Opening batsman Gautam Gambhir (83) gave India a solid foundation at 180-3. They then had a mid-batting scare at 219-6.
But with 16 runs to win off eighteen balls, Suresh Raina (34) hit a massive six off fast bowler Shoaib Akhtar.
Despite the run out of Raina, Harbhajan Singh came to the rescue as he walloped the fifth ball off the 50th over into the stands.
After collecting the man of the match award, Gautam Gambhir said:
"The gameplan was to have wickets in hand, not to just go bang bang. We had some big hitters to follow, we kept telling each other we need to bat as long as possible.
"We had Powerplay in the last 10 too. The way Bhajji and Raina finished off was great."
With India winning by three wickets, Pakistan were eliminated from the tournament. This match saw quite a few heated moments.
Watch India winning this thriller here: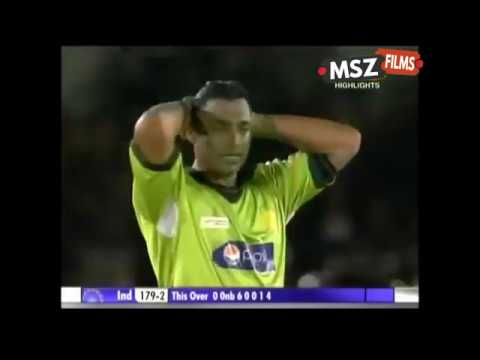 T20 Series, Kolkata, 2012
Shoaib Malik guided Pakistan to a historic win in the first T20 of the bilateral series against India.
Pakistan won the toss and decided to field first at the M. Chinnaswamy Stadium in Bengaluru, Karnataka, India.
India were only able to notch up 133-9 in twenty overs. Umar Gul (3-21) and Saeed Ajmal (2-25) took five wickets between themselves to restrict India.
The Pakistan chase was built on the early fireworks from skipper Mohammad Hafeez. He scored 61 off fourty-four balls, including six 4s and two 6s.
But after his dismissal, it was left for Shoaib Malik to finish the task at hand.
With ten required from the final over, Malik slogged a six straight down the ground on the fourth ball as Pakistan claimed a famous five-wicket win.
Malik remained unbeaten on 57 off fifty balls, including three 4s and three 6s.
Praising the performance of Hafeez and realising he had to finish the tense game, Malik expressed:
"Hafeez played a brilliant innings. You are playing against India, pressure is always there, but you have to play according to the situation."
Away from home, Pakistan went 1-0 up in the 2-match T20 series on December 25, 2012.
Watch Shoaib Malik hit the winning six here: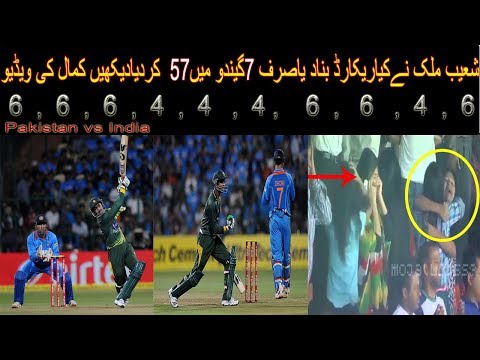 Asia Cup ODI, Mirpur, 2014
Boom Boom Shahid Afridi won this epic Asia Cup ODI match for Pakistan against India.
The day/night game took place at the Sher-e-Bangla Stadium in Mirpur, Dhaka, Bangladesh on March 2, 2019.
Pakistan won the toss and made the decision to bat first in the 6th game of the pool phase.
India made a below-par total of 245-8 in their fifty overs. From a commanding position of 71-1, Pakistan were in a spot of bother at 203-6.
It was a lucky day for Afridi as he went on smashing the ball to all parts of the ground. The atmosphere became even more tense with Pakistan having only two wickets left.
With Pakistan requiring ten from the final over, Afridi hit two consecutive sixes to seal an incredible win.
After hitting the winning runs, Afridi gave a kiss to Junaid Khan, the last man standing for Pakistan.
All the Pakistan players came bursting on the pitch to celebrate with Afridi and Khan.
Delighted with his performance, at the post-match ceremony, Shahid Afridi commented:
"Expectations were high. We all know how important this game was and I am glad I did it.
"The captain told me to take my time and I did that. Whenever we play against India it's a great occasion and I'm very happy."
Virat Kohli and his teammates were certainly left in a state of shock, following Afridi's heroics. Pakistan had proven that they could do the unimaginable at any time.
Watch Shahid Afridi smash two successive sixes here:
There have been other great India versus Pakistan games. They include the 1st ODI (Quetta: 1978), 1st ODI (Indore: 1987) 3rd ODI (Hyderabad: 1987) and 2nd ODI (Gujranwala: 1989).
So this completes our round-up of thrilling matches between the two sides. Have fun watching them!