"'El Sueno' really touched my heart. His voice, the music, and the video are all just perfect."
Five years after their ground-breaking Back To Basics album, Diljit Dosanjh and Tru-Skool are back with 'El Sueno'.
The track is already storming the music charts since its official worldwide release on October 19, 2017.
'El Sueno' went straight to number one on iTunes India and has over 2.5 million YouTube views in two days.
Ruby says: "Beautiful lyrics, amazing cinematography, and incredible singing. I just love 'El Sueno'. Diljit Dosanjh continues to break through that glass ceiling."
Diljit's latest hit uniquely combines Spanish and Punjabi cultures in a stylish way which only he can pull off.
And, excitingly, the brand new music from Diljit Dosanjh and Tru-Skool will not end with 'El Sueno'.
The UK based Panjabi Folk music producer, Tru-Skool, has confirmed that this is a release from their upcoming album. DESIblitz brings you everything you need to know.
Diljit Dosanjh ft. Tru-Skool – 'El Sueno'
'El Sueno' is a Spanish term which translates to 'Supna' or 'Supne' in Punjabi, and to 'The Dream' in English.
With music by Tru-Skool and vocals coming from Diljit Dosanjh and Monica Arnal Vidal, 'El Sueno' is a true combination of cultures.
The track uniquely and wonderfully combines Punjabi vocals with various Spanish elements. Mandeep says:
"'El Sueno' is an epic mix of cultures and the video is amazing! Great work by everyone involved, and it is brilliant to see Diljit Dosanjh teaming up with Tru Skool once again."
Dosanjh describes his latest hit as a story about pride and courage. The stylishly made music video, by Kavar Singh, shows Diljit and his loyal team of Sardars rescuing a kidnapped daughter.
Despite mercifully sparing the lives of one of the gangsters, he returns later in the night to kill Diljit. But what happens next?
Check out the official music video to 'El Sueno' below to find out: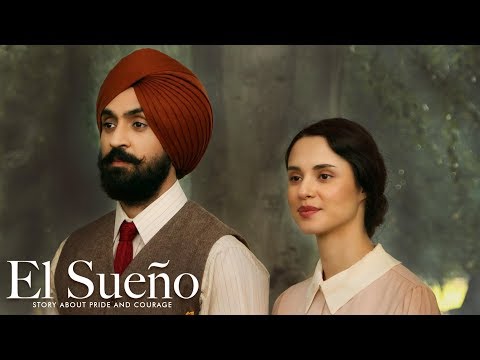 Muskan says: "'El Sueno' is one of the best songs by Diljit Dosanjh, it really touched my heart. His voice, the music, and the video are all just perfect."
The track is Diljit's and Tru-Skool's first release from their brand new, upcoming album. And if 'El Sueno' is anything to go by, it will be yet another stunning album from the two artists.
Speaking about it, Tru-Skool says: "We're returning with a single from the new album. With Back To Basics, the whole album was released in one go. It was out of the blue and came out of nowhere. [This] is a different approach altogether."
Want to find out more?
So with more Diljit and Tru-Skool music set to drop, you need to keep yourselves up-to-date with the artists.
For the latest updates, you can follow Diljit Dosanjh on Facebook and Twitter by following our links. But if you want to find out more about the bhangra superstar, check out Diljit Dosanjh's exclusive interview with DESIblitz.
Or you can follow these to the official Facebook and Twitter profiles for the UK producer, Tru-Skool.
Alternatively, why not relive the greatest bhangra songs by Diljit or check out Diljit's best Bollywood songs?