"The song is for any joyous occasion to celebrate defeating any lack of self love or courage."
After the successful music video 'Rangeeli Raat', BBC Asian Network presenter Parle Patel is back with Pritee Varsani presenting a brand-new Gujarati folk song, 'Zat Zaiye'.
Filmed in Leicester, the upbeat and peppy song encapsulates heavy bass with mesmerising vocals by Pritee.
Through successful fusion songs like 'Rangeeli Raat' and 'Zat Zaiye', the duo are bringing Gujarati and Desi culture to the forefront.
The song simply talks about courage and pride within one's goal in life.
As such, the chorus lines "Haiye Rakhi Haum" translates to "I kept courage in my heart" and "Mede Zat Zaiye" means "let's go to the festival quick".
According to Parle Patel, there are many forgotten Gujarati folk songs like 'Zat Zaiye'.
By recreating such traditional songs, he hopes that young people will resonate with it and embrace the beauty of Gujarati music.
Talking about the song, Parle says: "The song is for any joyous occasion to celebrate defeating any lack of self-love or courage."
He adds:
"I think Pritee and I are going from strength to strength. Her ability to sing is one thing, but her ability to try new things and embrace new ideas is wonderful. She fully believes in taking Gujarati music further without forgetting its core or ancient values."
In the video, one also enjoys watching the energetic performance of Maher Girls Raas Group.
Watch the video to Parle Patel's 'Zat Zaiye' here: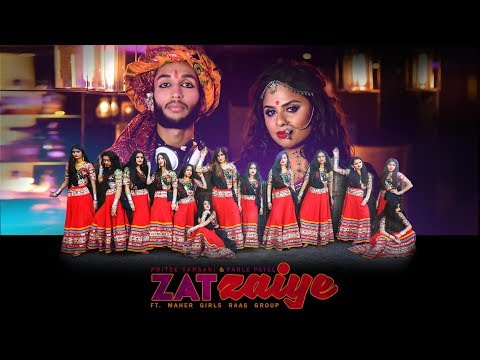 'Zat Zaiye' will definitely make you get up and do Garba, which makes the song equally perfect for festivals like Navratri.
But if that's not enough, Parle's rapping takes this music video to a whole new level.
It certainly seems that Pritee enjoys collaborating with Parle. She tells DESIblitz:
"It's always a pleasure working with Parle. Always get to experiment in new style of singing and he knows exactly how to get the best out of me."
Plus, Parle and Pritee's popular personalities in the creative field help to support and promote Gujarati culture within Britain.
Pritee Varsani is a recognised British Born Gujarati Folk singer. She has been trained in India by traditional Gujarati folk artist, Lalitaben Goradhara.
In her singing career, Varsani has also performed internationally alongside popular singers such as Imran Khan and Falguni Pathak.
Parle Patel is an international YouTube personality.
He has gained popularity for his comedy sketches on people and stereotypes that exist in the British Gujarati community.
Overall, it is clear that Varsani and Patel are leading a new wave of British Gujarati artists!