"When I first heard the script I thought I would be playing the ghost but I had to catch them actually!"
The super hit jodi of Punjabi cinema, Diljit Dosanjh and Neeru Bajwa return to the silver screen to shine once more with the supernatural rom-com, Sardaar ji.
Following their hugely successful Jatt and Juliet series, the pair have now teamed up with the talented director of Jatt James Bond, Rohit Jugraj Chauhan, for a light-hearted film about capturing ghosts!
Produced by Gunbir Sidhu and Manmord Sidhu, the film also stars Mandy Takhar and Jaswinder Bhalla.
Sardaar Ji follows the story of Jaggi (played by Diljit Dosanjh), an orphan boy who comes across a special power, that can help him connect to beings from another realm.
This ability lands him into comic circumstances with various ghosts, and as he grows up, it helps him build a reputation as the go-to man to drive away unwanted spirits.
Ready for his next assignment, Jaggi is called to England by a couple who discovers that their to-be wedding venue is possessed by a witch (played by Neeru Bajwa).
With the wedding close by and the guest of honour being the Queen of England, the couple have no choice but to stick to the venue.
Jaggi is pretty confident that he can solve the problem like he's always done, but he has no idea what challenges he is about to face.
Will he able to convince the beautiful witch to leave the castle in time for the couple's marriage?
Being the first supernatural romantic comedy film of its kind in the 'Pollywood' industry, fans are keen to see this ghost comedy come to life.
Speaking about his role, Diljit says: "My character is called Jaggi, who is an orphaned boy gifted with special powers to communicate with spirits. The film revolves around my funny encounters with different ghosts and how I solve their problems."
With the majority of the film being shot in England, the producers made sure to keep the authenticity of the film a priority. And this led them to sourcing key haunts to shoot in, including the stunningly 'haunted' Craigdarroch Castle.
Diljit admits that he was attracted to the film by its funny and endearing script, saying:
"When I first heard the script I thought I would be playing the ghost but I had to catch them actually! Hats off to our writer Dheeraj Rattan for such a beautiful script. This is actually the film to look forward to."
Another highlight for Dijit was the chance to co-star with Neeru again, and both actors enjoyed each other's company on set:
"It is always a pleasure to work with Neeru. She is senior to me. She has been in this industry much longer than I have and I respect her a lot and of course, we have worked in the past together."
"So, it does help in working together again," Diljit adds.
Taking on the supernatural nature of the film, Neeru enjoyed playing pranks on Mandy alongside Diljit. And Mandy was exposed to many 'ghostly' experiences on the sets.
Watch the trailer to Sardaar Ji here: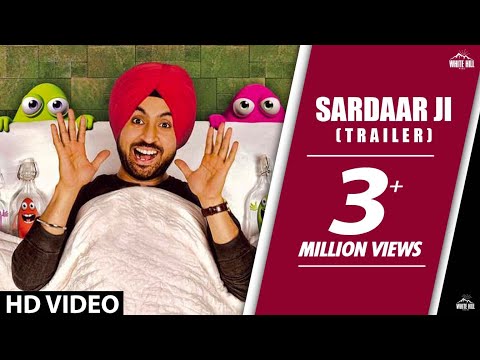 As with any big budget Punjabi film, the inclusion of classic Bhangra tracks is essential.
Composed by the musical duo Nick Dhammu and Jatinder Shah, the six-track music soundtrack has a mixture of foot tapping numbers, with Diljit singing five out of the six songs.
Each song evokes a different emotion; such as 'Sardaar Ji' the super hit title song is the quintessential bhangra song and definitely one of the best tracks on the album.
In comparison, 'Taare Mutiyare' is a soothing acoustic tune that brings a nice calmness to the album. Other tracks include 'Roku Keda', 'Time' and 'Veer Vaar'.
With Dijit also being an award-winning musician as well as an actor, the star took the chance to do a mini tour across Punjab to promote both the music and the film. He travelled to Jalandhar, Amritsar, Ludhiana and Patiala and performed incredible live concerts.
As Diljit explains: "Music is always my first love. As a singer I am always ready to perform on stage as it helps me to connect live with my fans and lovers. The crowd, the noise, the atmosphere they create is out of the world."
With so much hype and excitement building up around this ghostly rom-com, the producer duo, Gunbir Sidhu and Manmord Sidhu, hope this project will be another success, adding to their long list of filmy hits:
"A film which is planned well on paper does well on the Box Office window. We make sure that we learn and grow further with every new project of ours. Of course ups and downs are part of life but an entertainer should never stop," the wisely state.
Critics have huge expectations for the film, as Diljit, who is becoming a known face in Bollywood, is also set to star in the upcoming film Udta Punjab with superstars Shahid Kapoor, Kareena Kapoor Khan and Alia Bhatt.
It is clear Punjabi cinema is making serious headway across the globe, and Diljit Dosanjh's Sardaar Ji is no exception.
So, are you up for a ghostly time with Sardaar Ji from June 26, 2015?