"I am fortunate to be the first actress in Punjabi film industry playing a double role."
One of Punjabi cinema's most popular actresses, the Canadian born Punjabi sensation, Neeru Bajwa, returns with her latest film: Proper Patola.
Proper Patola sees Bajwa teaming up with Harish Verma and Yuvraj Hans, son of Hans Raj Hans, one of India's well recognised and respected singers.
Other actors in the film also include Ashish Duggal, Anita Devgan, Harpal Singh, Neeta Mohindra, Bunny, Teji Sandhu, Harby Sangha and Master Prabhjot.
The film itself is a project by Country Meda and Speed Records, a popular recording label that has worked with top artists such as Sukhshinder Shinda, Jazzy B and many more.
Produced by Deepak Lalwani and directed by Harish Vyas, Amit Saxena also wrote and co-directed the film.
Without giving too much away, the film stars Neeru Bajwa in a double role, as she plays twin sisters Jeet and Preet, alongside their lovers, Yuvi and Raj, played by the two leading men Harish Verma and Yuvraj Hans, in a comedy that's fun for all the family.
Neeru Bajwa, was in great spirits in the build up to the release of the film and commented on her double role:
"I am fortunate to be the first actress in Punjabi film industry playing a double role. A double role is an interesting confusion in itself and guarantees a laugh riot for the audience."
There is no doubt many audiences will share a chuckle at the crazy confusions caused by Bajwa's characters.
Moving from the leading lady to the male stars, formidable duo Yuvraj Hans and Harish Verma team up for the third time, after starring in previous hits such as Yaar Anmulle (2011) and Burrraahh (2012).
Speaking about his co-star Harish, Yuvraj said: "Our chemistry is so strong that we perform a scene comfortably even if the director doesn't explain it fully."
Harish also feels the same, he believes the timing with Yuvraj is done in such a way that it does not even feel as if they are working in a film, but instead two friends having a conversation. It also helps that their characters' lovers look alike in this film!
The music to help add extra masala to the film, has been composed by Jassi Katyal and Saurabh Kalsi.
One of the film's popular songs is 'Tha Tha Tha', which is sung by the one and only Mika Singh.
After hearing his iconic voice and seeing Neeru Bajwa dance in a nightclub, you will want to get up and dance the night away long after the films credits have rolled.
Another song to look forward to hearing, for those who have not seen the film yet is 'Ishqfehmia'. This song is a lively and uplifting love song, written by the talented Abhishek Kumar and Shashank Kumar and composed by Saurabh Kalsi.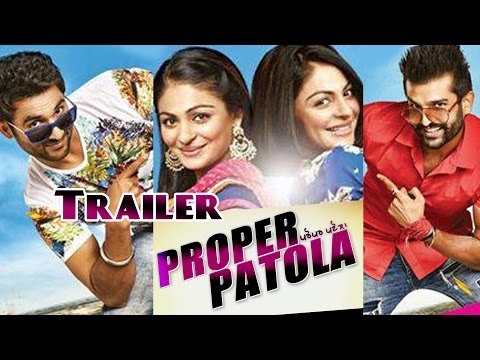 Like with 'Tha Tha Tha', 'Ishqfehmia' is another song that you would want to listen to again and again!
As with other Punjabi films in the past, the songs in Proper Patola play a pivotal role in the progression of the story along with being entertaining.
During the course of the film, audiences draw into the story with its comedic and dramatic scenes provided by the stellar ensemble cast in the movie and provide more and more entertainment with every scene.
The double role concept has been used in many Bollywood films, however Proper Patola will be the first Punjabi movie with a double role act, this will certainly add another element to the movie.
This may also encourage future Punjabi films to also adopt the same technique and open up other avenues for directors and actors to follow, resulting in a diverse range of Punjabi films and invite a broader spectrum of content to Punjabi cinema.
This film, comes in a long line of Neeru Bajwa movies, she has almost single-handedly changed the landscape of Punjabi cinema and brought in a modern and refreshing twist to every film she has been involved in.
While the competition has been impressive over the course of 2014, due to the several high quality, entertaining and thought-provoking Punjabi films released over the last 12 months, Proper Patola is expected to be one of the biggest and best films of the year!
Proper Patola released in cinemas from November 28, 2014.