"Some of the characters I really really love a lot. Some I think are a bit annoying."
It's official, guys and girls – the British Asian reality TV drama, Desi Rascals, will return to our screens on Wednesday 22nd July 2015!
For those of us who have been suffering from severe withdrawal symptoms at the end of the first series, this is very welcome news.
The second series will dive back into the British Asian microcosm of West London.
Part of the show's appeal has been how the audience can relate to issues such as Desi family life, marriage, in-laws, interracial love, alongside a high dose of dating and drama.
Sky 1 will broadcast one-hour episodes of Desi Rascals on Wednesday nights at 8pm.
Desi Rascals director, Gurinder Chadha, was delighted with the first series and is thrilled to see it return for a second.
Speaking exclusively to DESIblitz, Gurinder says: "I think there were some things in [Desi Rascals] that were really amazing television. Very very amazing to watch."
With Desi Rascals, Gurinder set out to portray integrated British Asians from the suburbs of West London in a more multi-dimensional way.
She has been taken aback by the popularity of the show, especially amongst non-Asians. She tells us: "I did not realise it was going to be quite as popular as it was.
"And it's very popular with the non-Asian crowd as well. The majority of the audience is non-Asian, which is a surprise I think."
While Chadha won't give away too much about the new series, she has hinted at some changes.
She says: "Like everybody, I have my favourite people and my favourite storylines…Some of the characters I really really love a lot. Some I think are a bit annoying."
Chadha adds:
"You will see some of your favourite characters from the first series, and you will see some new characters as well."
Excited about the forthcoming second series, Gurinder says: "It's going to be really interesting to see how the second series develops."
Watch our Exclusive Gupshup with Gurinder Chadha here: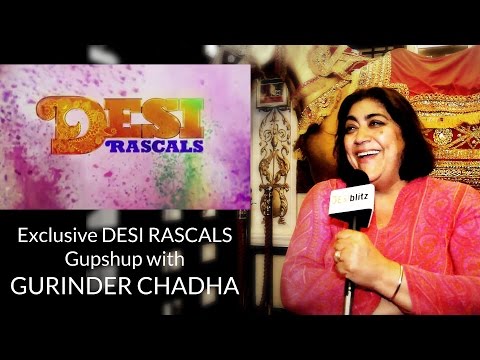 What To Expect From Series 2
A fast-paced first series set in motion a number of plot lines which are yet to be resolved.
The cameras adored Owais and Rita and their love-hate relationship. At the end of the first series, they have been busy trying to convince people that they have buried the hatchet. Will we see more of Anonymous Adam?
Owais, Owais, Owais. He will be out to have fun. He will speak his mind. He will entertain us, that is for certain. But will he finally meet his Mrs Khan?
Shmoyel has friend-zoned (in this order) Jo, Yasmin, and Feryal. The hopeful among us, that certainly includes Manoj and Celia, will not count Natalie on that list yet. Could Shm-atalie become a reality?
And now that Feryal has been on the receiving end of a Shmoyel-certified rejection, who will she turn her attention to now?
After such an ecstatic end to series 1 for MoJo, are Jo and Moses still riding that incredible high? Or are they experiencing post-honeymoon blues?
Word on the block (and social media) is that Anj is married and has had his nikaah ceremony. But who is the lucky lady?
The wedding of Shreena and Praks kicked off the Desi Rascals journey. But now the lovebirds are looking to create their own nest.
Will they stay in Hounslow or move South (Saaf) of the River? Just the mention of it received a cold reaction from the rest of the Varas. How will they respond this time?
And of course lovebirds Sunjay and Charlotte are now engaged! But will Charlotte be able to cope with the Vara household politics?
At the end of the last series, Anita seemed to indicate that she might already have a favourite when it comes to her daughter-in-laws! No surprises there, eh?
And finally, will Bollywood dancing diva Arshina move to Birmingham to be with Akshay? How will this affect the relationship with her mother?
No doubt the new characters, which Gurinder has promised us, will spice up and add some masala to the lives our favourite West London desis.
Gurinder surprised and awed us when she invited acting legend Amitabh Bachchan to make a special-guest appearance in Series 1.
But who will adorn our screens in Series 2? Shahrukh Khan? Zayn Malik? Naughty Boy? All 3?
Of course, social media will play yet another pivotal role in the popularity of Desi Rascals. Towards the end of Series 1, the hashtags #DesiRascalsSeries2 and #DesiRascals2 were trending on Twitter, which helped to generate support for a second series.
Desi Rascals lovers, including members of the twitterati, have been eagerly anticipating the new series:
Can't wait for desi rascals 2!!????????? #DesiRascals2 @DesiRascals @JoShahdashian @nattishah @MosesBaig @AnjPMG @Shmoyel

— Gabb (@Gaby_Bieber10) July 3, 2015
@DesiRascals series 2 needs to hurry up! #DesiRascals2 I miss watching the boys in the gym???????????? @MosesBaig @Shmoyel @OwaisKhan @AnjPMG

— alisha (@thatgirlalisha_) June 9, 2015
From gym sessions with topless lads, bitching soirees with beautiful divas, and many awkward pauses in between, Gurinder Chadha invited us into world of high drama with Desi Rascals series 1.
You would be crazy to miss the first episode of Desi Rascals Series 2, which airs on Wednesday 22nd July 2015 at 8pm on Sky 1.