"She tried kicking some of the police officers on the scene."
A Desi American doctor in South Florida has ben put on administrative leave, following an attack on an Uber taxi driver.
Anjali Ramkissoon, a fourth-year neurology resident of Jackson Health System, was filmed attacking the driver on the evening of January 17, 2016.
The taxi was originally ordered by Juan Cinco to take him home from the Mary Brickell Village.
But Ramkissoon appeared from nowhere and climbed into the backseat of the vehicle.
Cinco and his friend told the driver to cancel their ride, offering to book another.
After being asked to exit the vehicle by the taxi driver, Ramkissoon became angry and launched an attack.
Cinco recorded the 30-year-old doctor physically punching and kicking the taxi driver.
She continued the assault by getting into the passenger side of the vehicle, throwing the driver's personal belongings and possessions out onto the street.
She also threw a pair of scissors, landing just inches away from Cinco.
Ramkissoon said: "Get the f*** in the car, you piece of f***ing disgusting s***."
The driver said to the others: "Can you call 911 please? She's getting violent."
When he told them he had 'brusies', Ramkisson mocked him saying:
"I'm a 5ft tall girl who weighs 100lbs and I am getting really belligerent right now."
Cinco later uploaded to footage to YouTube on January 19, 2016 and has since clocked almost five million views.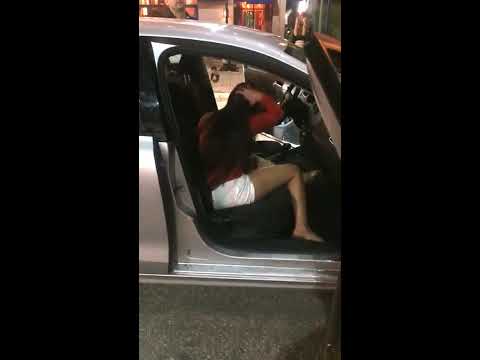 Miami police spokesman, Frederica Burden, told The Miami Herald:
"We were called for a disturbance. There was no report written, and there will be no investigation."
Cinco stated that Miami police arrived on the scene, removing Ramkissoon from the taxi:
"Once in handcuffs, she then tried kicking some of the police officers on the scene.
"It was only when they put her in the police car that she started crying, apologising, and claiming that she would lose her medical license (she claimed to be a neurologist) if she got arrested."
Cinco also added the driver was 'too good of a person', taking a cash settlement rather than legal action.
He said: "Only enough to pay his cellphone bill and maybe his cable bill."
Uber are also investigating the incident. The taxi company releases a statement saying:
"Uber expects everyone associated with the platform – both drivers and riders – to conduct themselves with a shared level of respect and common courtesy, and all forms of harassment and abuse are not tolerated.
"We have suspended the rider account of this individual as we investigate the incident."
Jackson Health System has confirmed Ramkissoon 'has been placed on administrative leave, effective immediately, and removed from all clinical duties'.
The healthcare provider will determine whether Ramkissoon will be disciplined or even terminated for her public misbehaviour.