"Bhangra is an art I am thankful and proud to be a part of"
One of the UK's most awaited Bhangra competitions is happening in September 2016.
'The Bhangra Competition', known as TBC, will have seven of the most reputable and competitive professional Bhangra teams in the country battling it out to win.
The competition will be held at The Great Hall in Mile End, East London on Saturday 10th September at a prompt 7pm.
The Bhangra Competition brings together seven of UK's elite teams which has a mixture of all boys, co-ed and all girls. In fact, nearly all of these teams have placed, if not won, at least one bhangra competition in the past.
The teams are; Ankhi Jawan, Ankhile Putt Punjab De, Ankhile Girls, Bhangra Furteleya Da, Gabru Chel Chabileh, Nachda Sansaar and Vasda Punjab.
Each team will perform a 7-8 minute Bhangra set to a music mix. This will consist of fast and slow segments as well as the use of props. What is guaranteed from all teams is high energy and vibrancy that will keep you entertained throughout the evening.
Harwinder Mander, the founder and organiser of TBC tells DESIblitz about why he decided to start this competition:
"I'm in the UK bhangra competition scene because I have a deep love for Punjabi culture and seeing it propagated by these hard-working UK teams is something I want to support.
"We started TBC because the UK scene needed an elite competition that was solely about the teams; no musical acts or gimmicks, but a solid rubric, respectable judges, and a competitive environment that lets dancers do what they do best – dance!"
"Audience members can expect to attend TBC and see these teams in all their glory. Everything we do is about projecting the teams such as no alcohol, keeping lighting to a minimum and don't use smoke machines, lasers or screens.
"We bring out team after team with just two breaks in the whole night so you get an explosion of energetic performances that keep you fully entertained."
The eager wait for this competition has lasted 2 years, where the last TBC happened in November 2014. This was the first TBC and the high quality sets produced at this competition raised the bar for the UK Bhangra scene.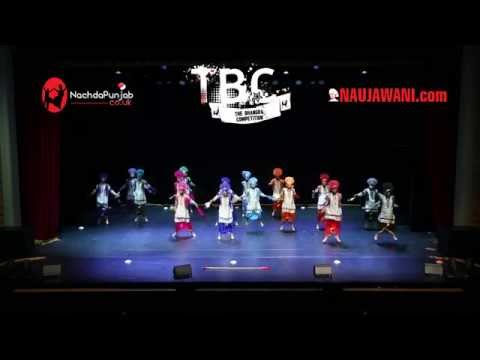 The winners of the last TBC, Gabru Chel Chabileh brought an incredible, powerful set that is yet to be beaten. Second place went to Midlands based team, Nachda Sansaar, and third place went to West London's Ankhi Jawan.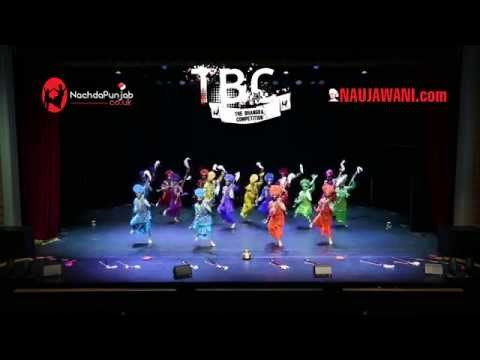 Ankhi Jawan, who won 2015's Bhangra Wars, are tipped as one of the favourites to win this year. Aman Dhanjal, the captain of Ankhi Jawan, said:
"All the teams have been waiting a long time for this opportunity to compete against each other so we are genuinely very excited to see what the other teams have been working on. The completion will be fierce but we are ready for the challenge.
"This year on stage, we will showcase our most powerful and most entertaining folk Bhangra routine to date. We hope you all enjoy it!"
Working towards a competition like TBC requires months of dedication and hard work. With training beginning several months before the competition and over the summer period, weekends and weekday evenings are busy working a sweat.
This often means that many dancers have to sacrifice summer holidays, weddings and family commitments in order to compete.
Jessica Gar-Lai Cheung, from the only collaborative team of the competition, Bhangra Furteleya Da, explains why it's all worth it:
"The hours, the exhaustion, the commitment to the cause of every member of the team is thoroughly admirable. For a group of strangers to be brought together by a dance, to push themselves and each other beyond limits and compete at TBC 2016. Bhangra is an art I am thankful and proud to be a part of."
Vasda Punjab is one of the oldest established Bhangra teams in the UK and are based in Southall. They have always brought something in unique in their numerous competitive and exhibition acts. Jaggi Singh from Vasda Punjab revealed how they'll be going more traditional than ever before:
"We as a team are dedicated in promoting Folk Bhangra and keeping it pure as well as igniting the love and passion towards Bhangra as a whole. This year, Vasda Punjab are also collaborating with some amazing raw folk talents from around the country who will take our competition to the next level."
The hosts and judges of the competition will be announced in the week leading up to the competition. This can be found on the Facebook and Twitter pages of 'Nachda Punjab'.
Further updates and opportunities to buy tickets can also be found on the respective Facebook pages of each Bhangra team that is competing.
In fact, one of the competing teams, Bhangra Punjabian Da, is even giving a chance for people to win tickets through answering a series of simple questions.
Tickets are otherwise available from the competing teams at £15 standard and £22 premium.
The Bhangra Competition will take place on September 10, 2016 at The Great Hall, East London. Definitely not one to miss for those who have a true appreciation for Bhangra as an art form!