"I honestly used to think I'm a decent dancer, until I was choreographed by Prabhu sir."
Shahid Kapoor is one of the most talented and versatile actors of Bollywood.
He has charming looks, commendable acting skills and an electrifying dancing flair!
The actor started off in Bollywood as a background dancer in films like Taal, and soon performed in his first film Ishq Vishk in 2003.
At a mere age of 10, Shahid joined Shiamak Davar's Dance Academy. And after that, he enlightened Bollywood with his funky and flexible dance styles.
DESIblitz lists 12 of Shahid's most energetic and funky dance numbers, where his dancing talent is recognised and credited in Bollywood.
1. 'Aaja Ve Mahi' ~ Fida (2004)
Fida was Shahid's second film after Ishq Vishk, and he definitely danced with vigour to the rocking songs.
In 'Aaja Ve Mahi', the genius behind the rocking moves is the renowned choreographer Vaibhavi Merchant.
One IMDB critic outlined the song perfectly: "A very well put together number which is able to have you up on your feet at the first counts of the bass."
Go on and do some Balle Balle to this popular track!
2. 'Gustakh Dil Tere Liye' ~ Dil Maange More (2004)
Sung by the melodious voices of Sonu Nigam and Sunidhi Chauhan, the song met all preppy factors.
The dance moves are super funky and retro, with movements like the wrist flick.
The song takes us way back into the 80s with Soha Ali Khan as the female lead, adorning a polka dot skirt.
And Shahid, reminding us of the golden era, in a classic 80s suit.
He definitely took over the spotlight with his funky moves and charming expressions!
3. 'Mauja Hi Mauja' ~ Jab We Met (2007)
In 2007, when Jab We Met released, everyone was drooling over the energy-packed song 'Mauja Hi Mauja'.
Composed by the evergreen Pritam, and sung my Mika Singh, this song is peppy yet classic.
In an interview, Shahid himself commented:
"Pritam has given an outstanding track with some catchy and foot tapping remixes of songs like 'Mauja Hi Mauja' and 'Tum Se Hi'."
The dazzling black outfits worn by Kareena and Shahid in Mauja hi Mauja gave the song a captivating vibe.
4. 'Ae Pappi' ~ Kismat Konnection (2009)
Neeraj Shridhar's kinetic voice gave this slow song an upbeat touch.
Shahid, known as Raj Malhotra in the film, shocked everybody with his effortless dances, alongside the elegant beauty Vidya Balan.
And best of all, the song was composed by Pritam, impressing us once again with this brilliant song.
5. 'Dil Bole Hadippa Remix' ~ Dil Bole Hadippa (2009)
As the credits rolled out at the end of this fantastic film, 'Dil Bole Hadippa' remix served as a great closing tune.
Shahid and Rani complimented each other phenomenally, in this electrifying track.
And when it came to dancing to the 'Dil Bole Hadippa Remix', they both gave the beat an extra kick.
Watch Shahid Kapoor's iconic dance moves in our playlist below: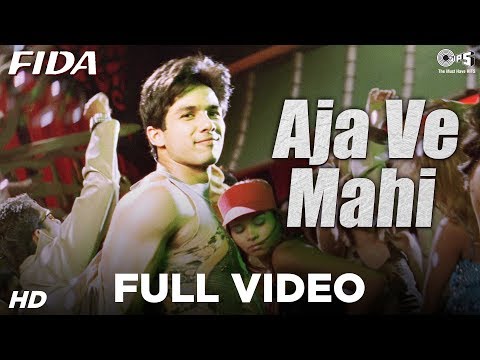 6. 'Pump it Up' ~ Chance Pe Dance (2010)
When Shahid gets a chance to dance, he doesn't waste anytime to flaunt his moves.
Everybody definitely loved his sleek moves, but his impressive 8-pack abs stole the spotlight.
In fact, the director of the film, Ken Ghosh, was shocked by Shahid's workout results.
"It was only on the day of the shoot that I saw him sport an absolutely lean physique," he said.
The dance was by international choreographer, Marty Kudelka, who has also created dances for Hollywood stars like Justin Timberlake.
7. 'Mallo Malli' ~ Mausam (2011)
Tochi Raini and Hard Kaur's voices were perfectly groovy and fit for this trendy party song.
Shahid himself danced brilliantly to this track, wearing a taper suit ready to woo the beautiful Sonam Kapoor.
The song received much praise. As Mausam is set in an olden era, this electrifying song is a contrast to the other retro tunes.
8. 'Tu Mere Agal Bagal' ~ Phata Poster Nikhla Hero (2013)
Phata Poster Nikhla Hero introduced us to Shahid's quirky acting and dancing style.
'Tu Mere Agal Bagal' was created by two creative choreographers, Bosco Martis and Caesar Gonsalves. Speaking about the Bollywood heartthrob, Bosco said:
"Shahid is an amazing dancer, and his expressions have improved with every performance."
And on top of this, he performed some iconic moves, like 'doggie dancing' and bum shakes.
Shahid Kapoor is dressed in a unique, Tapori (rowdy) style to add to the music.
9. 'Gandi Baat' ~ R…Rajkumar (2013)
'Gandi Baat' doesn't get any naughtier than with Shahid Kapoor dancing wildly to some quirky lyrics.
Shahid actually had never explored his full dancing potential, until Prabhu Deva stepped in to choreograph 'Gandi Baat':
"I honestly used to think I'm a decent dancer until I was choreographed by Prabhu sir," he says.
With colourful costumes and Prabhu Deva doing a short cameo dance, 'Gandi Baat' is one electrifying tune!
10. 'Bismil' ~ Haider (2014)
Shahid won numerous awards for his role in the Shakespearean adaptation, Haider.
'Bismil' itself is a thrilling masterpiece track, incorporated well with Kashmiri instrumentals and melodies.
To add to the plot, Shahid reveals a hidden story through the song and creates anticipation.
Describing the song, Vishal Bhardwaj, says: "This is when Haider re-enacts the murder, but I had to do that while retaining the poetic flavour."
11. 'Gulaabo' ~ Shaandaar (2015)
This quirky song is unlike any that Shahid Kapoor has danced to. His dapper moves alongside Alia Bhatt, are fun yet meaningful.
The music given by Amit Trivedi is super electrifying. Alia herself had to put in loads of effort to match Shahid's exceptional energy:
"I was damn nervous dancing with him. I had to have at least 10 per cent of his energy. He has 100 per cent," she mentioned to the press.
As per the plot of the film, Shahid and Alia were having a celebratory party for the bride-to-be.
12. 'Ud-daa Punjab' ~ Udta Punjab (2016)
'Ud-daa Punjab' was known as the party anthem song of Udta Punjab and 2016.
Shahid Kapoor danced solo in the song, creating an air of mystery, with a high-dose of pumping moves.
If anything, we loved the Punjabi-club mix by Amit Trivedi, which worked really well with the lyrics and cool attitude in the song.
Shahid Kapoor constantly demonstrates how his dancing skills complement his personality and acting skills.
After the timeless Rangoon, we now await what the dapper actor has in store for us in his next film, Padmavati.
But for now, go ahead and enjoy Shahid Kapoor's most popular electrifying and upbeat dance songs.
They are bound to have you tapping your feet and in the mood to dance!