It is also one of Sapna's most seductive performances.
Sapna Choudhary first came into the spotlight as a contestant on Bigg Boss 11 in 2017.
Since then, the Haryanvi singer and dancer have become known for her energetic and mesmerising performances.
Her stage shows and online videos of her dancing always take the internet by storm.
Sapna usually incorporates Desi Thumka (Desi dance moves) into her performances which has made her popular on the streets of Haryana.
As well as her amazing dance skills, she is also extremely gorgeous, leading to many of her fans being male.
Her popularity has spread to places such as Uttar Pradesh, Rajasthan and Punjab.
Some critics have labelled her dancing 'vulgar' as it could be seen as quite seductive, but Sapna has refused to accept that label and continued to dance.
Her time on Bigg Boss gave people a glimpse of her performances when she danced with the likes of Salman Khan and Akshay Kumar.
It also made her a fan favourite on the show. It has also made the most in-demand performer in his native home state of Haryana.
Sapna Choudhary's fast-paced dancing have been witnessed by many people whether it be at an event or on social media.
We look at five of Sapna's most memorable Desi dance performances.
Dancing with Salman
Although Sapna has always been a professional dancer, she gained a lot more recognition during her time on Bigg Boss.
At the show's premiere in 2017, she showcased her dynamic dancing.
Dressing in vibrant purple and dancing to the song Chhori Bindass, Sapna instantly makes a statement as soon as she begins.
The traditional but spirited style of dance moves performed by the dancer draws a huge applause from the audience.
It also highlighted Sapna's enjoyment when performing as she was full of smiles throughout the dance.
Her backing dancers only enhanced her performance as they matched her energy for the well-choreographed piece.
Sapna's dancing is one which was enjoyed so much that midway through, Salman Khan joins in and the two are in sync with one another.
The dance ended to massive cheers from the crowd.
It was a short performance but an impactful one as she made her grand entrance on the reality show.
On Monday, October 8, 2018, the dancer took to Instagram to post a video of the performance marking a year since she danced with Salman.
See the incredible performance Sapna posted
https://www.instagram.com/p/Boq8H4ehhXV/?utm_source=ig_web_copy_link
2017 Stage Dance
Sapna has showcased her excellent dance moves on the stage when being called upon to promote new Haryanvi songs.
In 2017, Sapna danced to the song Jab Tu Meri Fan Banegi by Raj Mawar and it proved to be a memorable performance.
While her dances are usually fast-paced from the beginning, this one builds up.
With many camera effects present, Sapna starts off slow facing away from the audience.
As she turns around, she is met with a huge applause from her fans.
Sapna's performance gradually becomes more energetic as she shakes her hips.
Throughout the performance, Sapna combines her dance style with some elements of Bhangra.
Her fans appreciated her performance, even giving her money for her Desi dance.
The upbeat song and lyrics are mimicked by Sapna in her performance as it is almost like a story which she is telling.
It is a dance which has been viewed over 2 million times, making this 2017 dance by Sapna, one of the most memorable.
See Sapna's 2017 performance to Jab Tu Meri Fan Banegi
Sapna presents Boota Singh's 2018 song
This 2018 performance by Sapna in Haryana introduced Boota Singh's Teri Aakhya Ka Yo Kajal in 2018.
As a dancer, Sapna is arguably one of the best in India as she is a master of slow-paced performances as well as high energy.
This is one of her quickest dances as she keeps pace with the upbeat and fast-tempo song.
It is also one of Sapna's most seductive performances as some of her moves are enticing to the crowd.
Throughout the full performance, Sapna puts all her effort into every move to please her many fans.
Her normal style of dance is prevalent during her 2018 display but she incorporates unique moves to keep her fans entertained.
Although she is the only one on the stage performing, Sapna commands the stage and makes it hers as she is looked on by her adoring fans.
This performance by Sapna is one which will be remembered for a long time.
Watch Sapna's amazing performance
PTC Punjabi Film Awards 2018
Sapna has not just performed for her fans on-stage in her home state.
She has also performed at major awards events attended by some of Bollywood's biggest stars.
As Sapna makes her way to the stage, she has a number of backing dancers dressed in traditional Bhangra outfits.
The song Tere Thumke Sapna Choudhary from comedy-horror film Nanu Ki Jaanu begins to play as Sapna bursts out into dance.
The film sees Sapna play an item girl and performing the song.
While her backing dancers are performing Bhangra, Sapna dances her specialist style of various Desi moves.
The contrasting dance styles between the backing dancers and Sapna is a unique touch, rarely seen in other dance performances.
Through her usual dance style, Sapna adds some hints of belly dancing as she contorts her stomach multiple times during her performance.
It was appreciated by the audience, which will certainly give Sapna more exposure as a dancer.
See Sapna's dance at the PTC Punjabi Film Awards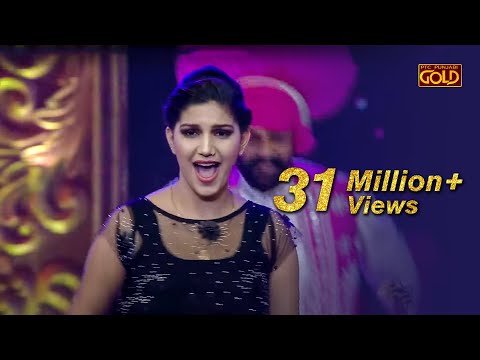 Sapna Dancing with Salman & Akshay
During the finale of Bigg Boss 11, Sapna dances alongside two of Bollywood's most famous actors.
She dances with Salman and Akshay to Mujhse Shaadi Karogi from the film of the same name, which starred both actors.
As a three, they dance while mirroring the plot of the film. Two men are after one woman's affections.
In just a short performance, Sapna puts a lot of energy into each move in between the two acting icons.
It is a performance which she enjoys as she is constantly smiling throughout it.
Sapna is not the only one having fun, her fellow Bigg Boss contestants are also enjoying the performance.
The short segment is one of Sapna's most memorable dance moments.
Watch Sapna dance with Salman & Akshay
Sapna Choudhary has performed all throughout India whether it be for her fans or in front of other celebrities.
Her time spent practising dance and showcasing it on India's biggest reality show has made Sapna a well-recognised dancer.
It has given her multiple opportunities to perform her unique style of dance, which is a mix of other Desi dance styles.
Sapna's performances reflect the lyrics of the songs she dances to so that there is some story to her displays.
Not only has she performed in her home state, but Sapna also promotes the songs that she dances to as the artists are from Haryana.
Sapna has quickly become one of India's most sought after and most recognised dancers.