"We navigate a man's world in female bodies, this requires masculine behaviour for survival."
Mujra dancing is a popular dance form which has a long and colourful history.
The dance combines elements of the classic Indian dance Kathak with native music genres like thumri and ghazal.
It originated during Mughal ruling in the South Asian subcontinent in places like Jaipur where it was a family art, passed down generations.
In Lahore's Heera Mandi, Pakistan's oldest red light district, the performance was a mix between art and exotic dance.
Performers were often serving as courtesans amongst Mughal royalty or wealthy patrons.
It is in Pakistan where the dance has continued to exist and stay popular.
Pakistani Mujra culture is a sub-culture which revolves around dancing performed to popular Pakistani Mujra songs.
In the modern day, Mujra dancers perform at events such as weddings, bachelor parties, in theatre and on-stage.
Pakistani Mujra comedy is a common place for the dance form to be mixed in with comedy storylines and sketches.
Many of the dancers from Pakistan tend to have voluptuous bodies and tend to dress in colourful and tight outfits to accentuate their suggestive moves and figures.
The music used is always upbeat with strong rhythms and catchy lyrics, frequently sang by artists like Naseebo Lal. Many of the dancers perform to popular Bollywood songs too.
Some dancers fly over from cities in Pakistan to even perform at events in India.
Depending on the popularity of the dancer, what they charge for their dances can vary. Fees start from Rs. 15,000 (£157) and can go up to Rs. 15 Lakhs (£15,760).
Mujra dancing is very much in-demand at male parties and gatherings, where the dancers are showered with rupees for their scintillating performances.
The highly seductive dance form has seen many famous dancers from Pakistan who specialise in Mujra, particularly sisters Nargis and Deedar.
We look at the 10 top beautiful and best Mujra dancers from Pakistan and their popularity for this unique form of dance.
Nargis
Arguably Pakistan's most famous Mujra dancer, Nargis has been performing Mujra since the late 1990s.
The dancer is most noted for her modern form of Mujra onstage, one of which includes a spicy performance in 2002.
Nargis is dancing to the fast-paced song Pawe Jadon Raat from Gujar Badshah (1994). Her performance combines classical dance with elements considered by some to be sexualised.
Her Mujra performances make Nargis the highest paid dancer of this form.
In 2016, Nargis was one of several Mujra dancers invited to perform for an upcoming festival titled Sohniyo Eid Mubarik.
She was paid Rs. 25 Lakhs (£26,200) for her performance, making her the most sought-after Mujra dancer.
Nargis is a pioneer and one of the most established Mujra dancers.
Watch a compilation of Nargis' Mujra performances
Deedar
Deedar, the younger sister of Nargis is one of the most popular Mujra dancers. She has retired from dancing and now focuses on her beauty business.
There is no way we could leave her out of our list because she has been an iconic dancer on the Mujra scene. With a figure which was slimmer and slender than others, she made a huge impact.
Her exotic dance style along with her beauty became very popular amongst the Pakistani youth.
The Lahore based dancer was a regular performer at many big shows and stage events with a huge following.
Her Mujra style was more suggestive and catchy than others which is why she garnered a huge male following.
Deedar introduced more modern styles of dancing into her routines but at the same time could perform classically too, making her very versatile.
Deedar and Nargis have worked together many times and have also danced together in the past.
Watch a stunning performance by Deedar
Sobia Khan
Sobia Khan was born in Karachi, but it was in Lahore where she made her name.
She stepped into performing from a young age, initially acting. Her debut film Kafira released in 2011.
While the film was not a box office success, it transformed Sobia into a rising talent.
That talent was showcased when she moved into dancing, specifically Mujra. Despite being a fresh face, she is one of the most promising dancers in modern times.
Sobia's performances are energetic and highly suggestive.
While her own fanbase continues to grow, Sobia is focused on promoting other performer's Mujra.
She regularly shares videos of other Mujra performances on her social media.
Sobia is a dancer who is fast becoming a well-recognised figure in this dance form but is also keen on finding the next big star.
Watch Sobia Khan's seductive Mujra performance
Sitara Baig
Sitara is one of the most sought-after performers because of her energetic performances.
She regularly performs Mujra on-stage and in theatre throughout Pakistan.
The demand for her performing increases during seasonal festivities, which she obliges because of her fans.
Sitara enjoys performing at these events especially with less established dancers. This provides an opportunity for them to become recognised and appreciated in the industry.
She said:
"The less experienced artists receive around Rs. 5 Lakhs for performances."
Sitara is one who likes to perform Mujra for her fanbase throughout Pakistan.
Watch Sitara Khan's emphatic performance
Afreen Khan
Afreen Khan is a popular Mujra dancer who frequently performs in a Lahore theatre.
Her erotic dance has gained her a huge following in the historical city. Afreen's presence on her own can sell an entire show.
During the performances of the 23-year-old, she often shouts back at hecklers and says dirty jokes to audience members, all while dancing.
Afreen's dancing coupled with her personality make her command the stage.
She believes that her Mujra dancing is a way to influence a man's behaviour.
Afreen said: "We navigate a man's world in female bodies, this requires masculine behaviour for survival."
Watch Afreen Khan's Mujra performance
Mahnoor
Lahore's most famous Mujra dancer is one who acts as well as dances. She appears on many stage productions. However, Mahnoor feels that she is a better dancer.
She did an item song with Ahmed Ali Butt for the 2012 film Sher Dil. She also had a leading role in Lafanga (2014).
Besides practising every day, when Mahnoor wakes up she often dances to songs which are trending at the time like Desi Look wearing much more revealing attire.
As a Mujra dancer, Mahnoor is confident with her ability and very sexy style.
Speaking to Sohail Warraich for programme Aik Din Geo Ka Sath, she said:
"I feel that I am the biggest stage dancer right now."
After initially struggling to make money at the start, Mahnoor, through her performances, has become famous and a household name.
Mahnoor has been on the receiving end of some scandals, one being that she mistakenly told Warraich about her hidden income. She never responded to her reveal when questioned.
Mahnoor's Mujra performances have netted her huge success and a legion of fans.
Watch Mahnoor's very sensual Mujra dance
Saima Khan
Dancer Saima Khan is one of the most well-known Mujra performers in Pakistan having regularly performed in theatre.
Her massive following as a Mujra dancer is down to her bold personality.
Saima was the first woman to take her top off on-stage under General Pervez Musharraf's reign.
It came at a cost as unidentified gunmen opened fire at her as she allegedly refused to perform for them in 2007. She did make a full recovery.
Since then, she has taken the idea of modern Mujra which Nargis and Deedar made famous and added a whole new dimension to it.
Some of Saima's dances are highly erotic and some have even contained frontal nudity, bringing large waves of new fans.
Saima is certainly one of the top Mujra dancers in contemporary times.
Watch Saima Khan's excellent performance
Nida Chaudhry
Nida Chaudhry is another Mujra dancer who has rapidly become one of the most well-known performers.
She followed in the footsteps of Saima Khan to elevate the modern-day Mujra.
Nida's dance style is also very bold and sensual.
Some of her dance performances show her dancing with a lot more titillation and wearing more revealing clothes. As a result, her popularity has skyrocketed.
She is a regular performer at seasonal festivals, where her shows are very popular.
Nida, keen on creativity, says: "I practice on several new songs, which I believe the audience will thoroughly enjoy."
Similar to Nargis, Nida has a high price tag at around Rs. 15 Lakhs (£15,700).
Watch Nida Chaudhry's Mujra performance
Sidra Noor
Sidra Noor is known for her highly seductive Mujra dance style whether she is performing on stage or posting them on social media for her fans.
She has appeared in many Mujra style music videos with other actors like Jahangir Khan, performing sensual dances.
The dancer has played small roles in Pakistani-Punjabi films, including co-starring with fellow Mujra dancer Nargis.
While films have increased her profile, it is her stage performances which have made her well-known.
A well-seasoned star of Mujra dancing, Sidra has performed over a hundred times.
Several of those have been at the Pakistani Mujra Masti event, catapulting her fanbase upwards.
Sidra Noor is a dancer who performs with the fans in mind.
Watch Sidra Noor's emphatic performance
Deedar Multani
Deedar Multani is a Mujra dancer who is rapidly becoming one of the most well-known performers.
She is a performing stage actress who is touring frequently with well known Pakistani drama companies.
Deedar Multani's dance style is also very energetic and vibrant.
She is often seen dancing in western attire bringing a very modern look to Mujra. She says:
"Salwar kameez is there but I do like wearing Western clothes."
She has a tendency to select songs with a slower introduction to allow her to show her facial and hand expressions before exploding into very fast and dramatic dance moves.
Her dancing, especially since 2017, has made her incredibly popular among the Mujra dance scene in Pakistan.
Her seductive and high-octane moves definitely give her performances a very unique style. Regarding the kinds of dance she likes, she says:
"I have a love for classical dance. Because I started dancing in a classical style to Madame Noor Jehan's songs."
Deedar Multani is a dancer who appreciates her fans, regularly posting on her social media accounts and interacting with them on video chats.
She is a fan favourite Mujra dancer and is in demand when it comes to her performances.
Watch Deedar Multani energetic performance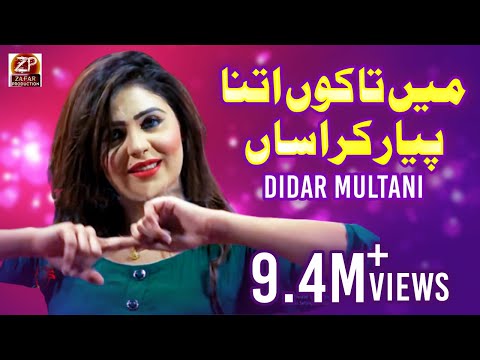 Mujra dancing is a form which is highly popular in Pakistan and these dancers are some of the most renowned.
Pakistani Mujra in wedding parties is a major area of growth for new dancers.
Some dancers are considered to be pioneers of mainstream Mujra and others are just beginning their venture.
They all bring slight variations on the centuries-old dance to showcase to their many fans.
Their modern take on the Mujra is raunchy, some more than others, but one thing is that they continue the legacy of Mujra dancing.