"Artistry is somehow, looked down upon, not respected where I come from"
Indian born singer-songwriter Neethusha Cherckal uses music as an outlet in which to express herself.
Formerly a singer for the band, StereoGrind, the talented vocalist has embarked on her solo career, with her single 'Why Did I Lose You'.
The track, which is a romantic ballad, is beautifully hypnotic and soothing. The delicate raspy-ness of Neethusha's vocals is an ideal fit to the funk, rock and acoustic-led pop style of her music.
Listening to the track, it is no surprise that the Kerala-born singer is heavily influenced by Western artists. In fact, Neethusha highlights Savage Garden, Coldplay and Celine Dion as some of her biggest inspirations.
A graduate in computer science, Neethusha broke free of her conservative upbringing to pursue her passion for music.
In a special Gupshup with DESIblitz, the self-made artist tells us more about her journey into music and how she has overcome some of the challenges that she faces as a female Indian musician.
Your childhood and upbringing were quite conservative. Tell us about it.
I was born in Kerala, in a town called Thrissur. Did my schooling and engineering in Bharatiya Vidya Bhavan, Thrissur and my Computer Science Engineering in Model Engineering College, Cochin.
I wouldn't want to play a victim, my family has always been very loving and kind and supportive as far as my education and job (consultant with Deloitte) was concerned.
They just weren't prepared to see me as a singer/performer/artist. Artistry is somehow, looked down upon, not respected where I come from.
How did society hold you back from your dream to be a singer?
Belonging to the Muslim community doesn't make it easy for an artist, as singing and performing is not exactly encouraged in Islam.
"I wasn't given a chance to pick up a musical instrument and I believe had I done that then, I would be a better musician now and I would be a better singer."
After school, pursuing arts was not even an option, I had two options to choose from – medicine or engineering. So I chose the easy way out.
It was a shock and more than that, a shame for my family/relatives to know that I quit my work to take up music full time. But they come from a different era, belong to a different society. The generation gap is definitely there.
Do you think it is harder for Indian girls than boys to choose alternative careers? If so why and how?
Yes and no. Yes, we still belong to a society where women are oppressed or somehow considered 'lesser' to men.
Women do have a quite a lot of struggles in their life, but it would be wrong to say the same doesn't apply for men too.
Men have a lot of pressure from the society to 'earn', 'feed/support your wife and children', 'do a better or at least equivalent job to that of your friends and neighbours'. Sometimes it is harder for men to pursue their passions.
I believe the we, ourselves are our biggest enemies. Because of our lack of faith in ourselves. But it is changing, although at a very very slow pace. I think the change begins with us and what we will teach our children.
Tell us about your song 'Why Did I Lose You' – how did that happen?
My guitarist friend (Joshua Paulmer) and I were jamming at a coffee shop gig one fine day. We were slightly bored, so we came up with random stuff.
He played a riff that I felt was quite catchy. I was immediately able to make a melody on top of it. The lyrics too came in a few minutes (although the first couple of minutes were gibberish).
The lyrics were inspired by an argument that I had had the previous day. In about 5-10 minute of jamming the whole song, with structure, melody and lyrics were ready!
Any reason why you chose to sing in English in this song? Since you can sing in Hindi too?!
Oh, that depends on my mood. Yes, I can sing in both the languages.
Sometimes I feel certain melodies suit a certain language. And writing in English comes easier to me than Hindi, Hindi is not my mother tongue, Malayalam is. I do have plenty of Hindi originals though, coming soon!
With many artists struggling to make a living in music today. How do you intend to survive the challenges?
I am already facing quite a lot of challenges. All it takes is the willingness to KEEP working hard, the determination to never give up.
Endure the struggle; I believe one fine day it will come through. I have had plenty of reasons to give up. Plenty. But I still couldn't give up. I am still trying!
Do you feel music is dictated by YouTube views more than ever now? Despite how good or bad it might be?
For better or worse, yes. We know that when videos go viral, the artists get famous.
Regardless of how good or bad it might be. It has been helping both sides of the coin to surface.
How have people responded to your music and songs, including family?
So far, the response has been very positive.
My family has always loved my singing and my voice, just not my videos lol. They prefer me being behind the scenes!
How would you describe your sound and voice?
"I am a popular music artist. I make songs from soft ballads, to dance to soft rock/rock. Whatever I would feel like at the moment. I could never describe my voice, I have thought about it. I think others should."
Who would you like to work with?
Oh, so many many many artists!
If they would let me, I could at least do backing vocals for Phil Collins, Coldplay, Strings (Pakistan), Atif Aslam, Roxette, Darren Hayes/Savage Garden, Shania Twain, Celine Dion!
Some YouTube artists I would like to collaborate with are KHS, Sam Tsui, Alex Goot, Vidya Vox, Shirley Setia, SANAM.
Watch the music video for 'Why Did I Lose You' by Neethusha here: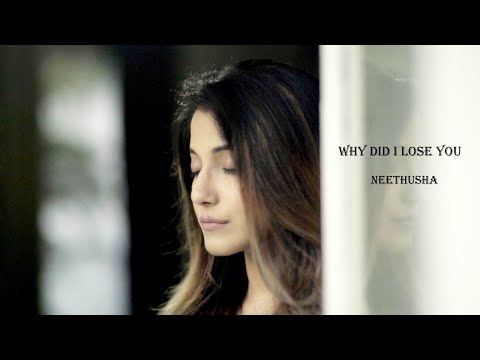 Neethusha perfectly represents how women can overcome societal pressures and express themselves in an artistic manner.
Her courage to break free from societal norms and pursue her dreams make her a role model for many young people. And we are pretty certain that Neethusha has a very bright and lengthy career in music ahead of her.
Listen to more of Neethusha on Soundcloud here.