"Oh my god she has enhance her dance skills so much! I salute her hardwork!"
Since its release, 'Trippy Trippy's' music video has set hearts racing. With stunner Sunny Leone wearing sexy outfits and performing sultry dance moves, we're not surprised.
But actor Sanjay Dutt has criticised the star, claiming that the video's content appeared too 'vulgar'.
The new track, featuring in upcoming movie Bhoomi, became unveiled on YouTube. Released on 17th August 2017, it became a viral hit and gathered 23 million views.
The music video features Sunny Leone in an array of spectacular poses. From wearing a two-piece khaki bikini to a dazzling, monochrome outfit, the starlet delivers high-energy.
With 'Trippy Trippy's' fun, vibrant beats, the actress has certainly captured the feel of the song. It seems her fans would agree, as over 94,000 liked the video and others also complimented Sunny on her performance.
One YouTuber user named Sthrani Atserhs commented: "Oh my god she has enhance her dance skills so much! I salute her hardwork! [sic]"
Watch the music video for 'Trippy Trippy'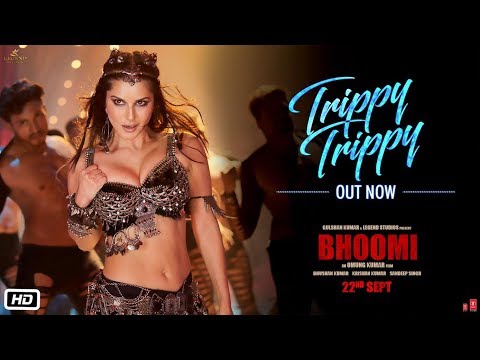 This marks as the latest success for the star. She has previously stunned in 'Piya More' and 'Laila Main Laila', which both gathered an outstanding reaction from Bollywood fans. It seems then the career of Sunny Leone is going from strength to strength.
However, not everyone is pleased with the music video, particularly Sanjay Dutt, who will appear in Bhoomi. Sources claim that the actor, hoping to make a welcoming return to Bollywood, has voiced his displeasure with the music video, describing it as 'vulgar'.
Speaking to Deccan Chronicle, the source said:
"Trippy is a huge hit on the social media. Sunny too is happy with the kind of response the song is getting. But Sanju wants it to either go or be trimmed."
The actor also supposedly argued that the music video doesn't fit with Bhoomi's flow. Indeed, the starlet does land some provocative moves throughout the video, often gyrating her hips with the male dancers. Perhaps this has prompted Sanjay's disappointment?
Despite the actor's comments, this hasn't deterred Sunny Leone fans from celebrating her 'Trippy Trippy' video. Instead, they continue to cheer on the star for her stunning performance.
We wonder if Sunny will soon respond to Sanjay's comments. Time will tell.