"We're very well known for our barbecue grill items, kebabs, tikkas, traditional karahis' and curries."
Originating from Pakistan, Salt'n Pepper restaurant in London is an undeniable culinary success. Offering customers authentic Pakistani cuisine and a fusion of European dishes, the recently opened London branch has become a favourite for curry lovers.
In an exclusive Gupshup with DESIblitz, Max Paswal, General Manager of the London restaurant says: "Well as you know, the group of Salt'n Pepper group of restaurants originated in Pakistan, and started out in Lahore more than 30 years ago."
Founded by acclaimed chef, food writer, hotelier and restaurateur, Mahmood Akbar and his wife, Salt'n Pepper proved to be an outstanding class of Pakistani cuisine in its home country, with almost 10 restaurants.
With such success at home, it was only a matter of time before Akbar and his team decided to accommodate the flourishing British Asian community in the UK:
"With the influx of Pakistanis all over the globe, especially here in the UK and Europe, and with London being the curry capital of Europe, it was the most sensible choice to open our first branch in central London," Paswal tells us.
The philosophy of this restaurant is to bring the authentic flavours of Pakistani dishes to the UK and to have everyone experience fine Pakistani dining.
It is important for Salt'n Pepper to distinguish itself away from typical types of South Asian cuisine found in the UK. By introducing a refreshed menu, they can provide a new dining experience to customers and educate them on how Pakistani cuisine is unique and special:
"There are subtle differences between Pakistani cuisine and cuisine from other parts of the Indian subcontinent. But our food is very similar to North Indian Punjabi cuisine," Paswal adds.
Over the past decade in the UK there has been an increase in South Asian restaurants which sometimes can make it hard to stand out. One aspect that sets Salt'n Pepper apart from others is their food.
With culinary influences from many cultures such as Turkey, Persia, Sindh and Punjab, there are a variety of tastes to be savoured from Salt'n Pepper's dishes; in particular, they have Biryani, Barbecue and Tandoor specialists. Salt'n Pepper's stand-out dishes are its Kebab, Biryani and Karahis':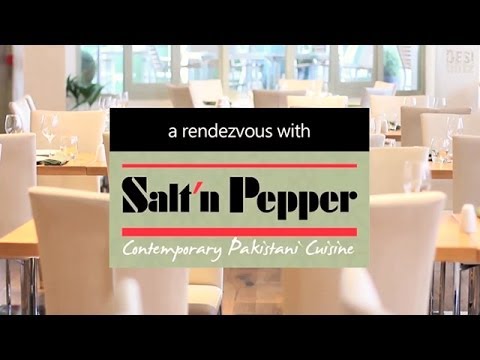 "We have a typical hard-core Pakistani menu. We're very well known for our barbeque grill items, kebabs, tikkas, as well as traditional karahis' and curries," Paswal tells us.
Not only does this restaurant use fresh and seasonal ingredients, founder Mahmood Akbar's own secret signature dishes are also incorporated into the menu. Some of these have been a hit in Lahore and are unlikely to be seen anywhere else:
"We actually also offer what are called our 'Lahore favourites', and these are European dishes that have become famous in our restaurants in Pakistan. The most famous one is our stuffed chicken breast, club sandwich with chicken, our chicken and chilli burger is also very popular."
Some of Salt'n Pepper's signature dishes include:
Chicken Methi (Chicken served with fenugreek leaves)
Ginger and Green Chilli Burger (Grilled spicy chicken patty served on garlic buttered bun)
Tawa Salmon with mushrooms (Fried with olive oil, served with steamed basmati rice and salad.)
Karahi Lamb Korma (A spicy version of the original Lamb Korma)
Stuffed Chicken Breast with Pineapple Sauce (Marinated Chicken Breast stuffed with Salt'n Pepper's blended herbs, butter and cheese. Coated in Breadcrumbs and fried until golden brown.)
Located in the heart of central London, Leicester Square, the restaurant appeals to those who want to catch a movie or theatre showing first and then dine out. Mahmood Akbar says: "London is a vibrant mix of cultures and cuisines and we did not want to be just another 'curry house' in the city.
"What we bring to diners in London is authentic Pakistani taste that is the same here and in Pakistan, but presented in a contemporary way to appeal to the UK's tastes. We have been serving an artisan audience for over 30 years and we look forward to introducing Pakistani cuisine to London diners."
The London branch not only caters to individual diners, but also groups and parties. General Manager, Paswal says: "We have a very large kitchen and are able to cater for parties, outside functions, and groups that want to book the restaurant as well. We supply anything and everything when it comes to Salt'n Pepper food."
This restaurant achieves what it sets out to do the most; be separate from other South Asian restaurants. In Pakistani cuisine, fewer spices are used as Pakistani dishes focus on meat and wheat.
Additionally, this restaurant encourages healthy eating by incorporating olive oil and yoghurt into their recipes. It is an ideal place for those watching their weight and also those looking to try something different.
The interior itself is a unique simple design that completely relaxes you. With white chairs and pine wood décor, it reflects the simplicity and originality of the dishes. With this interior design, Salt'n Pepper is different amongst other restaurants which opt for darker tones and dim lights. Salt'n Pepper is meant for casual dining with a social buzz.
Which so much to offer diners and enthusiasts of authentic Pakistani cuisine, Salt'n Pepper London offers you a delicious culinary experience that will entice your taste buds and have you coming back for more.