"It is a true a vision of what Nissan performance will look like in the future."
Nissan updates its stunning 2014 Concept 2020 Vision Gran Turismo to wow the crowds at the Tokyo Motor Show 2015.
The dazzling concept car that could be mistaken for the Batmobile gets a 2015 reboot.
Its welcomed glaze of luscious 'Fire Knight' red body colour, which replaces the original grey, is much more fierce and fiery.
If that isn't enough, Nissan's 'plastic surgeons' finish off the cosmetic makeover with a facelift, by way of implanting their new signature 'V-Motion' grille.
And boy do these changes make a 'whole lotta' difference!
These changes fuel speculation as to some of Nissan's preferences towards the overall look of their upcoming R 36 Nissan G-TR, due to launch within the next few years.
Nissan states: "It is a true a vision of what Nissan performance will look like in the future."
The car highlights engineering fusion between the UK and Japan on a pioneering scale.
It is digitally developed by up and coming designers at Nissan Design Europe in London for the popular PlayStation 3 game, Gran Turismo 6.
The physical version is then boldly brought to life by Nissan in Japan, and debuted at the Goodwood Festival of Speed in 2014.
Not the first car to be made from the Vision Gran Turismo project, it follows in the footsteps of automakers Bugatti and Hyundai in converting virtual cars from the successful computer game franchise to conceptual reality.
This revamped Nissan 2020 Concept Gran Turismo marks a significant homecoming at Tokyo, making a statement for Nissan's ambitious intentions for future cars.
It isn't all just about impressive aesthetics, though.
There are a number of practicalities which have been taken into account by the designers to ensure that the car will make for one impressive ride, should it be made into a real car.
Nissan says: "The rear active wing is raised or lowered according to speed, and at 300 km/h (186 mph) it pushes over 400kg of downforce directly onto the differential block.
"The powertrain utilises a high performance hybrid FR-4WD system with a V6 twin turbo engine, combined with 3 motors.
"The torque vectoring of the individual front motors on the left and right, and the active suspension maximising aerodynamic performance at all times results in smooth cornering performance even at extremely high speeds.
"The NISSAN Concept 2020 Vision Gran Turismo is a combination of designer intuition and detailed technical evaluation, a vision, a possibility, and a proposal made by Nissan for the coming future."
Take a look at the Nissan Concept 2020 Vision Grand Turismo revealed at the Tokyo Motoro Show 2015 right here: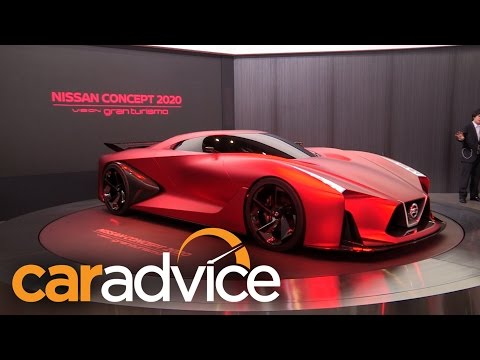 Excitement looms for fans of Nissan performance supercars, as the Concept 2020 Vision Grand Turismo exemplifies what is in store for the car giant in years to come.
With jaw-dropping and ultra-futuristic looks, this is one concept that car enthusiasts will no doubt be hoping to make as much of it on to the production line as soon as possible.