"It was Honey Singh that called me and he sent me the beats and told me what he wanted."
Born and brought up in North Wales, Nesdi Jones, 21, is a talented individual who sings and raps in four languages: Hindi, Punjabi, English and her native language Welsh.
Her debut hit 'London' was a successful collaboration with Money Aujla and Yo Yo Honey Singh. The catchy track topped the Asian charts to Number 1.
Dubbed as the 'Desi Gori' by her fans, in an exclusive Gupshup with DESIblitz, Nesdi says: "Being called 'Desi' I think is a privilege. The fact that people have accepted me with open arms and people actually look at me and go, 'You're the Welsh girl, you're the other Desi Gori!' It's still overwhelming."
Nesdi was interested in singing from a very young age and she has always had a strong passion for music.
It is thanks to her determination and her desire to grow as a singer that has led to her becoming a popular name in the music scene, with hopes to soon be a household name worldwide.
She started singing at the age of 5 in a local church as a soloist. From there she got into Classical soprano. During school, Nesdi entered many competitions in her local area as a soloist and as part of a choir.
As well as being part of musicals in school, she also joined and participated in amateur theatre groups and was in a local dance school learning ballet and tap dancing.
At 15, she, and two acoustic guitarists formed a Welsh acoustic folk/pop band by the name of Addurn ar y mantell where she wrote lyrics and composed melodies with both musicians. After catching people's attention they toured Wales as a supporting act to well-known Welsh musician Gai Toms. The bands work was played on local radio.
Her career started with small performances alongside a guitarist in open mic nights and jamming with different musicians.
Nesdi first came into contact with India at 17 when she did some NGO work out there at a school and orphanage: "I was teaching in a school, English, Maths and Sports for an NGO called Samarpan. I lived with a few Rajput people and they always played Bollywood songs, Desi music and I found it so catchy."
She moved to New Delhi in an attempt to learn a new experience, and it was there she was united with the world of Bollywood. She joined a Goan band and did backing vocals and projects such as performing in small pubs and events. On living in Dehli, Nesdi says:
"In the beginning it was a shock. It was a huge shock. Every day was different and I met the most amazing people. It was just an awesome journey that I'm still taking. And I'm still learning so much more; of the languages, the culture and the amazing festivals that they have. I adore it."
Expanding her horizons, her YouTube channel features many videos of her covering Bollywood songs. After reaching over one million views producer Mahesh Bhatt praised her abilities. Singers such at Jaz Dhami have also complimented her voice in Punjabi.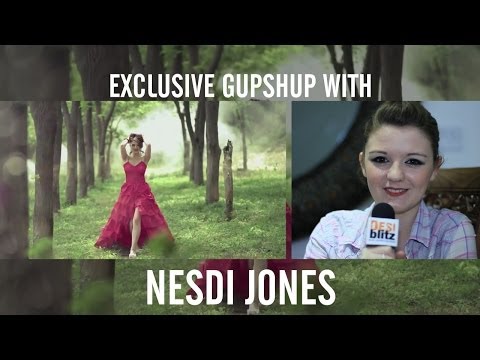 Talking about some of her South Asian inspirations from the music industry, Nesdi says:
"I love Atif Aslam because he is one of the first [South Asian artists] I started listening to. I love Vishal-Shehkar, I love A R Rahman and I love Shreya Ghoshal. Her vocal ability, I wish I could do that."
Nesdi admits that it can get quite confusing trying to grasp the many languages of South Asia. Currently she is working on improving her Hindi and Punjabi: "It can confuse me a lot. Slowly I'm picking it up, and I'm trying really hard," Nesdi says.
It was when Nesdi covered one of Honey Singh's songs 'Brown Rang' that he contacted her. Speaking about the evolution of 'London', Nesdi says: "It was recorded in April. It was Honey Singh that called me and he sent me the beats and told me what he wanted."
'London' was her debut single with Punjabi singer, Money Aujl and produced by Yo Yo Honey Singh.
In the space of 24 hours, it went straight to number one in the worldwide Punjabi charts:
"I'm feeling very overwhelmed at the moment. Everything is very surreal and I'm looking at the music video and hearing my song on the radio thinking that can't be me!
"My following is now going sky high, I feel there is now a light at the end of the tunnel after all the hard work that's been put in," says Nesdi.
Now Nesdi is working on many projects with various musicians to collaborate with and make unique music. In particular, she is working on a few more tracks with Yo Yo Honey Singh and also planning her first album with a Manchester producer which will either be in Hindi or Punjabi.
Her updates can be found on Facebook and Twitter and her videos can be found on her YouTube channel, 'NesdiJones'.