The main event of Solid Impact 3 is Darren Moffit's defence of his title
Boxing and Mixed Martial Arts (MMA) descends on Bradford on March 12, 2016 with the 'Solid Impact 3: Operation Takeover'.
The Bradford Hotel will host the latest edition of the tournament, which has also previously been held at Valley Parade – the home of Bradford City Football Club – and the Rio Grande Banqueting Suite.
'Operation Takeover' is the third instalment of the popular tournament and follows on from 'Solid Impact: The Beginning', and 'Solid Impact 2: The Battle'.
The event, officially sponsored by Harris Solicitors, features various forms of fighting. There will be MMA duels, K1 combat and Boxing bouts.
Numerous British Asians are set to participate in Solid Impact 3, and fan, Tahir Rehman acknowledges this. He says: "Respect to this promotion for giving Asian Muslims from Bradford a chance to fight in the fight scene."
The main event of Solid Impact 3 is Darren Moffit's defence of his title. He is the defending champion after winning the tournament last year.
Moffit faces Ben Pickles for the Solid Impact Heavyweight Title, and has promised the KO of his opponent.
This intriguing heavyweight battle will be preceded by numerous fights, some of which include British Asians.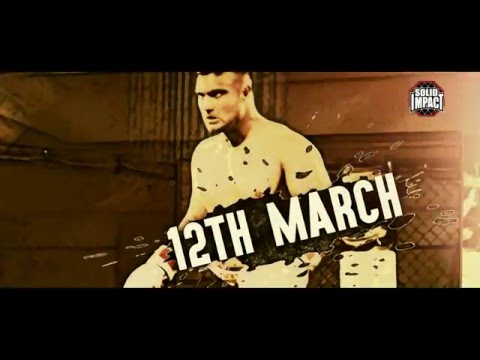 Here is a breakdown of the biggest Asian fights.
Khatib Rehman vs Brad Carter
This fight is for the prestigious Solid Impact Yorkshire Belt.
Rehman beat gung-ho fighter Ryan Bairstow in his last Solid Impact battle. Despite being put under immense pressure, he weather the storm with a very strong defence.
Rehman KO'd Bairstow with a counter-attacking sucker punch as the all out attack fighter began to tire.
Khatib says ahead of the fight: "I want to put on a show for all of the fans. They will see the belt on my waist at the end."
His opponent, however, is a seasoned fighter. Carter, also a doorman, has experience and titles in MMA, K1 and boxing. He is not to be underestimated.
Maroof Ahmed vs Ryan Bairstow
The pair will face off against each other in a boxing bout.
Ahmed will be making his debut in the tournament against a fighter who has featured in all editions of Solid Impact.
Bairstow was KO'd by K. Rehman last year after his relentless attack left him constantly exposed to counter-attacks.
If Bairstow fights in a similar manner to before, he could well face a similar result.
Furqan Cheema vs Steven Mcdonald
Cheema faces Mcdonald in a MMA Welterweight bout at 77.1kg.
Mcdonald is an experienced fighter, who has fought mainly at pro level. Recently however, he has dropped back in to the amateur scene.
He faces a Furqan Cheema who is returning from a year away from the sport, and is a big underdog for the fight.
Cheema last fought at Solid Impact 2 where he secured a first round, 33 second win over Will Cains. Speed is one of Cheema's greatest attributes, and could be pivotal against an aging fighter.
After his year-long break, Cheema is eager to return. He says:
"It's going to be a good fight, something that I'm really looking forward to, and hopefully I'm hoping to obviously gain the win against him."
He adds: "My confidence has gone much higher. I'm really excited for my next fight."
Furqan's elder brother is also competing in the tournament.
Junaid Cheema vs Liam Hirst
Junaid Cheema is the elder brother of Furqan Cheema, and he will be making his pro debut vs Liam Hirst.
Cheema says: "I've fought amateur MMA before, but this fight will be my professional debut. I was supposed to fight at the last [Solid Impact] show, but unfortunately my opponent pulled out, so I'm hoping this time round I get to fight."
Robert Hardman pulled out of a bout between himself and Cheema due to a shoulder injury last year.
Cheema enters the fight having recently beaten, Yorkshire Belt contender, Brad Carter at Combat Challenge 16.
Like his younger brother, confidence is high. Junaid says: "I saw the fight against [Mark] Spencer. I saw a lot of flaws there, so hopefully I'm looking to capitalise on them."
Ibrar Khan vs Jason Johnson
This duo will be fighting in an MMA bout.
Khan defeated Jamie Wroe at last year's Solid Impact event. He is a fighter who likes to get his opponents in to locks and chokes.
Wroe spent much of their fight with Khan on top of him before he eventually tapped-out.
Solid Impact organisers describe this fight as: "A fantastic match-up in the amateur scene between two talented fighters […] It's a really well matched fight with both fighters coming in to it with wins behind them."
Zubair Khan vs Kody Steel
An MMA bout between two big fighters.
Steel recently brushed aside the challenge of Jamie Wroe, knocking him out in 15 seconds after a powerful kick to the side before a flurry of punches.
Khan beat Kevin Dixon at Solid Impact 2, doing so in 1 minute 10 seconds. He, however, lost to Ian Ashburne in Combat Challenge 15 upon being bamboozled by a 360 turn and blow to the face.
Ashburne had already knocked Khan down twice prior to that.
This makes for an interesting battle, with both fighters having little time for defence.
Addy Khan, Qasim Gul, Imran Khan, and Hassan Hunter are the other Brit Asians participating at Solid Impact 3: Operation Takeover.
Further information about the competition and ticketing is available; find the event on Facebook under the name 'Solid Impact'.