"Absolutely amazing impression, it was just too good!"
Following Manchester United's 1-1 draw with Leicester City on May 1, 2016, a British Asian football fan pulled off an incredible impression of his team's manager, Louis van Gaal.
FullTimeDevils, a YouTube football fan channel for Manchester United supporters, spoke with Krish outside Old Trafford after the draw with Leicester.
Krish started discussing his, or rather Van Gaal's, opinion of the match. He talked about the mixed United performance and some dubious refereeing.
He went on to talk about Manchester United's top 4 hopes, and his future as manager of the club.
When asked by Adam the channel presenter, if he will be here next season, Krish replied:
"You ask always this question ah. Because in the press conference you say you have spoken to Ed Woodward eh. But you cannot say for me but I think er I have signed a three year deal, and then I shall be here for three years."
In the comedic video, Krish somehow managed to keep a perfectly straight face – reminiscent of United's serious Dutch manager.
Aditya loves the Manchester United fan's uncanny impersonation of Louis Van Gaal, saying: "Absolutely amazing impression. It was just too good!"
Ali is one of many people impressed by Krish's effort, and wants to see him more. He says: "Bring him again! This guy should feature in every post-match reaction. Great stuff."
Here is the hilarious and must-watch video: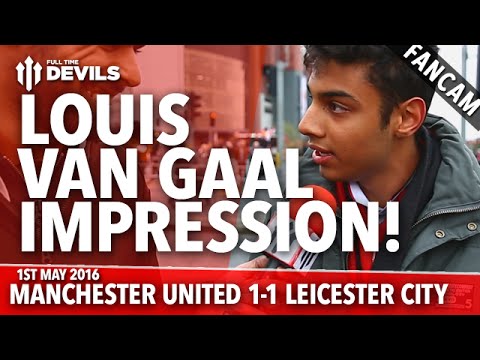 The real Louis Van Gaal was himself involved in an entertaining post-match interview following the home draw with Leicester.
His player Marouane Fellaini was criticised for swinging his elbow at Leicester defender, Robert Huth.
Van Gaal defended his Belgian midfielder though, saying his reaction was normal to someone pulling his hair, and asks the interviewer how he would react to him pulling his hair.
He amusingly added about hair pulling: "Only in sex masochism, then it is allowed."
Krish's unique talent definitely leaves a lasting impression on us! Or do you think you can do better?