"I was 44-years-old at this point and I was like, 'How can a kiss make such an impact on me?' But it did."
Two lesbian brides have married in a gorgeous Indian wedding, shown on TV. Their special day featured in new Smithsonian Channel special, My Big Bollywood Wedding.
While the show followed three couples planning their wedding celebrations, the two brides hailed as its only homosexual couple. The channel has also released a video on YouTube, revealing more about how the couple met and their families' acceptance.
English teacher, Aneesa, and her fiance Melinda first met while they both worked as teachers in Massachusetts. Aneesa, originally from India, always knew she was gay but American Melinda only discovered her sexuality when she met Aneesa.
The couple explained how they didn't expect to strike up a relationship so quickly:
"I always thought of [Melinda] as this, 'Oh she's a science teacher'," says Aneesa.
"And I always thought she was really proper. And sort of, you know, not very interesting."
However, romance soon blossomed between the two women. Right from their very first kiss:
"She kissed me. It just changed my life. I was 44-years-old at this point and I was like, 'How can a kiss make such an impact on me?' But it did," recounts the Indian bride.
They married in a romantic Indian wedding, blending both of their cultures. Set against the backdrop of an idyllic Maine harbour, Aneesa wore a beautiful red outfit, embellished with gold detailing. Melinda wore a white bridal gown with lace sleeving.
After the ceremony, guests enjoyed cocktails in the harbour's gazebo and a reception in East Boothbay.
While the couple lives in America and can freely plan their Indian wedding, homosexuality still has taboo attached to it in India. In the country, many can face abuse and even criminal punishments over their sexuality.
Watch the video here: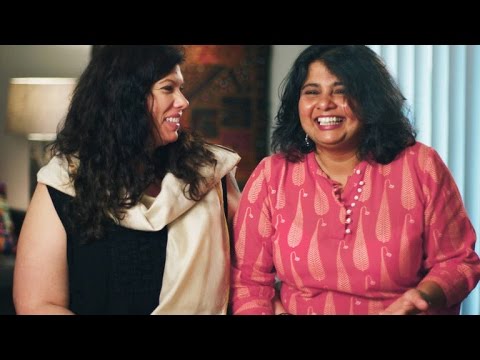 However, Vineet Chander, Director of Hindu Life Program, believes this stigma originates from the British Empire. He reveals: "In Hindu traditions, some of the oldest and most venerated texts talk about gender being a spectrum.
"Some of that has been lost unfortunately because of the influence of things like the Victorian British sensibilities and the time of colonialism."
Even some Asian families will find homosexuality as a topic not to discuss, let alone accept it. Yet, Aneesa reveals how her family remain supportive and accepting of her sexuality and decision to marry Melinda:
"My story is particularly unusual and exceptional, the fact that my family is more interested in supporting me."
She and her mother look through bridal outfits passed down through the family, which Aneesa eventually wears on the wedding day. In addition, both her parents walk down the aisle with her with warm smiles.
This Indian wedding stretches the boundaries of what many deem as 'acceptable' within society. Yet as Aneesa and Melinda receive love and support for their marriage, they show how homosexuality can be tolerated in Asian culture.
Perhaps, in time, negative attitudes towards sexuality will become a thing of the past.