"being a dancer is not about fame it's about doing what you love and what you're good at"
Talented dancer, choreographer and medical doctor, Leena Patel has launched a new dance company called Leena Patel Legacy Productions (LPLP).
The company sees the seasoned Leena Patel take modern Bollywood and classical Indian dance to a whole new level.
Former co-director and choreographer of the popular Bolly Flex, Patel has worked with many Bollywood stars and celebrities over the years, including Shahid Kapoor, Sonakshi Sinha, and Malaika Arora-Khan.
In an exclusive Gupshup with DESIblitz, Leena Patel shares her passion for dancing and choreography, and explains why Indian classical dance is so important for British Asians.
What inspired you to get into dance?
My parents had migrated to England from India and Kenya, they were surrounded by Bollywood movies during their childhood, and so naturally I grew up watching these movies on a daily basis.
I fell in love with Madhuri Dixit and I used to dance around the house when I would hear her songs. My parents saw that I had a passion for dance and decided to send me to classical dance classes for formal training.
Madhuri Dixit was a huge public figure for me as I was growing up. I used to copy her moves, her facial expressions, her smile. Life was all about Madhuri!
My first ever dance was to 'Chane Ke Khet Mein' from Anjaam. A movie where Shahrukh Khan was a villain. I was so besotted by Madhuri that I disliked Shahrukh until the age of 15 because of his role against Madhuri in the movie!
During my classical dance training I was exposed to great dancers within the arts sector and the 2 that left me mesmerised when I was younger were Akram Khan and Mavin Khoo. They were incredibly inspirational for me and super talented.
Do you feel that there are limited opportunities for young British Asians to pursue dance as a professional career?
There are many opportunities to pursue dance as a British Asian, but not enough opportunities to pursue it as a professional career. It is sad but true. There are several obstacles that we face.
Bollywood in the UK has its own style and there are so many dance companies to choose from; how do you know which is the right one for you? They all have exclusivity too, so how do you acquire a taste of all of them before you select the one for you?
There seems to be an isolated culture when it comes to Bollywood dancing in the UK and I'd really like to see more collaborations and groups coming together to recreate the essence of Bollywood as though every performance was a festival.
When Bollywood entities come to the UK from India, their preference of dancers are those with a commercial look who have devoted years to training in Ballet/Jazz/Tap, because of the shortage of pro Bollywood dancers here.
Furthermore, clients are challenged to pay appropriate fees for Bollywood dancers. But then amateur artists settle for lower fees which sells the professionals short – making it incredibly difficult to maintain a professional career in the dance industry as a Bollywood dance artist.
The big opportunities come by once in a blue moon e.g. Bombay Dreams, Bend it like Beckham, Wah! Wah! Girls; definitely not enough for artists to create a full time professional career out of it.
Arts Council rarely ever fund Bollywood dance projects and hence private funding is required to carry out events to provide opportunities for dancers.
To top it off some British Asian parents are still quite traditional and hence dance is a taboo and their children need a 'real education' or a 'real job' and so British Asians tend not to pursue dance as a professional career; therefore, the industry has to rely on non-British Asians.
There are great arts organisations such as Sampad in Birmingham, Akademi in London, Milapfest in Manchester who provide great opportunities for dancers at various events.
Watch Leena Patel and her LPLP dancers perform 'Chikni Chameli' from film Agneepath here: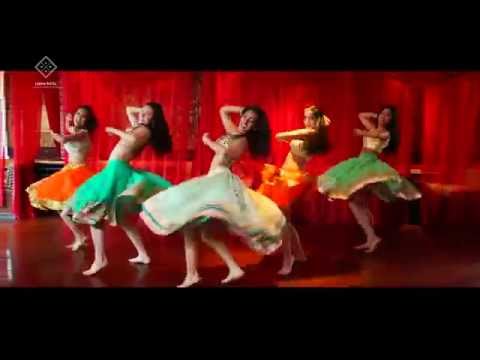 What inspired you to start your own dance company, Leena Patel Legacy Productions?
Toward the end of my dance training age 19 I started to think about having my own dance company; but I had no direction, I hadn't seen or experienced enough of the world.
A decade later, having moved to London, lived alone, seen more of the world, met new people and learned more about the dance industry all contributed to setting me in a position where I felt as though I now knew what a company was.
I now knew the work required, I now had direction, I now knew what I wanted from the company, and hence I decided it was the right time to launch LPLP.
How did it feel to have Aakash Odedra introduce LPLP at Navadisha?
Aakash is a dear friend of mine and someone that I have always been able to turn to for advice, support and guidance. We trained together when we were younger and then his dance career projected and he soared as an artist.
He always believed in me and would tell me time and time again that I needed to start up my company and do what I do best. He helped with many aspects of the launch and was keen to introduce LPLP at Navadisha.
I felt blessed to have him in my life, supporting me and pushing me to achieve more than what I thought I was capable of.
How important is it to preserve the traditions of Indian classical dance, and pass them onto the next generation of British Asians?
"Indian Classical dance is the prime reason that I am able to do what I am doing. The discipline that you receive, understanding your body, body conditioning and training is priceless."
It is so important for us as British Asians to have a taste of our culture and be surrounded by it to be able to identify with our ancestry and ourselves. It is also important to create awareness and understanding of our culture amongst our growing cosmopolitan population and society.
Indian classical dance has been passed down through generations and preserved until this day; it gives us a chance to learn a historical dance in its purest form.
You mention hybrid Bollywood and contemporary classical dance styles. How have you managed to fuse modern and traditional dance together?
My Indian classical dance training provided me with a base of movement vocabulary. Growing up in a western country and researching commercial dance and western styles of dance helped me to develop a broader view on dance styles.
Bollywood dance has evolved with time and the music created is interpreted as per the individual. For me music is key to interpretation through movement and I use this to direct my choreography.
Another style that I am developing through LPLP is commercial Indian classical dance; which is a combination of Indian Classical dance incorporated with western movement.
The combination has been developed with movement exploration from western and eastern backgrounds and uniting them to create a seamless piece of choreography.
What is your fondest memory of working with BollyFlex, Naz Choudhury and some of the big Bollywood stars?
Working with Naz Choudhury was an invaluable experience, he took me under his wing. We very quickly developed a seamless chemistry between our choreography and artistry and were able to work together to make ground breaking routines.
Our partnership was incredibly strong and slayed the industry. A moment that I will always remember with Naz is when we completed our first event at The O2 Arena. It was a great sense of accomplishment. It taught me that dreams do come true… with just a little bit of hard work.
My fondest memory of working with Bolly Flex was getting 3 stars at Sky One's 'Got to Dance' competition and getting through to the live semi finals. Seeing the judge's reactions and a standing ovation whilst we were performing, was an indescribable feeling.
Our performance at London's O2 Arena with Malaika Arora Khan for Bollywood Showstoppers was a performance that I will always cherish. She fully immersed herself in the choreography. The dancers loved her energy which brought the performance together and provided a full impact performance.
Which Bollywood star is the most naturally talented dancer, male and female?
Madhuri Dixit is the obvious answer for female Bollywood star. She has an incredible energy about her and performs with so much grace and elegance. One of her biggest assets are her facial expressions.
Hrithik Roshan is an incredible dancer, which I think many others will agree with. He has fluidity in his movement which comes very naturally to him. He also works hard for his rehearsals and performs to perfection.
What 3 qualities does an individual need to become a successful dancer?
Vision ~ focus is required to achieve a goal; without a vision this is not possible.
No limits ~ artists must work and create without any limitations to be able to constantly challenge themselves to achieve their best and achieve success.
A forever learning attitude ~ this ensures that you learn, teach, collaborate and develop throughout your dance career. There is always more to learn no matter how experienced a dancer you are.
What advice would you give to British Asians wanting to pursue dance?
Be sure that this is what you want and then fully immerse yourself into it without anything holding you back and without regrets. It will be hard work and you will often feel alone. It is important to surround yourself with people who believe in you and support you to help you achieve your goals.
Do your research and go to dance classes to build your movement vocabulary. In my opinion, Indian classical dance is a necessity for Bollywood dance. And I would highly recommend it to anyone considering pursuing this.
Keep up to date with auditions and jobs and attend where you can; even if you don't get the job; the experience is priceless.
Be realistic and play smart; being a dancer is not about fame it is about doing what you love and what you're good at. Be passionate and allow this to lead the path for you.
Watch Leena Patel and her LPLP dancers rehearse to 'Kamli' from film Dhoom 3 here: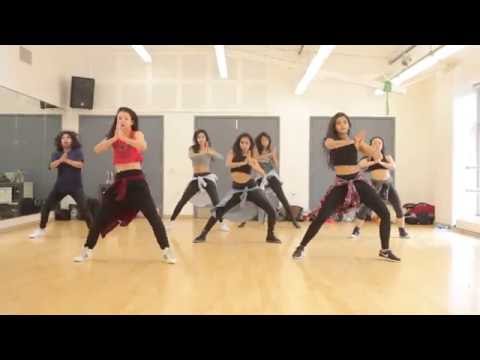 Leena Patel is now working on building up a team of the strongest Bollywood dancers in the country, under her company Leena Patel Legacy Productions (LPLP).
Leena's passion, drive and dedication to her craft really shine through, and DESIblitz is certain that she will find success wherever she goes.
To find out more about Leena Patel and her future dance projects, visit the LPLP website.