"Our party is about justice, democracy, [and] the great traditions we walk on."
The Labour Party welcomes Jeremy Corbyn as the new leader, who secured 59.5 per cent of first-preference votes on September 12, 2015.
In the landslide victory, the 'left-winger' beat Andy Burnham (19 per cent), Yvette Cooper (17 per cent) and Liz Kendall (4.5 per cent).
The surprise result was announced at the Queen Elizabeth II Conference centre in Westminster, where Corbyn celebrated his victory with party supporters.
He addressed his audience: "Welcome to our party, welcome to our movement.
"And I say to those returning to the party, who were in it before and felt disillusioned and went away: welcome back, welcome home."
"I want to also thank Ed Miliband for all the work he did as the leader of our party.
"I also thanked him for the way he stood up to the abuse that he received by a bunch of our media.
"The media and many of us, simply didn't understand the views of young people in our country.
"They were turned off by the way politics was being conducted. We have to and must change that. The fightback gathers speed and gathers pace."
Watch his full speech here: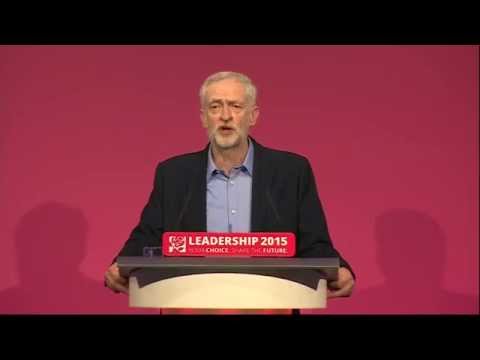 The 66-year-old new Labour leader shared his vision for the Labour Party to be bigger, stronger and more determined.
He also reminded his audience the values of the party, which form a strong foundation for them to move forward and bring about exciting changes for the future.
Corbyn added: "Our party is about justice, it is about democracy, it is about the great traditions we walk on – those that founded our party and our movement, those who stood up for human rights and justice, the right for women to vote, the right for others to vote."
Tom Watson becomes the new deputy leader, while several Shadow Cabinet members have since resigned.
Shabana Mahmood, MP for Birmingham Ladywood, has left Labour after serving as Shadow Chief Secretary to the Treasury for just four months.
Chris Leslie has also stepped down from his post of Shadow Chancellor of the Exchequer. He expressed in August 2015 that he did not believe he would be able to serve in Corbyn's shadow cabinet.
Leslie said: "We will always support the Labour party as a centre-left progressive party but that's different from going down the hard left [path].
"It would be a very different political party. It wouldn't be the party I joined. But I would fight and stay."
Other members who refuse to serve are Liz Kendall, Yvette Cooper, Tristram Hunt, Rachel Reeves, Emma Reynolds and Chuka Umunna.
Sadiq Khan, who was recently selected as the party's candidate for London Mayor, is expected to remain. He has worked with Corbyn on a number of occasions before.
Despite what looks like an imminent major reshuffle, Labour claims the party has gained 15,500 new members as Corbyn emerged as the new leader.
Corbyn spent the first day in his new job working on assembling his shadow cabinet. He even cancelled his appearance on BBC1's Andrew Marr Show to focus on putting a new team together.
The new shadow cabinet was finalised on September 14, 2015, which he described as a 'strong combination of change and continuity'.
While it may seem like Corbyn has fulfilled his promise to fill half of the positions with women, many criticise they have been left out of key positions.
Did I miss something last night? Corbyn appoints a majority women Shadow Cabinet and he's now the Anti-Christ. #labourleadership #reshuffle

— Martin Abrams (@Martin_Abrams) September 14, 2015
It is so very disappointing – old fashioned male dominated Labour politics in the top positions in Shadow Cabinet #notforgirls

— Diana Johnson (@DianaJohnsonMP) September 13, 2015
Asian MPs have taken a couple of seats in the shadow cabinet, with the most prominent one being the Shadow Chief Secretary to the Treasury. Seema Malhotra takes this post.
Lisa Nandy, an MP for Wigan, is the new Shadow Secretary of State for Energy and Climate Change.
Here is the full list of Labour Party's shadow cabinet:
Jeremy Corby ~ Leader
Tom Watson ~ Deputy Leader
Angela Eagle ~ First Secretary of State
John McDonnell ~ Cancellor of the Exchequer
Seema Malhotra ~ Chief Secretary to the Treasury
Andy Burnham ~ Shadow Home Secretary
Hilary Benn ~ Foreign Secretary
Rosie Winterton ~ Chief Whip
Heidi Alexander ~ Secretary of State for Health
Lucy Powell ~ Secretary of State for Education
Owen Smith ~ Secretary of State for WOrk and Pensions
Marie Eagle ~ Secretary of State for Defence
Lord Falconer ~ Lord Chancellor, Secretary of State for Justice
Jon Trickett ~ Secretary of State for Communities and Local Government
Lisa Nandy ~ Secretary of State for Energy and Climate Change
Chris Bryant ~ Leader of the House of Commons
Lilian Greenwood ~ Secretary of State for Transport
Vernon Coaker ~ Secretary of State for Northern Ireland
Diane Abbott ~ Secretary of State for International Development
Ian Murray ~ Secretary of State for Scotland
Nia Griffith ~ Secretary of State for Wales
Kerry McCarthy ~ Secretary of State for Environment, Food and Rural Affairs
Kate Green ~ Minister for Women and Equalities
Michael Dugher ~ Secretary of State for Culture, Media and Sport
Gloria De Piero ~ Minister for Young People and Voter Registration
Luciana Berger ~ Minister for Mental Health
Lady Smith ~ Leader of the House of Lords
Lord Bassam ~ Chief Whip
Catherine McKinnell ~ Attorney General
Jonathan Ashworth ~ Minister without Portfolio
John Healey ~ Minister for Housing and Planning
All eyes will now be on Corbyn's first 100 days in his new role, as he goes head-to-head with Prime Minister, David Cameron.