"There's a lot of twists and turns, action songs, you name it, everything is in this movie."
Punjabi action film, Romeo Ranjha is ready to take Bollywood head on with its big budget masala entertainer, starring Jazzy B and Garry Sandhu who will be seen as Romeo and Ranjha respectively in what is a high thrills test of their friendship.
Directed by Navaniat Singh, Romeo Ranjha stars, Jazzy B as Romeo, Garry Sandhu as Ranjha, Monica Bedi as Preet; and Parul Gulati, Amann Grewal, Rana Ranbir, Yograj Singh, Rana Jung Bahadur and Sangha Jagir in supporting roles.
In an exclusive Gupshup with DESIblitz, Canadian-Indian, Jazzy B tells us: "Basically me and Garry Sandhu are con artists. There's a lot of twists and turns in [the film], action songs, everything, you name it, everything is in this movie."
Romeo Ranjha is about two guys who travel to Thailand to fulfil their dream of making money. Unknown to each other initially, they realise they are both from Punjab and become the best of friends, even moving in together.
Ranjha (played by Garry Sandhu) soon falls in love with a girl called Preet who runs a refugee camp along with her uncle.
Preet's uncle says that Ranjha can only marry his niece if he can contribute largely to the charity of refugees. Taking his word, Ranjha gives him all his savings, only to find that the Uncle is a con artist himself.
Romeo and Ranjha go in search of the deceiving Uncle and Preet – with the trail taking them all the way back to Punjab, India.
Speaking about working with his co-star, Garry Sandhu who makes his Punjabi film debt with this movie, Jazzy says: "I know Garry from England but we never sat down."
 "To work together in a film you have to have that chemistry, otherwise the camera will read that. So we sat down two days before the film was going to start, partied it up, just open talk. Even with the other co-stars, it was like a picnic."
The Canadian Punjabi singer also mentions that there were no egos while making the film and they all happily supported each other. Their main aim was to make a film that would be celebrated all around the world, and it was a true team effort; from Jazzy, to Garry, the spot boy, and the cameraman.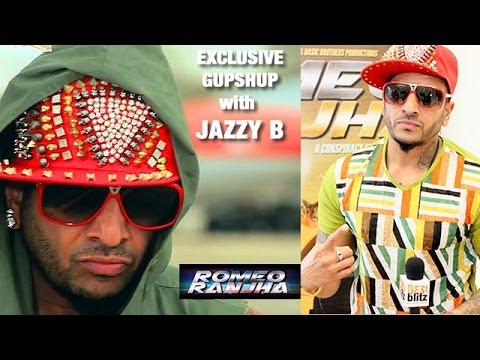 Romeo Ranjha was first named as Rambo Ranjha, with Jazzy's character initially scripted as Rambo, but due to copyright issues, the name had to be scrapped and the film changed to Romeo Ranjha:
"My character is Romeo, it was Rambo Ranjha before, but due to copyrights, Hollywood – even they got scared Punjabi boys are coming in there, so we had to change the name to Romeo Ranjha," Jazzy explains.
Producer, Gunbir Singh Sidhu added: "We had used Rambo for Jazzy B because of his hit song 'Rambo Rambo' and now we are changing it to 'Romeo', which again is his super hit number. We are happy with Romeo Ranjha as well."
During filming, Jazzy and Garry had the chance to shoot overseas for some of the big action sequences that the trailer promises:
"We shot 30 days in Bangkok, it was just so much fun, a lot of action – we were tired but everybody was sitting together and cracked jokes, so I had so much fun," Jazzy tells us.
Jazzy adds that Romeo Ranjha is a different kind of Punjabi film – one that can be compared to a big-budget Bollywood masala movie:
"This is basically an action-packed movie. It's going to be a game changer for the Punjabi industry because there's a lot of movies coming out – comedy, comedy, comedy – so people want a change. I think that this is one movie that will change, and from 2 year olds to 90 year olds can go and enjoy this movie, you get a bit of everything in it," Jazzy tells us.
Garry Sandhu and Jazzy B himself both did many stunts themselves such as the jet-ski scene which can be seen in the film: "Knowing me I'm not a good swimmer neither is Garry Sandhu," says Jazzy.
Speaking about his ideal role on-screen, Jazzy insists that he prefers action to romance: "I don't know about romantic. I don't have the face for being a romantic man. But I think action definitely.
"Even when we were discussing the first movie, Best of Luck [2013], I didn't want to go away from my image too much, because that backfires sometimes. So that's why I chose a role which is close to me and how I look."
Just like in the Bollywood movies, Punjabi cinema is fast making a popular name for itself. As expected, the music soundtrack for this action flick features a range of entertaining and enjoyable music, created by music director, Jatinder Shah. Stand-out songs such as, 'Jugnu', 'Chandri Raat' and Athroo, are just a few that have been sung by Jazzy and Garry together.
With so much hype surrounding Romeo Ranjha, Jazzy B is sure that all families and ages will love this action entertainer. Be ready for comedy, beautiful locations, high action, and bhangra beats as Romeo Ranjha releases from May 16.