'I have a feeling someone is going to get killed out of your family'
Muhammad Tafham, aged 31, of Rochdale, has been jailed to life imprisonment with a minimum term of 21 years after being found guilty of murdering his mother-in-law Raham Begum, aged 46.
Tafham murdered Mrs Begum after she helped her daughter, Ayesha Gulraiz, aged 25, escape her troubled marriage to him.
He was found guilty by the jury on Tuesday, August 21, 2018, at Manchester Minshull Street Crown Court for the horrific crime he committed in February 2018.
His mother-in-law helped her daughter move back in with her long-term boyfriend, Malik in Bradford, knowing that she was in a difficult marriage with Tafham.
This did not go down well with Tafham who found out that his wife was helped by her mother, Mrs Begum.
The Murder
Mrs Begum was alone at her home on Clement Royds Street in Rochdale after she had returned to her house taking her youngest daughter to school.
Tafham waited for this moment and knocked at the door at approximately 9.30am on Wednesday, February 7, 2018.
Ms Begum let her son-in-law into the property.
After entering the house, Tafham fatally attacked Mrs Begum in her kitchen and fatally stabbed her with a knife.
Then to make the incident look like suicide, Tafham placed the knife in the hand of Mrs Begum. He also unplugged the CCTV that covered the front area of her house.
Approximately 45 minutes he the house after killing and murdering her.
When Mr Begum's family members could not get hold of her by phone, by lunchtime, one of her daughters went to to the house to check on her.
The horrific scene of seeing her own mother lying on the kitchen floor with a number of stab wounds, blood around her and a knife in her hand was what she witnessed.
Paramedics who arrived at the scene subsequently pronounced her dead at the scene.
A post-mortem examination found she had suffered three major stab wounds to the front of her body. One of them passed through her breastbone and right through her heart.
When Tafham was arrested by police, they caught him with his passport on him, indicating that he was planning to flee back to Pakistan.
Tafham denied murdering his mother-in-law and claimed that he found her lying face down in the kitchen. He turned her body around and pulled the knife from her chest.
He also told the jury that he did not know the emergency number to ring in Britain.
Watch the footage of Tafham going to murder his mother-in-law: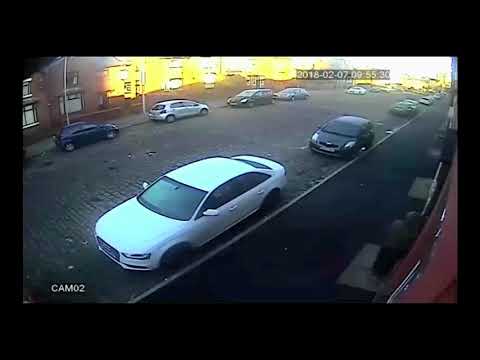 The Troubled Marriage
Ms Gulraiz continued seeing her partner despite entering into an arranged marriage in Pakistan with Tafham, a cousin on her father's side.
Her father, Gulraiz Sharif, did not accept the relationship with Malik. She only agreed to the marriage with Tafham to keep her father happy.
Tafham came to the UK in September 2016 and married Aysha. She became the sponsor for his visa.
The court heard that the couple needed to live together in Rochdale for three years so Tafham could stay in the country.
The marriage was troubled from the start due to Aysha being forced to marry Tafham. The pair argued and bickered constantly with heated exchanges.
Prior to Mrs Begum's murder, in another incident involving a knife took place where Tafham there a large knife from the kitchen at the sofa where Aysha was sitting during an argument and said that she ruined his life and he would've been "better off dead".
Eventually, it got to the point Ms Gulraiz could not take any more asked for Tafham a divorce, which he refused.
She went back to her lover Malik's house in Bradford on February 4, 2018.
On February 6 2018, Mrs Begum tricked Tafham into leaving her home while her daughter and Malik returned to collect her belongings.
She hurriedly threw her belongings into bin bags. Mrs Begum told her daughter:
"Don't ruin your life, go live it."
The two lovers then drove off and left.
The Lies, Threats and Sentencing
The court said his explanation was "transparent nonsense" and said that he had placed the weapon in her hand to make it appear like a suicide.
Tafham claimed that Mrs. Begum had previously spoken about her intention to kill herself to her daughters.
Prior to the conviction, Aysha told detectives that her mother had no reason to kill herself.
She said:
"She would not do something like that."
Even Mr Gulfraiz Sharif, Raham's husband clarified that there was nothing wrong with his wife to drive her to kill herself, saying:
"She never said she wanted to kill herself. Why would she kill herself, she never had any problems. She was very happy.
"It is not true that she had lots of stress at home. Mothers and fathers have stress with their children."
The court heard that Tafham threatened Aysha over the phone after she fled to Bradford.
She said:
"I wouldn't tell him where I was staying and he said, 'I am going to come and grab you. I am going to show you who I am'."
"He always used to say, 'I have a feeling someone is going to get killed out of your family'.
When she returned to Clement Royds Street to collect her clothes, she said her mother told her boyfriend, Malik: "Look after my daughter".
On Thursday 8 August 2018, Ms Gulraiz said she had fallen out with her father over living apart from Tafham.
She also said that her mother never asked her to stay with the defendant.
Prosecutor Andrew Thomas QC, asked her:
"Did your mother ever say you were bringing shame to the family?"
Aysha replied:
"No, she did not."
The court heard that Mrs Begum was complaining to her GP last November that she was feeling low. However, she had no record of a formal diagnosis of depression or any other psychiatric disorder.
Pathologist Dr Charles Wilson said:
"Severe force is required to inflict the stab wound which passed through her breastbone."
Tafham denied disconnecting the property's CCTV system shortly after leaving the house in order to avoid detection.
He could not explain how the victim's blood was on a latex glove that police found in his bedroom.
Tafham's web of lies caught up with him and he was sentenced to life after he was found guilty by the jury.
Spokesperson Jayne Sharp from the Crown Prosecution Service said:
"Muhammad Tafham was angry when he found out his wife had left and took out his anger on his mother-in-law in a cowardly and brutal way. "
Greater Manchester Police's Senior Investigating Officer Duncan Thorpe of the Incident Support Unit said:
"When Rahman opened the door she had no idea that her son-in-law, who she'd spent so much time with and welcomed into her family, would brutally attack her.
"Tafham didn't just take a cherished mother, wife and friend away, he completely destroyed a loving and happy family with his abhorrent actions that day.
"The whole community have felt this loss and I am glad that we have been able to secure a conviction.
"Your family are meant to be the people you can depend on the most and Tafham will now spend the next 21 years behind bars thinking about how he betrayed every person he was meant to care about."
Arranged Marriages vs Forced Marriages
Arranged marriages are a common practice in South Asian countries and diaspora globally where communities have roots back to South Asia.
Indian, Pakistani, Bangladeshi and Sri Lankan communities in the UK still have arranged marriages.
Arranged marriages are usually peaceful, however, like this one, they can become volatile.
This marriage could be classified as a forced marriage more than an arranged marriage which is very much consensual between the two parties getting married.
In this case, Aysha married Tafham to keep her father happy. She felt no love towards him and continued to see her long-term boyfriend.
Aysha and her husband did not get along and had to stay married to him so he would be able to stay in the UK.
In the past, forced marriages have led to physical violence which has resulted in the death of many women in the UK or after they have travelled abroad.