"David Beckham has been one of my biggest footballing heroes."
Saddiqa Shan is a gifted sports woman and therapist, with a keen interest and passion in Football. Whilst pursing the sport from a young age, Saddiqa has played for some famous clubs like Aston Villa and Birmingham City.
Joining forces with her best friend Salma Bi (cricketer), Saddiqa is also an Ambassador at Sporting Pathways, a community organisation which provides opportunities and promotes female participation in sport.
The promising footballer is an inspiration for many young British Asian girls and women who aspire to play the game. With a lack of British Asian women in sport, Saddiqa is helping others to get involved.
To many people, football has been seen as a male dominated game. Although we do see women participate in the sport, we rarely witness any Asian women taking part. However, Saddiqa Shan, known as Saddi to most, has proved many wrong and created a strong career for herself in this game.
The Birmingham based footballer attended St. Andrews junior and infant school where she developed her love and passion for the game. For Saddi, her primary school days were special: "Every break time and lunch time we would rush out onto the playground to play football."
Spotting her early talent, Saddi was immediately asked to play for her school football team. It was a proud moment for her as she became the first girl to play in the school team.
Once she began secondary school at Sutton Coldfield Grammar School for Girls, Saddi was instantly picked for their football team.This was where the journey began for Saddi as she was given her first opportunity to play for a professional club:
"I distinctly remember participating in a school tournament, where I was scouted, and asked to come down to train with the Aston Villa U11's girls team," Saddiqa explained.
Saddiqa played for Aston Villa for a season until finally the commitments to training became a little difficult, especially as she was in full time education.
But she continued to play for her school team and luck struck again. She was scouted and asked to trial for Birmingham City girls U16's. However, it seemed it was not meant to be as her time there was cut short with an ankle injury.
To recover from the injury, Saddi took some time out from playing for any external clubs. But she could not stay away too long and so at the age of sixteen Saddi made the decision to actively look for a club to join, whilst attending some trials.
She discovered a local team, Solihull Borough U18's, which was the perfect platform to reinvigorate her career. From there on a reignited Saddi rediscovered the enthusiasm she had for the game.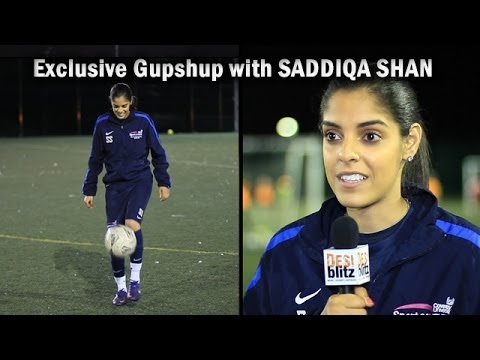 She played for this club until the age of 18 and then moved onto playing for their partner team, Solihull Ladies. 2008 was a very big year for Saddi because she had an opportunity of a lifetime.
She was offered a scholarship with a company called First Point USA. This was a dream of hers since she was a young girl. Unfortunately she couldn't take the offer.
A number of factors came into play for the decision she made: "The logistics of being out in America as a young Asian girl on my own wasn't really an idea that was supported.
"As well as the prejudices associated with Asian girls playing football. Financial difficulties also made it all that bit harder in being able to take up the offer," said Saddi.
Even though the USA offer was an opportunity missed, Saddi still never gave up and continued striving forward to achieve better.
Some of the highlights of her football career have included: playing at Coventry's Ricoh Arena as part of her Universities calendar event, a university football tour to Spain and winning the Keele International Cup and County Cup with Solihull Ladies.
Saddi certainly does inspire many girls and women that may want to take part in the game. But, who was her inspiration growing up? Replying to this question she said:
"David Beckham has been one of my biggest footballing heroes, having played for my all-time favourite club, Manchester United. Such a great professional, a role model and a footballing talent that I have always looked up to."
Coming from an Asian background it has not been an easy ride for Saddi. She recalls that playing football as an Asian girl was frowned upon:
"There was a lot of stigma and prejudice attached to girls playing football," said the 22-year-old.
But that did not deter Shan as she always received great support from her family. Praising her parents and family for this, Saddiqa said: "I was fortunate enough to have very supportive parents and family, they made it possible for me to continue my participation, and recognised my potential from a young age."
Saddiqa intends to become a sports therapist after graduating in 2014. She has already worked as a sports therapist, whilst on a placement at The Old Silhillians Rugby Club located in Solihull.
Shan is currently playing for Solihull Ladies and has ambitions to play for the Pakistan or England national team. She also coaches young aspiring footballers and helps them with opportunities that she never had as a child.
Saddiqa Shan is indeed a phenomenal woman and a big inspiration for the younger generation.