"I started using football as a vehicle to help my twin's recovery."
Manisha Tailor is an inspirational Football Coach and FA Tutor based in the United Kingdom. Having endured the difficulties of being an Asian woman in football, and experiencing personal family tragedy, Manisha has worked tirelessly to overcome life's toughest challenges, whilst coaching the younger generation.
Being involved in established campaigns such a Kick It Out, whilst also organising projects with English footballer Rachel Yankey, Manisha is a prominent figure throughout the game.
Born in London in 1980, Manisha and her twin brother were inseparable when growing up. They lived and dreamed the game of football as one. Her earliest memory of playing football together was at the tender age of eight. Even at this stage she faced difficulty being accepted within the game.
Manisha admits that her parents were not initially keen on her playing football outside of the school playground. Having had trials for Barnet as a young girl, it was not seen socially acceptable for her to pursue a footballing career. Like with most Asian families, education was regarded as the most important factor.
This did not stop Manisha and her brother from organising lunchtime football matches. It was also a period, unfortunately, when tragedy hit her family. At the age of 18, Manisha's twin brother was diagnosed with depression.
In an exclusive Gupshup with DESIblitz, Manisha tells us: "Due to a series of traumatic events and long term bullying that spanned over two years, my twin brother became depressed to the extent that he was sectioned. That got worse, and he became non-verbal. He hasn't spoken for 15 years."
Playing football for Manisha was never the same again. Not being able to enjoy the game she truly loved with the person closest to her, meant she found it extremely difficult to even kick a ball:
"When he fell ill, I disconnected myself from football because it gave me positive memories. I didn't want any positive associations with anything that will remind me of my brother because I was going through a process of being so close to somebody, and I can't talk them anymore," Manisha explains.
It was at this point that Tailor turned to education. With her brother requiring one to one care, family and work took precedence over football as Manisha found her way to becoming a teacher, followed by Deputy Head teacher.
Not long after entering teaching, Manisha realised the positive effect football could have on her brother. The once spiritual connection she felt with her twin and football, had not been lost. She could sense that her brother wanted her to pursue a career within the game she had a deep passion for: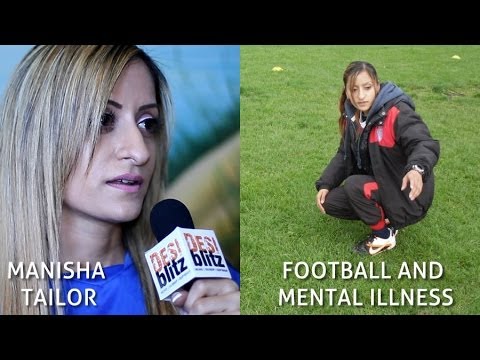 "I started using football as a vehicle to help my twin's recovery but now I have realised that it has helped me deal with my emotions, because I have never spoken to anyone about how I feel," Tailor says.
Closely working with different organisations and charities, Manisha reconnected with football. A big turning point came in her life when she got involved in a Football Education Project with superstar Rachel Yankey. Recalling this close working relationship that helped her realise the importance of the beautiful game, Manisha says:
"Football has played a powerful tool in my life, and certainly with him as well, in terms of helping him on the road to recovery."
"On the back of that, it is helping me deal with my emotions. Because it's not just about the immediate person, it's about the surrounding people the mental health can also effect as well."
As a committed coach, Manisha hopes to inspire the next generation of footballers, and this is ultimately her goal for the future. The passion and drive to have a positive impact on the game is clear.
Using her brother as an inspiration, and the life experience that she has faced, makes her a great role model for positive change.
The work that Manisha contributes to football is huge. As an equality and diversity tutor for Kick It Out, Manisha has gone up and down the country raising awareness of the cultural barriers in football. This opportunity allowed her to rub shoulders with the greats of the game, such a Stuart Pierce and Ian Wright.
Having dealt with mental health issues first-hand, Manisha is a strong campaigner of the stigma that surrounds this problem in football. Through her blog, she has helped raise awareness of the silent sufferers within the game:
"Being someone who works in education, I'm a huge advocate of the FA youth modules. Simply because they're based on social and psychological aspect and holistic development of players, not just the technical and tactical aspect. They definitely now re-shape the way coaching should be," Manisha tells us.
Manisha has coached many teams, clubs and projects, including Gibbons Wreckers Youth Football Club, Indian Gymkhana, The Rachel Yankey Football Programme and Arsenal Ladies Centre of Excellence.
Tailor won the prestigious Women in Football award at the 2013 Asian Football Awards. As a die-hard Arsenal supporter, Manisha was in ecstatic mood after their 3-2 triumph against Hull City in the 2014 FA Cup Final – The Gunners winning their first trophy in nine years.
The ambitious Manisha Tailor still has high expectations of what she wants to achieve in the game. Having qualified as a level 3 coach, working as an FA tutor and being appointed Head Coach at Middlesex County FA, the possibilities are endless for her in football.