"Making a film on this scale, it's the first time it has been done by a British Asian film maker."
A British Asian thriller set in East London, Honour tells the story of a British-Pakistani girl, Mona fighting to survive in an extremely traditional family.
Written and directed by Shan Khan, the film touches upon issues of honour killings and family status and reputation within the Asian community – issues of tradition that are still apparent today.
Playing the gripping lead is the beautiful Aisyha Hart who offers a compelling journey of her character Mona as she fights for survival against her own family who are trying to kill her to save their family name and honour.
A difficult subject to tackle sensitively, Shan has delivered a clever and entertaining thriller for British audiences.
In an exclusive Gupshup with DESIblitz, director Shan Khan tells us: "I always wanted to do something around the subject of honour killings.
"Making a film on this scale, it's the first time it has been done by a British Asian film maker. So in that regard it was a really good experience."
Also starring Paddy Considine, Faraz Ayub, Harvey Virdi, Nikesh Patel and Shubham Saraf, the film sees Mona fall in love with someone who is not one of her 'own people'. Her family will not accept him, nor will his family accept her. Mona is left with the difficult decision to either run away with him, or to stay and lose him forever.
Mona faces increasing pressure from all sides of her family. While she is a strong, independent modern woman, she feels alienated by her mother and two brothers.
The wonderfully talented Harvey Virdi plays Mona's conservative mother and will stop at nothing to keep the honour of her family and her traditions alive.
Harvey is a real treat to watch on screen. She has managed to play the evil monstrous mother to a chilling perfection. Her delivery of two vital monologues are the most significant scenes of the movie.
Her character is brilliantly written and portrayed. Harvey is malicious, devious and borderline psychotic. She is also the strongest person in the family who thinks she knows the best thing to do to carry on the family honour.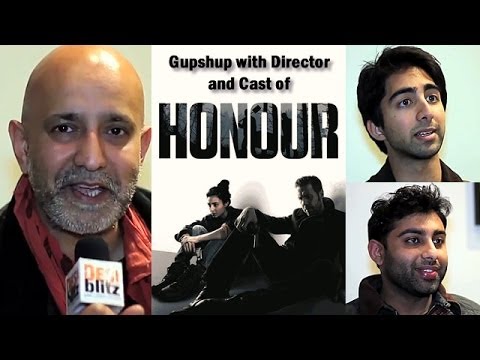 Closely in tune with his mother's ideology is Mona's older brother Kasim, played by Faraz Ayub. Speaking about his character, Faraz tells us:
"He's someone that's sort of been brought up with a set of principles and values that he adheres to and he's willing to live and die by these principles and values. In terms of what motivated him – the way he's been brought up is that this is the way to live your life, and if you go against that, there's a price to pay."
It is Kasim and his mother who plot Mona's downfall in the film, while younger brother Adel, played by Shubham Saraf, helplessly watches from the sidelines:
"He's conflicted basically. He's in that generation of British Asians where they don't know which side to fall in. He's very confused," Shubham explains.
"He comes from a very traditional family, that lives by very codified rules of conduct. And he's very conflicted because he's formed a very tight bond of friendship with his sister, Mona. Yet he also seeks the respect and reputation for the family."
With a young and relatively new British Asian cast, Paddy Condisine offers the much needed push to make this film a thrilling masterpiece. Playing a cold and sinister bounty hunter, Paddy's character is also conflicted and he struggles to deal with both his past and his present.
Speaking about his talented cast, Shan adds: "Paddy Considine offers a bit of the gravitas of an established actor and Aiysha Hart gave us a star quality of someone who is going to be a star in the future.
"We were very proud and honoured to have discovered her," Shan adds.
What makes the film Honour work so well is the compelling and engaging script. Shan manages to keep the audience on a thrilling ride of suspense and shock, which exposes the horrors of some tight-knit communities in the UK. But Shan is adamant that while the film touches on a serious issue, it is still essentially an entertainment film:
"I want people to be thrilled. It's an entertainment film. We don't aspire to make films as a group of film makers and actors that preach to people. That's not our intention. Honour is not a preachy film. It's a thrilling thriller."
The chilling woodland scene and rooftop gun battle are the stand out scenes in the film and perfectly depict the strained brother-sister relationship between the sociopathic violence of Kasim, and the heroic determination of Mona.
Honour has already seen a great opening at film festivals across the UK including the Pan Asian Film Festival and the London Asian Film Festival. This movie has achieved success both as a cult phenomenon and as a gripping thriller. It is has been released in selected cinemas across the UK and is also available to buy on DVD.
A story that deals with continuing issues in British Asian society, Honour offers a much-needed light into these traditional communities. While a small-budget film, audiences will enjoy the rawness of the well-written characters and tense family dynamics that form the heart of this cultural British Asian thriller.