"I never ever imagined that I would get an opportunity to just be in his proximity."
It is a very rare moment in cinema history that you will get to see three absolute legends of Bollywood sharing the same breathing space. What is even rarer is to see two of those legends be so humbled and awe-struck by the presence of the third.
Filmfare honoured Dilip Kumar, Amitabh Bachchan and Shahrukh Khan for their latest cover, celebrating 100 years of Iconic Indian Cinema.
Filmfare has long been associated with the glamour and glitz of the Bollywood world. Initially created by The Times Group, it released its first magazine issue in 1952. The Filmfare Awards began soon after in 1954.
Dilip Kumar won the first ever Filmfare Award for Best Actor for his role in Daag (1952). He holds the highest number of Filmfare awards alongside contemporary Shahrukh Khan. It is more than fitting that both of these actors form part of Filmfare's legendary trio.
"I have always admired Dilip Saab. He's been an idol for me. I never ever imagined that I would get an opportunity to just be in his proximity," said Bachchan, talking about the iconic shoot.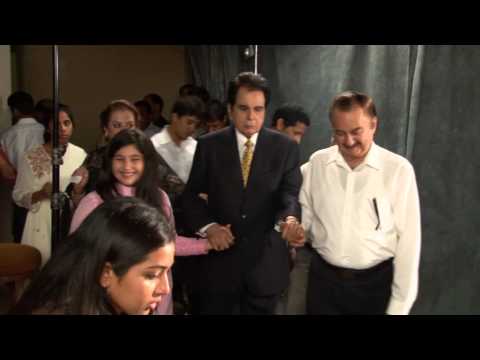 Dilip Kumar (1944-1998)
Dilip Kumar's film career has spanned six decades and 60 films. He began his career in 1944 with the release of Jwar Bhata. The film however was not a success, but this quickly changed with his second film Jugnu (1947) alongside Noorjehan which became his first box office hit.
It was after Andaz (1949) in which he formed the love triangle between Raj Kapoor and Nargis that he became a Bollywood sensation in his own right.
Kumar, interestingly is known as the 'Tragedy King', because of the doomed and tragic heroes that he often played. The 1950's saw a whole string of tragic films with him in the leading role, including, Jogan (1950), Deedar (1951), Yahudi (1958) and Madhumati (1958).
Kumar is perhaps best known for playing Prince Salim opposite Madhubala in director K. Asif's big-budget historical film Mughal-e-Azam. It is the second highest grossing film in Bollywood history. The film was mainly shot in black and white, with only the second half of the film in colour. The film was re-mastered and fully colourised and released again 44 years later in 2004.
Kumar was also known for his unpredictable choices when picking film roles. He famously turned down the iconic role of 'Sherif Ali' in David Lean's 1962 film, Lawrence of Arabia.
The 1990's finally saw the decline of Kumar's films. Suadagar (1991) alongside Raaj Kumar was his last film for many years. He received the Filmfare Lifetime Achievement Award in 1993.
Amitabh Bachchan (1969-present)
Amitabh Bachchan's career can be described as a pretty turbulent one. Bachchan had his first role as a voice narrator in Bhuvan Stone in 1969. His first acting role came soon after and he played one of seven leading characters in Saat Hindustani. His performance won him his first National Film Award for Best Newcomer.
He broke India cinema in the 1970's with a series of hits that earned him the anecdote of 'angry young man'. Some of his biggest successes included, Zanjeer (1973), Deewar (1975), Sholay (1975), Adalat (1976), Don (1978), Muqqadar Ki Sikander (1978), Suhaag (1979), and Dostana (1980).
Blockbuster hit Sholay has since been deemed as one of the greatest movies that Indian cinema has ever seen.
In 1982, Bachchan suffered a critical splenic rupture during one of his stunt scenes during the filming of Coolie. The injury meant that he was in hospital for several months in intensive care.
He was later diagnosed with Myasthenia gravis, or muscle weakness, which led him to take a break from the film world and pursue politics instead.
During this period, Bachchan's film success also suffered. He opened his own entertainment company Amitabh Bachchan Corporation, Ltd. (ABCL) but this failed in 1997 and caused Bachchan to lose millions.
In 2000, Yash Chopra secured Bachchan's return to the top with Mohabbatein. He won his third Filmfare Award for Best Supporting Actor. This followed with Kabhi Khushi Kabhie Gham (2001), Baghban (2003) and Dev (2004). In 2005, he won both National Film Award for Best Actor and Filmfare Best Actor Award for the acclaimed hit, Black.
Bachchan is also recognised as a well-loved TV presenter of Kaun Banega Crorepati and Bigg Boss.
Shahrukh Khan (1988-present)
Shahrukh Khan, affectionately known as SRK, is perhaps the biggest Bollywood start of our generation. With an acting career that began in 1988, Khan has already racked up 75 films and counting to his name. He has been labelled by fans and the media as the 'Badshah of Bollywood' and 'King Khan'.
Khan began in television acting in the late 80's. His first Bollywood film was Deewana (1992) where he played an anti-hero. This followed with more negative roles including Darr (1993), Baazigar (1993), and Anjaam (1994).
This quickly changed as he took on romantic dramas, Dilwale Dhulaniya Le Jayenge (1995), Dil To Pagal Hai (1997) and Kuch Kuch Hota Hai (1998). These films all secured him as the 'King of Romance' and since then his career has escalated further and further.
Khan has also found that he has a successful business head. He is the co-founder of production company, Dreamz Unlimited, and Red Chillies Entertainment. More notably, he is also the co-owner of IPL cricket team, Kolkata Knight Riders.
His huge blockbuster successes over the last few years have marked Khan as the most successful leading actor in Indian cinema.
Speaking at the epic photo shoot, Shahrukh said:
"For me, it is an achievement of the highest honour. Just to be able to stand next to them. I have never thought myself to be considered in a category as great as Mr Dilip Kumar or Mr Amitabh Bachchan."
Filmfare in their special magazine edition have also listed their Top 100 iconic films beginning with 1913's Raja Harishchandra. They have also explored the changing fashion trends over the years as well as a poll listing of the most influential stars and more.
It is no surprise then that Filmfare has chosen to honour the legends that are Dilip Kumar, Amitabh Bachchan and Shahrukh Khan as part of their 100 year celebrations. With great legacies like these, we can only but wonder what is in store for Bollywood over the next 100 years.