"The film has all the commercial masala that the audience expects."
Missed Emraan Hashmi? Well it has been six months since the star graced our screens. His last films were Rush with Neha Dupia and Raaz 3 with the beautiful Bipasha Basu.
But don't despair, because he is back with his new horror flick, Ek Thi Daayan, starring Konkona Sen Sharma, Kalki Koechlin and Huma Qureshi.
Chuma chuma de de? Well it can only be the serial kisser of the Indian Film Industry, Emraan Hashmi. Kissing might not be on the cards for this film but we shall have to wait and see.
Hype surrounding the film has been building up for months. The theatrical trailer was even shown on the finale of Bigg Boss 6 in January. Zor Ka Jatka Haye Zoron se Laga is apparently how Hashmi's new movie will leave you feeling after you have seen it.
Music director Vishal Bhardwaj explains:
"The film draws inspiration from folklore. Along with Emraan, Konkona Sen, Kalki Koechlin and Huma Qureshi, two young kids play major roles in the film. With schools going in for a summer break, this will turn out to be an enjoyable family outing,"
Ek Thi Daayan is a horror film directed by Kannan Iyer. Indulging us in a world of magic and witchcraft, the film follows Bobo (played by Hashmi) who is India's leading magician.
Despite his success, Bobo's world is falling apart and he begins to have hallucinations that he cannot explain. Even his girlfriend Tamara (played by Huma Qureshi) remains clueless to his problems.
Bobo finally goes to a psychiatric for help, who takes him through regression hypnosis treatment. Bobo finds much more than he bargains for however, as the hypnosis uncovers a childhood memory. In the memory, a Dayyan, or witch who destroyed his family vows to come back and haunt Bobo.
Bobo believes the psychiatric is crazy and ignores everything and moves on in life. When his career and love life are better than he could have imagined, the irresistible Lisa Dutt 2013 (played by Kalki Koechlin) enters alongside Lisa Dutt 1960's (played by Konkona Sen Sharma). Bobo is now convinced both of them are Daayan's, but are they really? Or, is he simply losing his mind?
Here is an official trailer to the spooky movie: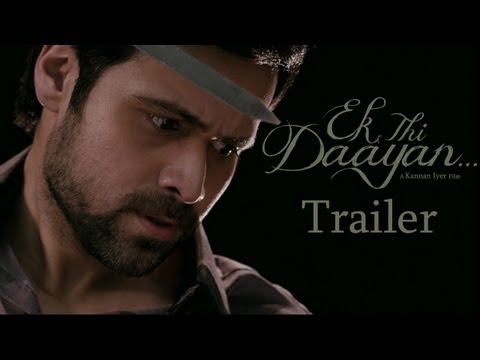 "I have been associated with Balaji Films and this is my third film with them. I have a good track record with them. I also had the privilege of working with director-producer Vishal Bhardwaj and he is extremely talented," said Hashmi speaking about the film and the soundtrack.
"Of course not leaving out my director, Kannan Iyer for the concept of the film, so I think he is a fantastic director. Working with Vishal, the lip-sync songs that Vishal has composed, I think it was a dream come true," he added.
With the theatrical trailer receiving mostly positive reviews, there is a lot of expectation building around the film. Hashmi even tweeted: "The fabulous response for the trailer of Ek Thi Dayaan continues to pour in. This is just the tip of the iceberg! Thank you, lovely people!"
Critic Komal Nahta tweeted: "Ek Thi Dayaan: the trailer is scary, very scary. See, I'm shivering while typing this. Don't blame me if you can't read the message clearly!"
The film's music is relatively short with only 5 songs but they are well composed. Music director Vishal Bhardwaj is insistent that every song is as important as the other, with each telling a unique and interesting story.
'Yaaram', the first track, is tremendously well written by Gulzar and sung by Sunidhi Chauhan and Clinton Cerejo.
'Tote Ud Gaya', is influenced by authentic Punjabi beats. Rekha Bhardwaj brings a rustic feel to the song, Suresh Wadkar compliments her and Sukhwinder Singh vocals give a typical Punjabi effect.
The romantic 'Kaali Kaali' is sung by Clinton Cerejo and he tells the story of how a man charms a lady by describing her.
Rekha Bhardwaj makes 'Main Lautungi' sound out of this world. The song talks about how a woman is promising to come back for someone. At the end of the song, it becomes slightly spooky which suits well for Ek Thi Daayan.
The last track, 'Sapna re sapna', is sung by child artiste, Padmanabh Gaikwad, who brings a certain innocence to this sad lullaby.
On the whole the album has been done to a high standard. The five tracks are all necessary in telling the story. Vishal Bhardwaj has been a great music director and kudos to him. The music is quite different and will be a hit amongst those wanting to listen to something unique. The entire album is spooky, creative and edgy.
"While we have the added advantage of being children-friendly, the film also has all the commercial masala that the audience expects from an Emraan Hashmi film.Young couples who want to cuddle up during the spooks and scares have found their film to do so!" said Ekta Kapoor.
Whether you are a horror buff, or love to delve into the world of magic and fantasy, this film is for you. Emraan Hashmi fans, what you waiting for? Go watch Ek Thi Daayan on 18th April 2013 at a cinema near you!
What did you think of Ek Thi Daayan?
Mind Blowing (70%)
Okay (15%)
Time Pass (15%)
Loading ...