"I don't fear anything. If I did, this film wouldn't have been made"
Cricket, love and heartbreak are the three major factors that are promised from the biopic, Azhar.
Showcasing the life story one of the most controversial sports players of the 90s, actor Emraan Hashmi is all set with his helmet and bat to score winning numbers at the box office with his new avatar as Mohammad Azharuddin and with his beautiful leading ladies Prachi Desai and Nargis Fakhri.
Gathering rave reviews ever since the first look, director Tony D'souza is hopeful that the biopic will do justice to the colourful journey of cricketer, Mohammad Azharuddin.
Love him, hate him and judge him being one of the most controversial captains in the history of Indian cricket, Azhar follows the ups and downs of the talented yet flawed player.
The film follows the life of a middle class boy Mohammad Azharuddin aka Azhar (played by Emraan Hashmi). As one of the most talented cricketers during the 90s, Azhar takes no time in shooting up to the top and grabbing the captaincy role of the Indian cricket team.
With a loving wife Naureen (played by Prachi Desai) and a successful career, Azhar had nothing to fear. However, Azhar's career and personal life take a drastic turn when he is accused of match fixing and falls in love with actress Sangeeta Bijlani (played by Nargis Fakhri).
Caught up in the ties of infidelity and false accusation, Azhar has no choice but to prove his innocence.
Known for his bold role choices, seeing Emraan Hashmi act in a biopic is definitely a piece of work that stands out in the actor's filmography. However, when asked as to how he got the film and how he prepared for the role the actor said:
"I got a call in 2014, that's when Ekta [Kapoor; producer] spoke to me. Then, the script was written, the research started, Azhar Bhai gave the film his go-ahead, and then I met him over lunch. He then began training me. I started talking to him about his life, the problems he had gone through, his captaincy, and more."
Emraan also admits that his love for the sport also helped his character:
"I think cricket is in our blood, and it is a religion in our country. I have definitely followed a lot of his matches through the '80s and '90s.
"I always say that those were the glory days of cricket, which Azhar bhai was a part of, and I was fortunate to have grown up in that time. When India-Pakistan matches would happen, the city would shut down to see them, and we used to play too. Everyone would fight about who was going to bat first."
Azhar will also influence his choices in the future, Emraan admits: "I have to admit that shooting for this film was a very satisfying and fulfilling journey. So much so that now I want to do more of such films that draw from reality and demand the kind of work and research we put in as compared to fictional films."
Mohammad Azharuddin also spoke about having Emraan play him on the big screen:
"I thought he was the best person to do the job. I've seen his films. The first thing that appeals to me about an actor or a player is his or her professionalism.
"I think Emraan has been very professional, and has worked very hard on the film. He left no stone unturned. I'm sure people will like it. It's not easy to copy someone."
The controversial cricketing star adds: "I don't fear anything. If I did, this film wouldn't have been made. When you want to do something, you have to do it wholeheartedly. I think they've done a good job of portraying whatever has happened in my life. It's a positive film, and people shouldn't see it in a negative way."
Joining Emraan on the big screen is Bollywood bombshell Nargis Fakhri, who spoke about her on-screen time with the serial kisser of Bollywood:
"Emraan Hashmi is a smart conversationalist. I probably didn't enjoy filming the song as much as he did. Lots of kissing happened … In fact, there was so much of it that at one point I wasn't sure if they were retakes, a part of the song, or someone playing a prank on me."
The other heroine of the film is the talented actress, Prachi Desai, who returns to films following a long hiatus. When asked about why she signed Azhar, she says:
"My role in Azhar was difficult for research as no one knows about her. Everybody has heard of her but no one has seen her. I think this is the most interesting thing about my role. It's like I am putting a face to the real life character on screen. It was the biggest challenge."
Watch the trailer for Azhar here: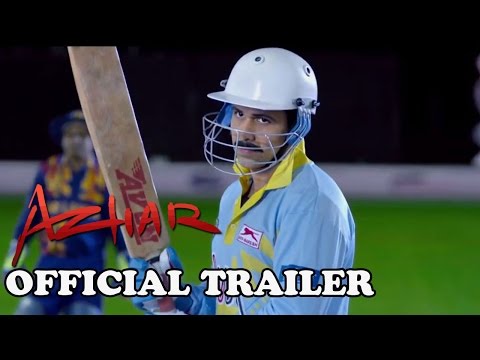 Known for his brave choices in films, another factor that is always associated with Emraan Hashmi is the great music in his films, and Azhar certainly delivers.
The music soundtrack has been composed by a number of talented music directors such as, Amaal Mallik, Pritam, Dj Chetas, Kalyan ji and Anand Ji. The five track album has a number of great tracks, starting off with 'Bol Do Na Zara', which is already number 1 on the charts.
'Itni Si Baat Hai' is the quintessential Arijit Singh love song already an instant hit, the slow romantic track is another favourite from the album.
'Oye Oye' is a recreation of Sangeeta's famous dance number from Tridev. With a fun modern twist to it, the track will definitely get your feet tapping.
Azhar has a solo release on Friday 13 May, 2016, and producers and critics of the movie are expecting a good opening weekend.
So are you ready to be part of this cricketing journey? Azhar releases from May 13, 2016.