"we were not allowed to go to the cinema... that was an absolute no-no for young girls"
The 7th annual Bagri Foundation London Indian Film Festival (LIFF) hosted a Q&A at Cineworld Haymarket, welcoming veteran actress, Sharmila Tagore.
The iconic beauty spoke about her illustrious career in a special screen-talk presented by Life Goes On filmmaker, Sangeeta Datta.
The legendary actress was also bestowed with the Icon Award by Harmeet Ahuja, of Sun Mark Ltd. There stood the immaculate Sharmila Ji, 70 years young, in her yellow chiffon saree, smiling and determined to reflect on her journey in Indian cinema.
Welcome to an evening with Sharmila Tagore!
It is common knowledge that Sharmila Ji helms from a richly endowed background in art and literature. For instance, she revealed how her great grandfather, Gaganendranath Tagore brought cubism to India.
Surprisingly, the veteran actress did not 'have a clue' about her family's legacy during her younger days:
"I was 8-years-old and in school they asked me to write a modern poem. I came home and went straight for my mother's bookshelf and found a compiled anthology of modern poems, so I took one, copied it and took it to school," she laughs.
After being confronted by her teacher, it was revealed that the poem was the popular Proshno (Questions) which was penned by Rabindranath Tagore – the great Bengali Polymath Rabindranath Tagore – who also penned the lyrics for Bangladesh and India's National Anthems. It is also believed that her mother was taught by him.
"My mother made it a point that I knew who Tagore was," Tagore notes.
Watch our exclusive Gupshup with Sharmila Tagore here: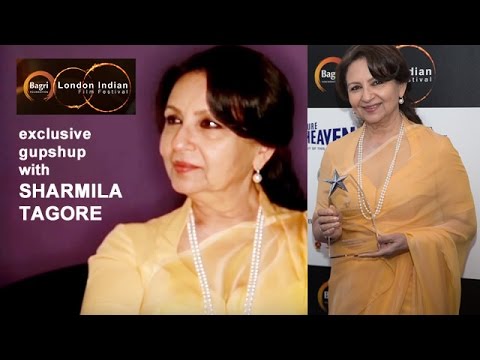 While we enjoy the leisure of tablets and smart TVs in this epoch, cinema wasn't a very common form of entertainment during Sharmila's childhood:
"There would be a play and we would cry and laugh as people do now when watching cinema. But we were not allowed to go to the cinema because that was an absolute no-no for young girls."
But as a 'young girl', Sharmila Ji stepped into the world of cinema through Bengali films. At the age of 13, she was chosen to essay the role of a child-bride called 'Aparna' in Satyajit Ray's Apur Sansar – The World of Apu. So how did Satyajit Ji approach the actress?
"Many people that he approached, their families didn't want their young daughters to work in films. Because at that time films were frowned upon. Despite that [Ray was a very well-thought of director] I don't think anybody agreed to do that role."
She added: "He [Satyajit Ray] felt that since Tinku [Oindrila Tagore], my sister, was allowed to work in a film, he may not have any opposition from this family. That is one of the reasons why he approached us and it changed my life."
The audience then saw clips of her initial Bengali films like Apur Sansar and Devi, to name a few. The talk then transitioned into Sharmila Tagore's movie career in Hindi films. She talks about her debut performance:
"Shakti Ji [Samanta] had seen Apur Sansar and liked me, so he thought it would be a wonderful idea if I came and worked in Kashmir Ki Kali opposite Shammi Kapoor."
But as one can imagine, the transition from Bengali to Hindi cinema was quite a challenge. Sharmila Ji shares her experience:
"Language was a bit of a challenge, because I was Bengali and had that kind of an accent. So everybody used to say Aise Bolo [speak like this] and all that. Lip-syncing of a song, which we never had in a regional film."
Kashmir Ki Kali marked the beginning of several collaborations with the renowned director, Shakti Samanta. Sharmila Ji subsequently appeared in films like An Evening in Paris, Aradhana, Amanush and Amar Prem (to name a few).
As such, her strong chemistry with the late superstar Rajesh Khanna has left a legacy in Indian cinema. She mentioned her favourite film with Rajeshji is Safar.
After essaying a series of pristine, girl-next-door characters, Sharmila Ji won the 'Best Actress' National Film Award for the portrayal of a sex-worker Kajli in Gulzar's Mausam. So what did she like about this role?
"Kajli never really plays the victim and throughout she is in control of herself. She doesn't feel sorry for herself. That was a very different thing at that time."
What is quite surprising is the fact that Sharmila Ji has not featured in a Raj Kapoor production. But not many people know about the role she was offered by Sri Raj Kapoor:
"A Russian actress did the role that I was offered to do during the circus sequence in Mera Naam Joker."
Ever since Sharmila Ji star;ted off her silver-screen career, there has, of course, been a huge change in the portrayal of women in Hindi cinema
"There's been a lot churning and lot of things have improved. Piku for instance. A woman taking care of her father would've been unheard of in my time. The interesting roles were really done by vamps," she says.
Sharmila Tagore smiled and concluded the Q&A saying: "So things have changed. I'm very optimistic and I think we're in a good place."
To find out more about film screenings and special screen talks across London and Birmingham, visit the London Indian Film Festival website.