"They must change the priorities for a better future"
Indian film, theatre and television actor Inaamulhaq brings audiences an eye-opening and thought-provoking lockdown film titled, Duniya (2020).
The short film acts as a reminder to people of the 'priorities' during these testing times.
He is popularly known for his critically acclaimed Bollywood film, Filmistaan (2012). Inaamulhaq has also starred in films like Jolly LLB 2 (2017) and Airlift (2016).
The 40-year-old actor has won accolades for his tremendous cinematic performances.
Most notably, he was the recipient of the Best Actor Award at the Washington DC South Asian Film Festival. This was for his exceptional performance in Nakkash (2019).
Besides film, Inaamulhaq has many television and theatre credits to his name also.
As countries around the world battle Covid-19, countless lives have, unfortunately, come to an untimely end. This has left many loved ones devastated, with resources being strained.
Duniya (2020) is an attempt by Inaamulhaq to introspect the wrongdoings of everyone across the globe.
Governments, who have been spending significant amounts of money on warfare and less on healthcare have rendered people to endure this dreadful state today.
The film came out on Tuesday, 2 June 2020 via YouTube. As a responsible citizen, Inaamulhaq has made a sincere attempt in raising awareness and highlighting the failure of a policymaker to ensure the world is a harmonious place.
Created by Inaamulhaq, Duniya (2020) features a voiceover by Jameel Khan and music courtesy of Palash Muchhal.
DESIblitz exclusively spoke to Inaamulhaq about his creative vision behind Duniya (2020), his hopes from audiences and more.
What was the creative vision behind this film?
When you are stuck in an indefinite lockdown and you want to make a film, the main problem is that you can't go out and shoot a film.
Hence, the basic creative vision was to see how to make a film without stepping out of your home.
As you can imagine most people are making films from home. They are coming up with ideas, with everybody playing a part in their respective places.
But in this way, many are stuck with location limitations. For example, every story cannot be told from bedrooms, living rooms and balconies.
The coronavirus pandemic is a global problem and I wanted to cover the entire world as we all are on the same page today.
Thus, I decided to go experimental with the help of copyright-free videos, images etc.
I am grateful to the internet and the original owners of the images and videos, which I used in the film.
I don't claim it's entirely my work. In fact, I have clearly mentioned in the disclaimer that all rights belong to the original owners of the content.
Why did you feel the need to make a Lockdown film?
During the initial stages of the coronavirus pandemic, it was surprising to see that people were dying not because of the disease but mostly because due to a lack of treatment.
Even countries with the best medical infrastructure like France, Italy and Germany could not control the untimely end of so many lives.
I am even more worried about my country India, especially with the reality of its health infrastructure.
Everywhere around the world there is a huge lack of ICU and ventilators.
Besides ICU, there was a huge lack of masks and PPE kits in so many countries including India. That is the main reason we could not save so many lives.
That made me think, do we not have enough money to buy that life-saving equipment?
Then suddenly a few images struck in my mind. Most of them were about the military parades of so many countries where they would showcase the power and high-cost weapons and war tools.
Then I googled how much the world military had spent.
It was very shocking to see that in 2019 alone, the USA's military had spent 732 billion USD (£581,537,400,000.00). Followed by China at 261 billion USD (£207,351,450,000.00) and then at India 71.1 billion USD (£56,485,395,000.00).
I don't know how much money this is as I am not an economics scholar. I don't even have any idea how many zeros there are in 1 billion USD (£794,450,000.00).
My imagination led me to believe that the world needed very less of this amount to eradicate poverty and to build a better health infrastructure for people.
I am not saying that defence is not necessary. But the blind race of buying weapons is highly unreasonable.
It will lead us to another level of darkness. At the end of the film, I used a quote by Martin Luther King, Jr. which says:
"A nation that continues year after year to spend more money on military defence than on programs of social uplift is approaching spiritual doom."

What are you hoping audiences will take away from Duniya?
I mention the crux of the film in the description, stating:
"This is neither a protest nor an anti-establishment motion. It's just a humble reminder to keep medical infrastructure at prior consideration."
I only pray for a moral awakening of the people and the policymakers worldwide when the world comes to normalcy and they start making policies again.
They must change the priorities for a better future and for a better planet earth.
Via your platform also, I humbly request people to watch and share this film and tag the top international policymakers on Twitter.
You never know. But I always believe sometimes small efforts can make a huge difference.
Watch the short lockdown film Duniya here: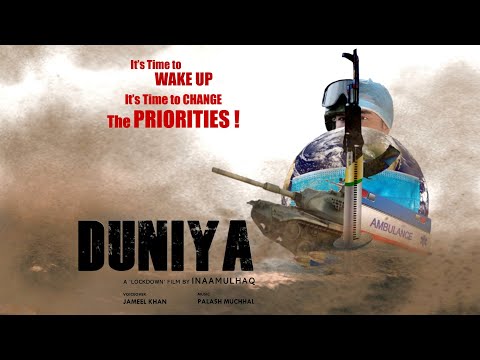 Undoubtedly, Duniya (2020) by Inaamulhaq is a game-changer for not only policymakers but the general public across the globe.
It is time everyone sets their priorities straight and ensure changes in the right direction are made for a healthier and happier world.