"Small film, but large in concept, an idea that has caught the fancy of today's much greater intelligent audience."
Directed and written by Nitin Kakkar, Filmistaan stars Sharib Hashmi (as Sunny) and Inaamulhaq (as Aftaab). The unconventional pairing of these two characters brilliantly lead the entire film.
Produced by Satellite Production, the film is presented by UTC Spotboy and Shringar Films.
Sunny is seen as a hard-core Bollywood fan, who is not only passionate about the industry but actually lives and breathes Bollywood. He has high aspirations to become a Bollywood star but as with most struggling actors, he takes on a production job to stay close to the industry. He becomes an assistant director to an American crew who are filming a documentary in Rajasthan.
He mistakenly gets kidnapped by a terrorist group from Pakistan who were aiming to hold some Americans hostage to fulfil their demands. Sunny, however, finds himself in Pakistan.
There he befriends Aftab (acted by Inaamulhaq). Aftab has something in common with Sunny: Bollywood. Even though Aftab sells pirated Bollywood films, which harms the very industry they both love, they still bond over the common passion they share.
Sunny's craziness for Hindi films almost makes his ordeal a little easier and fun for him. Foolishly or endearingly he takes this ordeal as an opportunity to showcase his talent. His zest for filmy dialogues even baffles his captors. Sunny's own ransom video from the trailers have got the audience in stitches and made them curious to experience the craziness with him.
The movie is not made to preach anything political. It is purely portraying the compassionate element of humanity that we all share regardless of the religious and political differences that prevail in our society.
The film has been screened in various film festivals and has picked up various awards since 2012. One of them is the prestigious National Film Award for the Best Feature film in Hindi in 2012. The film has also won awards in South Korea and Germany.
Praise for the film has come from various directions and is not only limited to awards.
Senior Bachchan was quoted saying: "What a delightful film… of two guys… one a film buff that accidentally crosses over the border, and the other a local that smuggles film from the other side of the border! Small film, but large and big in concept, an idea that has caught the fancy of today's much greater intelligent audience. Do see."
He also praised them further on twitter by tweeting: "Filmistaan the film on release. Cinema in its bountiful glory. Just saw it…films bind, they do not divide. Love is power."
Nitin Kakkar has thanked Big B by saying: "Our film is really an ode to Hindi cinema and what could be more befitting than getting an endorsement from the living legend himself."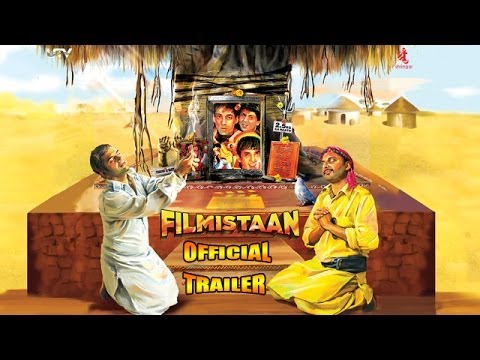 The two lead actors themselves dressed up as Big B's well known film characters in Shahenshah (1988) and Coolie (1983) to go and see him.
Filmmaker Vidhu Vinod Chopra is also known to be so impressed with the lead actors that he has decided to sponsor a vacation for them to show his admiration for their talent.
The actors are grateful and they have thanked him. Inaamulhaq said that Vidhu Vinod Chopra gave them 'an insight into the world of cinema'.
Sharib Hashim responded to that gesture saying he was very happy to meet the 3 Idiots (2009) producer. On the producer offering them a vacation he said:
"The fact that he offered us a vacation after watching the film means the world to us. For us, the gesture really counts. We are indebted to have his blessings."
Kumud Mishra and Gopal Dutt who are the other two actors in the film have been equally praised by those who have seen the film.
Despite being critically acclaimed in various festivals and securing numerous awards, this film was as good as non-existent for the audience for almost two years.
It did not get a theatrical release as it was made on a limited budget with no big names to hype the film. The distributors were reluctant to take a gamble on such an unconventional unknown territory with no big names to boast. Luckily UTV SpotBoy has taken the plunge to showcase this film to the general public.
As an audience many of us would want to watch a movie which has humour while dealing with a serious political topic in a very unconventional way, just portraying the love and humanity that we share with each other. An endearing and heart-warming film, Filmistaan releases from June 6.