"I am certain that the audiences will enjoy the show's unique perspective"
During times of lockdown, the best remedy is to catch up on some amazing Indian web series.
Indian web series can alleviate boredom, particularly when self-isolating at home. All major streaming platforms have a selection of Indian web series to choose from.
Indian web series are reflecting different kinds of genres, with crime and thrillers topping the list.
Humour, sex, drugs, along with other serious topics are highlighted in these Indian web series.
More and more Bollywood stars and directors are making their debut online, providing great viewing for the audience.
Here are 15 Indian web series to watch when spending most of your time indoors.
Jamtara Sabka Number Ayega (2020)
Helmed by director Soumendra Padhi, Jamtara Sabka Number Ayega is a crime drama series on premier OTT (Over the Top) subscription service Netflix.
Reflecting true events the story begins in India's Jamtara village. The web series shows how youthful gangs fraudulently call people to unlawfully take money from their bank accounts.
Based on Superintendent Jaya Roy from Jamtara, Aksha Pardasany plays the female role of SP Dolly Sahu.
Additionally, Amit Sial (Brajesh Bhaan) and Dibyendu Bhattacharya(Biswa Paathak) are the other two main actors starring in the series.
Praising the plot of the series Kirubhakar Purushothaman from The New Indian Express writes in her review:
"The pilot is tightly-written and disseminates information seamlessly, hooking us from the word go."
Releasing on January 10, 2020, season one of this web series has ten episodes.
Code M (2020)
Code M is a mystery thriller web series for VOD (Video on Demand) platforms ALT Balaji and ZEE5. The story examines how certain things are kept within the army and do not come out in the open.
The series especially highlights criminal activity within the army.
Major Monica Mehra (Jennifer Winger), a military lawyer is assigned to unravel the case of an army officer who was apparently murdered in an encounter with militants.
She will try to solve the open and shut case by cracking the code.
An IMDb user reviewing the series, complimented the performance of Janet, expressing:
"Jennifer Winget was fab!!!! Show is gripping!! It's a must watch !"
In addition, the series boasts many other stars. These include Tanuj Virwani (Legal Council Angad Sandhu), Rajat Kapoor (Colonel Suryaveer Chauhan), Kundan Roy (Hawaldar Tripathi) and Meghana Kaushik (Serena Mandapa).
The eight-part series of season one became available for streaming from January 15, 2020.
Madhuri Talkies (2020)
Madhuri Talkies is an original romantic Bhojpuri drama series on premium OTT service, MX Player. The series reviving the noir genre is a gripping saga about a young Man Manish.
He takes revenge for sweetheart Puneeta who is dishonoured by a gang of powerful crazy men that controlled Banaras.
Audiences will enjoy the series for its dialogues and hard-hitting narrative.
The lead roles are played by Sagar Wahi, Aishwarya Sharma, with Varun Kashyap featuring as the antagonist.
Summarising it as a full entertaining package, an IMDb user applauds the series:
"This truly is a complete package of entertainment. It captures the true colours of raw UP beautifully. The tone of the show is raw and desi as well. It has all the elements to keep you entertained and involved."
Containing ten episodes, season one was released on January 17, 2020.
The Forgotten Army: Azaadi Ke Liye (2020)
The Forgotten Indian Army: Azaadi Ke Liye is a historical action drama series on digital (VOD) platform, Amazon Prime.
Based on true events, the series is about the Subhash Chandra led Indian army that consisted of both male and female personnel.
Sunny Kaushal plays Lieutenant Sodhi in the series. He leads the armed forces of India during World War II when fighting for Independence.
The series presents a perspective from the Indian National Army soldiers, especially about their journey and sacrifice.
Thailand, Singapore, Malaysia and Mumbai were some of the shooting locations for the series.
Eminent Bollywood and documentary filmmaker Kabir Khan is the director of the web series. This is his maiden direction for this medium.
Whilst Shah Rukh Khan has narrated the series, Pritam was the theme music composer.
Available in Ultra HD, the short five episodes series had an Amazon Prime premiere on January 24, 2020.
Kashmakash: Kya Sahi Kya Galat (2020)
Kashmakash: Kya Sahi Kya Galat is an original romantic-action and crime thriller web series. It is available on leading VOD platform Hungama Play and MX Player.
The series showcases a collection of stories, focusing on crimes in modern-day India. The series covers how the victims of various crimes find themselves in a dilemma, especially when deciding between right and wrong.
Featuring different characters, the five episodes are titled: Jiya, Rampur Rocks, Chat Talk, Puff Puff Pass and Hidden Gem.
Furthermore, the series stars big names from the TV Industry including Sharad Malhotra, Anjum Fakih, Eijaz Khan, Abhishek Kapur, Abigail Pande, Lavina Tandon and Vahbiz Dorabjee.
Speaking about the web show, actress Anjum Faikh said:
"The digital medium has offered performers and storytellers a platform to experiment with different styles of storytelling and acting.
"I am a part of two stories in the show and each story highlights a different kind of crime. While one is about the impact of fake news, the other warns the audiences about the consequences of oversharing on social media.
"I am certain that the audiences will enjoy the show's unique perspective on modern-day crimes."
Anil V Kumar of Kumkum: Ek Pyaar Sa Bandhan (2002-2009) fame, also marks his online debut with the series as the producer, concept creator, and co-director.
Kashmakash: Kya Sahi Kya Galat released on February 25, 2020.
Asur: Welcome to Your Darkside (2020)
Asur: Welcome to Your Darkside is a spine chilling crime thriller web series on VOD subscription service Voot. The show takes off with a serial killing activity.
The serial killing activities shown in the series are quite different and unique, particularly relating to Indian mythology.
The series also relies on two major concepts – spirituality and violence.
Bollywood actor Arshad Warsi (Dhananjay Rajpoot) and TV star Barun Sobti (Nikhil Nair) headline the series, along with Padmaavat (2018) actress Anupriya Goenka (Naina Nair).
Warsi spoke to PTI, outlining two reasons why he opted to act in this series:
"It had a great script, thrilling and unpredictable, exactly what, I feel, is required in a web series."
"Secondly, it was not a comic character. It was a serious, complex, layered character, something I like doing but don't get offered much."
This psychological whodunit has eight episodes as part of season one and went on air from March 2, 2020.
Marzi: A Game of Love (2020)
Marzi: A Game of Love is a drama web series, which is available on Voot.
The film is based on the British TV thriller series, Liar (2017) by Harry and Jack Williams. It tells the tale of a cunning woman who traps the man she gets romantically involved with.
Is the woman a liar? Watch to find out if he can prove his innocence.
The main characters of this web show include Dr Anurag Saraswat (Rajeev Khandelwal) and Anurag Saraswat, a secondary school teacher.
Describing it as a 'Must Watch," an IMDb reviewer writes:
"It's a must watch web series. I generally watch web series in an average two episodes a day.
"I started watching ' Marzi' with the same intention but I watched all the episodes together. One must watch for the engrossing screenplay, beautiful dialogues, splendid performances & a classic production."
Marzi: A Game of Love, which contains six episodes in season one came out on March 3, 2020.
Bhaukaal (2020)
Bhaukaal is a crime mini web series, courtesy of MX Original. The story of Bhaukaal starts in Muzaffarnagar where a brave police officer, SSP Naveen Sikhera (Mohit Raina) wants to eradicate crime from the city.
The common man has faith in the law again, especially after the officer drives to penalise offenders, whilst confronting influential people.
Jatin Wagle is director of this impressive web series, which has many stars playing pivotal roles.
Abhimanyu Singh (Shaukeen),  Siddhanth Kapoor (Pintu Dedha), Bidita Bag (Nazeen) and Rashmi Rajput (Puja Sikhera) are a few to mention.
The web series also takes inspiration from the real-life of IPS officer Navniet Sekera. The series comprises a lot of action and thrilling activity.
A fan reviewing the series on Google also noted many good things:
"Purely gripping till the end. You just can't leave without watching all the episodes."
"Lovely title track. Superb screenplay and great direction. Fantastic acting. Fine selection of each of the cast to essay the roles."
The ten episodes of season one released on March 6, 2020.
Mentalhood (2020)
Web series drama Mentalhood is an ALT Balaji original, streaming also on ZEE5.
Bollywood actress Karisma Kapoor (Meira Sharma) marks her digital debut with this series, which focuses on five tightly knit community moms from South Mumbai. Their respective children attend the same high-class school.
Sanjay Suri takes on the role of Anmol Sharma, Meira's hubby. Meanwhile, Dino Moreo (Akash) is a single father of twins.
Telling the stories of sisterly relationships, the series sensitively emphasizes issues such as domestic abuse, unfaithfulness and guilt.
Some of these quirky SoBo moms are single parents and working mothers.
This web series displays the sacrifices of moms for their children. Sometimes these mum's even forget themselves as they do their best to bring up their children.
The series also zooms on the bond between a mother and daughter. When watching Mentalhood, people will recall the HBO series, Big Little Lies (2017) starring Nicole Kidman.
The fascinating series created and developed by prominent television producer Ekta Kapoor was released on March 11, 2020. Season one consists of ten episodes.
Samantar (2020)
Samantar is an MX original mystery mini web series. It is the first thriller web show in the Marathi language.
The web series tells the story of a young man named Kumar Mahajan (Swwapnil Joshi) who is frustrated with life.
Having lost everything in life, he wants to know more about his future, which is dependent on the sacred  Sudarshan Chakrapani (Krishna Bharadwaj).
Watch the series to see if the young man is able to locate this sacred individual and change his life.
To attract a wider audience, the series has been dubbed in various languages such as Hindi, Telugu and Tamil.
The climax of this regional web series finishes on a cliff-hanging note. The show is an adaptation of the 2011 namesake book by Suhas Shirwalkar.
Made available from March 13, 2020, season one features nine episodes and marks the web debut of Joshi.
She (2020)
She is a crime drama web series on Netflix. The story revolves around a lady constable in the Indian police force who is hired for a special operation.
Being part of the Anti-Narcotics group, she goes undercover to fight a ring led by a major drug lord. The series also shows how her life changes and becomes difficult with this secret operation.
Bhumika Pardeshi portrays the character of senior constable Aaditi Pohankar. Vijay Varma playing Sasya also has a lead role in the series.
This is the first Nextflix web series created by famous film director Imtiaz Ali. Revealing the inspiration behind She, the writer and filmmaker states:
"I have met many lady constables… I have met a lot of women that have tried or are trying to get rid of the baggage of shame that they are suppressed by. She is such a journey."
Season one of She released on March 20, 2020, with seven episodes in total.
Special Ops (2020)
Special Ops is an original sci-fi thriller web series, courtesy of the digital platform Hotstar Specials.
Renowned Bollywood filmmaker Neeraj Pandey has created the web show, along with co-writing and co-directing it.
This series is also based on real-life incidents. The story commences with a terrorist attack on the Indian Parliament in 2001. The series tries to uncover who is behind various attacks and the subsequent investigation.
Kay Kay Moon who plays Himmat Singh from RAW (Research and Wing Analysis) believes that one individual is the mastermind of all the attacks.
He comes to this conclusion as he identifies a similar trend with all the incidents. Singh and his agents undergo a special mission to find the prime suspect over a nineteen-year period.
The series also stars Karan Tacker (Farooq Ali/Amjad Shaikh/Rashid Malik), Vinay Pathak (Abbas Sheikh), Saiyami Kher (Juhi Kashyap), Meher Vij (Ruhani Sayed) and Gautami Kapoor (Saroj Singh).
Besides India, the shooting of the series took place in Azerbaijan, Turkey and Jordan.
The Hindi web series containing eight episodes were released in many different languages all on March 17, 2020.
Taj Mahal 1989 (2020)
Taj Mahal 1989 is an original Netflix romantic comedy-drama web series. Lucknow in 1989 is the setting for this web show.
The series shows couples of all age groups exploring political love via matrimony and promising relationships.
Neeraj Kabi (Akhtar Baig) Geetanjali Kulkarni (Sarita), Danish Husain (Sudhakar) and Sheeba Chaddha (Mumtaz) all have important roles in the series.
Each of the seven episodes has an approximate running time of thirty-three minutes.
The series also has a very nostalgic theme, particularly as it serves beautiful Urdu poetry. Pushpendra Nath Misra announces his debut as writer and director for this series with some flair.
Whilst it is a low budget production, the series pays close attention to detail. Season one of this poetic web series began streaming on March 20, 2020.
Stage of Siege: 26/11 (2020)
Stage of Siege: 26/11 is an action crime thriller web series on ZEE5. The web show highlights the actual Mumbai terror incident in 2008.
The series is a beautiful creation, with a lot of detail. The show takes inspiration from Black Tornado: The Three Sieges of Mumbai 26/11 (2014) by author Sandeep Unnithan.
The web series also reveals many previously undisclosed facts and unheard stories about the attack. Additionally, the show also pays special homage to the National Security Guards (NSG).
Gaining remarkable reviews on IMDb, the series features Bollywood actor Mukul Dev (Zakiur Rehman Lakhvi).
Dev told India Today of how he had prepared for his role:
"The clippings from various news channels came in handy while I was prepping for the role.
"Being a Punjabi, from the North-West frontiers, picking up the dialect was easy."
"We have grown up watching Pakistani dramas, that aired on TV and were very popular at the time in Delhi and Punjab.
"So, it helped me with portraying the character of Zakiur Rehman Lakhvi."
Actor Shoaib Kabeer plays the all-important character of Ajmal Kasaab (late).
Keeping viewers on the edge of their seats, Stage of Siege: 26/11 is an eight-part web series, which was also released on March 20, 2020.
Mannphodganj Ki Binny (2020)
Mannphodganj Ki Binny is an MX Original comedy web series directed by Vikas Chandra.  The book Band, Baaja, Boys! (2016) by Rachna Singh is the inspiration for this web show.
The series follows the story of the youthful and naive Binny (Pranati Rai Prakash) from the Mannphodganj suburb of Prayagraj, formerly known as Allahabad.
The 21-year-old girl is on a mission to gain her ticket entry for leaving this tiny town. But as much as her intentions are good, Binny's plans go pear-shaped.
Actress Pranati speaks about what attracted her to the role as she states:
"What drew me to this character was the spirit of this young 21-year-old who values tradition, but is not bound by it aspires to be a metropolitan woman but is still rooted and down to earth but overall, it"s her will to carve her own destiny that really resonated with me."
Anurag Sinha, Aru Krishnan, Abhinav Anand, Sameer Vermani, Alka Kaushal, Atul Srivastav make up the ensemble cast for this series.
The ten episodic series went live streaming from March 31, 2020.
Watch highlights of these Indian web series here: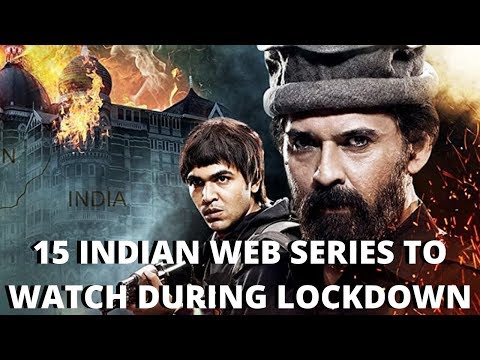 It happened in Calcutta (ZEE5: 2020) and Afsos (Amazon Prime: 2020) are two additional Indian web series that have interesting themes.
So sit back, relax and enjoy these Indian web series during periods of lockdown and self-isolation.