"My character was a fiery confident girl."
With the digital world literally taking over everything, Pakistani web series are becoming a popular form of alternative entertainment.
In light of a global trend, from 2018, Pakistani creatives have been exploring and creating content for the digital medium.
More importantly, the digital space has also allowed filmmakers a free hand to experiment and be innovative when producing exciting content for the online world.
A range of genres, from light-hearted comedies to thrillers are covered in Pakistani web series.
These web shows feature top stars like Mehwish Hayat and Sarmad Khoosat, along with promoting talented individuals.
Storytellers are also tackling some very important issues through these web series such as women empowerment and the desi proposal system. The web series Ayesha (2020) is a must-watch.
Online viewers are turning to YouTube and other video-on-demand entertainment portals to watch Pakistani web series.
With a growing interest in Pakistani web series, DESIblitz provides a low down on 11 of them. They are ideal for a lockdown situation.
Middle Se Ooper (2018)
Middle Se Ooper is a comical Pakistani web series presentation of Kenwood. The storytelling of the series takes a very creative approach.
The web series shows how the Mujahid family adapt to their new lifestyle. This is after they shift into an exclusive property in DHA.
The series has some captivating characters, featuring three youngsters, their amma (Mrs Mujahid: Mahjabeen Habib) and abba (Mr Mujahid: Haseeb Khan), along with Uncle Shahid who is always unrealistic.
Other key characters include the interesting neighbour Hira (Ushna Shah) and her loud maid Erum.
Additionally, viewers can expect an encounter between Mrs Mujahid and Hira's maid. Besides being hilarious, each webisode underlines family and cultural aspects.
The series had a YouTube entry on January 6, 2018. A viewer praising the series shared their thoughts underneath the video of episode one:
"A very entertaining web series, closer to reality. Keep up the good work."
There are four episodes to this mini web series, with the finale streaming first on January 27, 2018.
Chattkhara (2018)
Chattkhara is the first-ever comedy web series from HUM Network. Famous filmmaker Jawad Bashir is the director of this series.
The series explores various issues and topics in each episode. Bashir introduces a subject at the start of each episode. From then on, several artists perform short skits, which are funny.
Speaking about the inspiration behind the collaboration with HUM, Bashir exclusively told Dawn Images:
"I noticed that all over the world, web is the most active medium while in Pakistan, not much attention is being given to it, at least not as much as it warrants.
"I feel like the relevant qualified professionals are still more focused on television and film rather than creating web series.
"So I thought I should take the initiative and show that professionals have taken web on and it's something that should be done to compete with the rest of the world," shared the filmmaker.
Despite the series made on a small budget, Bashir was also happy to direct this hilarious series. Elaborating on his experience of working on the series, Bashir continued:
"It was a fun journey working on Chattkhara and I learnt a lot by working with new people."
The series has plenty of flavours in store for the audience. The series was released on the official HUM TV YouTube channel on January 22, 2018.
Enaaya (2019)
Enaaya is the first original Pakistani web series on a big scale, courtesy of Eros Promotion Pictures.
This cool urbanised musical web show stars Mehwish Hayat in the title role of Enaaya. She is a fun, yet calm and sensible college student.
She resides with her mother after the two of them are abandoned by Enaaya's father.
With Enaaya being passionate about music, she gets pulled into the college band.
However, Faryal (Faryal Mehmood), the psychotic girlfriend of the charming lead singer Jimmy (Azfar Rehman) dislikes Enayaa from the very outset. This causes friction when the band are performing.
Asad Siddiqui (Rasik) and Waqas Godhra (Mikoo) play the remaining two band members. The character of Rasik is somewhat egoistic and rude.
Going for an urban look, all the characters are seen wearing jeans and t-shirts in the series.
The series highlights human connectivity, with each character having some history.  Furthermore, the series does create an element of curiosity for the viewers.
Enaaya also delivers a very progressive tone, as well as some good aesthetics. Wajahat Rauf is the writer and director of the twelve-episode web series.
Hayat exclusively spoke with DESIblitz about her character and the series, expressing:
"I was very excited to be playing a role that was removed from the usual ronaa dhonaa family troupes that we are used to.
"Enaaya portrayed real college life as it is not the usual filmi approximation. My character was a fiery confident girl.
"The series charts her trials and tribulations as she pursues her dreams to be a singer."
"The series was a bold experiment that was well received by the younger generation who identified with the story and the characters."
Releasing on January 20, 2019, the web series is available to watch on Eros Now and Amazon Prime.
I Frandship U (2019)
I Frandship U is a mini web series, which has a modern love story to it.
Mariya Javed is the writer and director of this show. The web series was exclusively made for Pakistani OTT (Over-the-Top) video streaming service, Vidly.
I Frandship U follows the story of Rawalpindi lad Daniyal who falls in love with Hareem. The latter is a young lady visiting from New York.
The series focuses on how young people comprehend affection, loving relations and companionship. Areesha Zainab, Muqeet Khan, Omer Abdullah, Wasil Tanveer make up the main cast of the series.
The series is very realistic, with each episode having a good pace. The audience will also feel very nostalgic when watching the series, connecting with the characters.
Famous actor and director Sarmad Khoosat has a cameo appearance in episode six. Complimenting the series, a fan on YouTube commented saying:
"Telling simple stories is harder than it seems. And as a writer, you have done beautifully through your characters.
"The actors have done a great job. Especially Hareem's Nana, Nani and Danny's Aapa. They were so natural and cute in every frame.
"Also Sarmad's cameo was nothing short of a pleasant surprise. As a director, you have shown great command over your craft. Brilliant execution of the script.
I Frandship U is a short series, consisting of six episodes. Watch this series and celebrate youthful love in Pakistan.
Shameless Proposals (2019)
Shameless Proposals is a digital-based web series with animation. The show explores the toxic proposal culture in Pakistan.
The series addresses the state of arranged marriages with respect to women and girls. The series particularly highlights the sacrifices of some women who are given no choice about their marriage.
Liberals believe the show exposes the desi proposal system. Whereas some sceptics feel the show will lead to more females remaining single or filing for divorce.
The anthology web series is a Sadia Jabbar production. Conversing with Dawn Images, the producer sheds light on the series:
"The series is about the desi rishta system. When rishta is offered, no one looks at whether the boy and girl are compatible, whether they share similar interests.
"It sometimes feels like the family just wants to get rid of their daughter."
"We wanna challenge the current system and want it to evolve so that people pay attention to these things and the couple is able to grow together later as well."
Sadia also went onto say that the series has no specific gender bias:
"The series will be through a woman's perspective but will also show what problems men go through when rishtas are concerned."
The seven episodic bold and satire web series had it its first YouTube airing on March 29, 2019.
Saji Gul who had previously written the romantic drama serial O Rangreza (HUM TV: 2017- 2018) is the writer of Shameless Proposals.
Summer Love (2019)
Summer Love is a contemporary young love transitional web series in the Urdu language. Offering many light heart moments, the concept of the series revolves around opposites attracting each other.
The unconventional feel-good factor series stars two lead protagonists who have nothing in common. The tidy freak Nida Butt (Vardah Aziz) is the epitome of perfection.
Meanwhile, the charming Sami Ansari (Hadi bin Arshad) is very casual when it comes to targets and obligations.
The two meet each other at a media house during an internship. Nida and Sami get off on the wrong foot but eventually warm up with one another.
Both actors are very natural when expressing their inner thoughts and verbal dialogues. They also display great on-screen chemistry.
In addition to the lead characters, Babar Jaffri (Kashan), Amtul Baweja (Sana) and Durr-e-Shehwar (Sara) have key roles in the series.
College students, teenage British and South Asians, along with professionals will find this modern series very engaging.
Viewers will also get to see thrilling chases, past insecurities and cute elements in this series. Describing the show as "honest and incredibly mature" an IMDb user writes:
"Summer Love is a down-to-earth, simple piece of production that greets you like a summer breeze.
"It makes you believe in the power of filmmaking by going back to the basics –the story and the characters– a refreshingly rare move today."
Summer Love is a collaboration between Cornetto and premiere digital content producer Teeli.
Each episode of the six-part snackable series has a ten minutes running. Summer Love came out on June 4, 2019, and is available to watch via the official Teeli YouTube channel.
Miss Per-Fact (2019)
Miss Per-Fact is a contemporary tongue in cheek web series by entertainment portal Vogo.
The web show features coming-of-age actors Vardah Aziz and Furqan Qureshi in the lead roles. The series tells the story of Furqan and Vardah who fall in love and marry each other.
The series specifically concentrates on the day to day problems that a millennial couple faces. The is when the two live in a luxurious Karachi apartment.
The wife acts like a perfectionist, dominating her husband somewhat. She also believes her hubby has no clue when dealing with life.
The show presents real-life situations with a comedy touch and modern outlook. Moreover, the web series is quite an engaging watch, especially for romantic comedy lovers.
Audiences will leave laughing at the end of each episode, especially with its quirky twist. The series will also not take too much time to watch as each episode is fairly short.
The episodes of this light heart comedy are available online for viewing via YouTube.
The episodes are titled: Trip to Bangkok, Budget Priority, FIFA Boys Night, Soul Brothers, Snapchat Busted, The Perfect Plan, Bhool Se Galti, Keto Veto, Seasonal War and Bin in the Oven.
The series made its Vogo YouTube channel debut on June 16, 2019.
The Roomeos
The Roomeos is a humourous web series by writer-director Bilal Yousufzai. It focuses on issues confronting the youth.
The series features three buddies including vlogger Hunain Riaz, punster Faham Usman and the overdetermined Rais-ur-Rehman.
The web show reveals the struggles of all three who want to fulfil certain dreams. Each of the three has an entirely different view on life.
Warda Jamal and Haram Shaikh are the other cast members of the show. BVC Originals presents the series, in association with RKF and Dramaculas.
The series takes a closer look at one issue in each of the five episodes. Bilal also points out that the narrative relates to the youth who heavily use smartphones.
Prior to the release of the five-episode series on July 19, 2019, the web show had a soft trailer launch in Karachi.
The entire cast and crew were in attendance, witnessing much appreciation from those present at the launch.
Saat Mulaqatein (2019)
Saat Mulaqatein is a web series about a couple who move on after a relatively long marriage.
Falling out of love, the couple end their relationship on their 15th-anniversary dinner. Hitting the viewers right on the heels of emotion, the series features a stellar cast. They include Noman Ijaz, Zara Tareen and Hamza Firdous.
In a conversation with Dawn Images, Zara says the show is about "egos, mistrust and betrayal."
The series narrates seven unintended meet-ups between the couple, Mr and Mrs Noman. Speaking about his character, Hamza exclusively tells HIP:
"I am playing a writer who is narrating the story of a husband and wife together while sharing anecdotes of his life to the viewers.
Hamza also revealed to HIP that the audience can expect a twist in the final episode.
Qaiser Ali is the producer of the series, whilst Kashif Nisar of Ranjha Ranjha Kardi (2018) drama fame takes on the director's chair.
Saat Mulaqatein is a project of entertainment portal Nashpati Prime. The series comprising of nine episodes had a YouTube premiere on November 28, 2019.
Superheroes (2020)
Superheroes is a fresh female centric web series, which explores the highs and lows of urban women in Pakistan.
The multifaceted show particularly navigates the lives of four women – Laila, Zeenat, Amber and Natasha.
Following a 10-year marriage, Laila (Hani Taha) discovers the blogging world. Cooking lover Zeenat (Kehkahan Faisal Nafees) wishes to enhance her writing skills.
Amber (Vasia Fatima) who comes from an elite family wants to kick-start her career. Aspiring actress Natasha (Maha Hasan) is willing to break stereotypes.
All four prepare to face any challenges that come their way. Episodes from the series confront sensitive topics such as women employment, personal power, domestication, upbringing kids and their societal position.
Calling themselves as the "alternative source" of Pakistan entertainment, Teeli is the producer of the series.
Speaking about breaking the mould, Wali Tirmizi, COO Teeli, says:
"We believe that, now more than ever, it is the need of the hour for Pakistani media to offer an alternate narrative of women and Pakistani society in general.
"The team behind Superheroes has attempted to do just that with the series."
The four-part web series releasing on February 7, 2020, is available on Teeli's YouTube channel.
Ayesha (2020)
Ayesha is a mini-web series, which has a women empowerment focus. The series follows the life of an ordinary middle-class family.
The series specifically shows how homemaker Ayesha, a dedicated wife and mother is not appreciated, despite all generous efforts for her family.
As a result of being underestimated, Ayesha begins to take self-interest as she embarks on a new independent journey to fulfil her dreams.
With her husband being not as supportive, viewers should watch the series to see how the story unfolds.
The struggling housewife Ayesha is portrayed by the amazingly talented 'voice of women,' Yasra Rizvi. Her emotions on-screen display a high degree of perfection.
The brilliant Sarmad Khoosat plays Fahad, the unappreciative husband of Ayesha. Popular child artist Shees Sajad Gul from the hit drama Mere Paas Tum Ho (2019) plays their son.
Many young couples in a spot of bother will connect with this web series, gaining a real-life feeling.
The show will also act as a reality check for many women. Besides the performances, the series delivers terrific dialogues and messages.
The series became available on YouTube from February 8, 2020. The web series is a fast watch, with six episodes in total.
Each episode has a short time span, ranging from six to ten minutes, making for a crisp experience. The show had a phenomenal response, not just in Pakistan, but also in neighbouring India.
Watch highlights of these Pakistani Web Series here: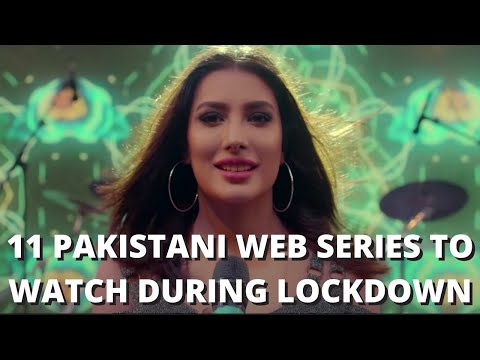 There are several other low budgeted Pakistani web series, including 14 Baar (2019) and Ek Katha (2019). Online fans, can expect many more Pakistani web series releasing in the future.
Meanwhile, watch these 11 Pakistani web series during times of lockdown and when self-isolating.