"Please make sure the actors do justice to every scene and words"
In 2021, various over-the-top (OTT) platforms are showcasing some intelligent, responsible and entertaining Pakistani web series.
The year, 2021 got off to a fantastic note, with the release of the mini-three episode web series, Be Gunah. This Pakistani web series addresses the important issue of child sex abuse in the country.
The super and unconventional Sarmad Khoosat stars in this web series, which depicts quality.
Be Gunah presents a different angle of evil where another young person commits child sexual abuse.
The main protagonists mirror the mind of society. They find it hard to comprehend and acknowledge how a very young person can become so evil to another child.
Be Gunah is very relevant because many children become a victim of this horrific crime.
The remainder of 2021 promises to showcase several other interesting Pakistani web series. Many of them are launching on Pakistan's first official digital streaming platform called UrduFlix.
Inspector Jamshed is want to look out for as is Raaz, which revolves around how the TikTok sensation Hareem Shah rose to fame.
Other titles for 2021 cover a wide range of genres, including romance and thriller. Here are 5 upcoming Pakistani web series, which are worth considering to watch.
Abdullahpur Ka Devdas
Abdullahpur Ka Devdas is a Pakistani web series, with an impressive star cast in it. The web series has Bilal Abbas (Fakhar) and Sarah Khan (Gul Bano) in the lead roles.
Noman Ijaz, Savera Nadeem, Anoushay Abbasi, Raza Talish, Shahzad Nawaz and Ali Ansari also have pivotal roles.
All the cast also look dashing and stunning in behind the scenes images available online.
Abdullahpur Ka Devdas has a story, which touches on various themes including love, sacrifice and friendship.
Renowned drama director Anjum Shahzad is in charge of this web series, which was written by Shahid Dogar.
Shahid was working under the supervision of prominent novelist Umera Ahmed and her company, Alif Kitab Publication for this web series.
Without revealing too much about this ZEE5 web series, Anjum told the media:
"There is a lot of creative liberty while creating such series and more margin to explore the subject."
On July 17, 2020, Bilal went on Instagram to share a teaser of this web series, which is quite fast in pace.
The shooting of this web series took place in Bahawalpur, Karachi and Lahore. Abdullahpur Ka Devas is a 13-part web series.
Dulhan Aur 1 Raat
Dulhan Aur AIK Raat is an exclusive UrduFlix Pakistani web series with a super cast.
Rao Ayaz Shahzad is the director of the series, with Mansoor Syed being the writer and Farhan Gauher producing it.
Alizeh Shah of Ehd-e-Wafa (2019) fame features in this web series alongside Danial Afzal Khan.
Danial is known for previously starring in the Pakistani family drama, Raaz-e-Ulfat (2020). Giving a little insight about Dulhan Aur 1 Baat, Danial says:
"The web series is about a one-night thriller about a bride and whatever events happen in the night.
"It has suspense, thrill, and a cinematic experience to it."
The first motion look poster was unveiled by Urduflix on December 26, 2020, on their official Instagram account, with a caption reading:
"The wait is over. Presenting the first look poster of Urduflix originals series "Dhulan Aur 1 Raat" featuring @alizehshahofficial A film by Alley14 films."
The first look shows Alizeh in red and then black, At the start, she is a firing a shot from her gun.
The trailer for the web series came out on February 9, 2021. From the trailer, it is also clear that the web series is very spine chilling, with some thrilling moments.
Danial marks his web series debut with Dulhan Aur 1 Raat. Thus, his fans are excitingly awaiting this web drama, having high expectations.
Watch First Look for Dulhan Aur 1 Raat here:
Inspector Jamshed
Inspector Jamshed is a Pakistani web series project by CreatorsOne, falling under the banner of Dot Republic Media.
Helmed by director Fahad Noor, the web series is produced by Adnan Butt. It is an adaptation of the namesake popular spy series by fiction writer Ishtiaq Ahmed.
Viewers will be taken back in time to the 80s with this web series.
The series revamps detective stories of the classic Inspector Jamshed and his three children – Mehmood, Farooq, and Farzana.
Inspector Jamshed will show the family solving various cases as they untangle certain mysteries.
The trailer for Inspector Jamshed came out on September 5, 2020, via the C1 Shorts YouTube channel:
Looking at the trailer, the web series will reflect crime, suspense and plenty of thrilling moments.
The web series also looks to have good cinematography and sound quality. Potentially, viewers are happy about this series, with Tauseef Gauhar commenting on YouTube:
"Appreciate your efforts towards positive Pakistan."
"Please make sure the actors do justice to every scene and words with emotions. This is a special series and we should make it internationally famous."
Fans of the original book series are hoping that the makers can justify the brilliant craft of Ishtiaq Ahmed.
Watch Official Trailer for Inspector Jamshed here: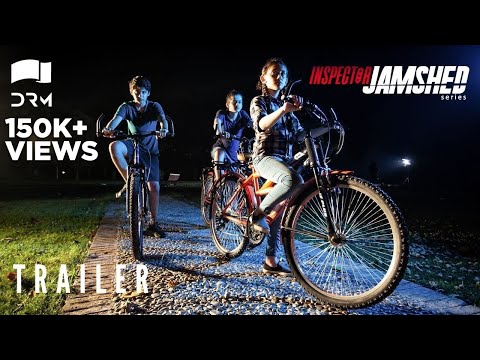 Lifafa Dayaan
Lifafa Dayaan is a thrilling web series made for UrduFlix. It is yet another Rao Ayaz Shahzad directorial.
Pakistani model and actress Mashal Khan plays the lead role Of Alina Ali in the web series.
She will be portraying a controversial and distressed news presenter, with the human condition being her core interest.
Her role in Lifafa Dayaan is quite a contrast to previous roles. Rather than playing a villainous or heroine role, Mashal's character finds herself in a difficult situation.
Viewers will also get to see her handling the limelight and personal situation with chaos, reflecting fame somewhat from a dark perspective.
Mashal went on Instagram to share a teaser of the web series, with her stating "get ready."
The teaser shows Mashal smoking a cigarette, with her hands shaking. Her facial expressions are very serious, indicating that this will be a powerful web series.
She also delivers a strong dialogue in the teaser, expressing:
"Agar ap adjust nahein ker saktay, toh Alina Ali bhi adjust nahein ho sakti." (If you cannot make an adjustment, then neither can Alina Ali.)
Fans will have to watch the series to find out more about the theme of the web series.
Watch the Second Teaser fr Lifafa Daayan here: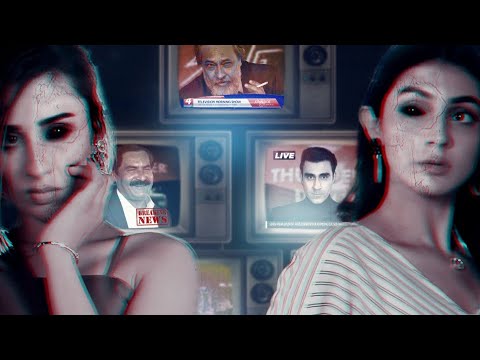 Raaz
Raaz is a Pakistani web series focusing on the famous TikTok celebrity Hareem Shah. Asad Ali Zaidi is the director of this web series, which chronicles the journey of Hareem Shah becoming popular.
Mansoor Saeed is the writer of the series, with Farhan Gohar being the producer.
With her controversial videos going viral, Hareem deals with the powerful and toxic nature of social media.
Hareem is playing a strong character in Raaz, tackling all the scandalous and contentious things linked to her with sheer determination.
Raaz unravels the harsh reality of sudden fame and dislike. This web series also marks the acting debut of Hareem Shah.
Hareem went on Instagram to share the trailer on February 12, 2021, but without a caption.
The teaser starts with currency notes up in the air, courtesy of Hareem. There are several powerful dialogues in the trailer, with one standing out:
"Internet ki duniya par jhoot bhi bohat bikhta hai" (On the internet world, lies are also very sellable)
A poster of the web series is also intriguing, with someone's hand over Hareem Shah's mouth. Raaz will be available on Pakistan online streaming service UrduFlix.
Watch Official Trailer for Raaz here: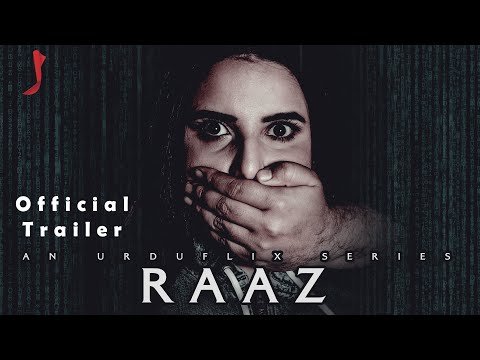 There are also several other Pakistani web series to look forward to in 2021. This includes Mind Games, Dhoop Ki Deewar and Man Jogi.
Undoubtedly, many more Pakistani web series will come out of the treasure trove in 2021. It seems in 2021, viewers will be spoilt for choice, with some really captivating Pakistani web series.
Inspector Jamshed has the potential to make a big noise, with many fans being familiar with the spy series.