"I am very pleased with the way that it has turned out"
Many Pakistani films that were meant to release in 2020 had to be postponed due to COVID-19. Hence, many of them, along with others will release in 2021.
The industry and filmmakers have had a tough time. Having said that, Pakistani cinema is hoping to start a process of recovery going into 2021.
Pakistani films slated for release include some big banner movies, which could make 2021 a fantastic year for cinema houses in Pakistan and abroad.
Naturally, all eyes are on The Legend of Maula Jatt releasing. Featuring an A-list of celebrities, the film will release in several countries, including China.
Super director Sarmad Khoosat also has two unique Pakistani films that will be coming in 2021. Here are 11 captivating Pakistani films to look out for in 2021.
Dum Mastam
Dum Mastam is a rom-com, with Mohammad Ehteshamuddin taking the director's chair. It is amongst the most eagerly awaited Pakistani films of 2021.
Imran Ashraf and Amar Khan who are known for their realism on-screen are making their film debuts with Dum Mastam.
The charming Imran has made big waves in the world of TV. The gifted Amar is also the writer of the film.
The story revolves around the life of a Punjabi family, which is dysfunctional. Many viewers will relate to this Punjabi-centric film.
Renowned online sensation Momin Saqib has a supporting role in the film. Sohail Ahmed, Saleem Mairaj and Adnan Shah Tipu also have pivotal roles in the film.
Actor and producer Adnan Siddiqui went on Instagram to to put up a post upon completion of this film. Besides uploading a video of the cast and crew, he wrote:
"Madness..Chaos…Laughter…Mischiefs..Tears..and a wrap!!
"About a year ago, we converged together on conversant yet unchartered territory. The scales were balanced by doyens on one end and novice on the other, both drawing from each other's learnings.
"More than the concept, it was our eccentricities and creativities that glued us together till the camera closed on our beloved Dum Mastam."
He also went onto thank the entire team in the same post. Dum Mastam will release in 2021, possibly in the winter.
Fatman
Fatman is one of the most fascinating Pakistani films that tackles a serious subject. Starring actor and singer Ahmad Ali Butt, this superhero film will highlight the topic of body shaming.
Despite acting in many Pakistani films, this is the first time that Ahmad plays a lead role. Sharing an image of him and the team on Instagram, Ahmad confirmed his role, with a description, writing:
"My next film and my first as a lead with these crazy people.
"Looking forward to making a great film with these great creative film-makers and hope you'll all love it as much as I love the script.
The film will showcase the relations and emotions of a family. The film emphaises on the problems facing a man who suffers from obesity.
Ahmad said the masses may perceive superheroes differently after watching this film:
"This film could change the perspective of people towards superheroes."
Director Nabeel Qureshi and producer-screenwriter Fizza Ali Meerza are the filmmakers behind this project.
They became famous after making, Na Maloom Afraad (2014) and its sequel. The filmmakers made a joint statement about the storyline of the movie:
"Fatman is a thrilling action comedy-drama that will revolve around an ordinary person who accidently turns into a superhero."
It will be interesting to see if Ahmad has sung any songs for the film too. This Urdu film will release at some point in 2021.
Ghabrana Nahin Hai
Ghabrana Nahin Hai (GNH) is a rom-com film, starring the adaptable Saba Qamar in a multi-character role.
The film starts at a wedding with three different men seeming to be good marriage potentials. The three suitors include actors Zahid Ahmed, Syed Jibran and Nayyer Ijaz.
This light heart and family entertaining film will see on-screen chemistry between Saba and Zahid. Producer Jamil Baig divulges more on the story to Images:
"The story is about female empowerment. It's a daughter's story, whose family finds itself in a desperate situation. It is in that moment that the daughter tells them: "Ghabrana nahin hai [You shouldn't worry]."
He continues explaining how Prime Minister Imran Khan utters the words of the title in a very responsible fashion:
"We're not treating [the title] as a joke. The prime minister uses these words when he's addressing the nation. I think he uses the words appropriately."
This film is the first of several productions, courtesy of JB films, The is the production house that Jamil has founded. Jamil is also the owner of Nueplex cinema.
Hassan Zia is the other producer of the film. Saqib Khan is the director of this film, which Mohsin Ali has written.
This Urdu language film will release sometime in the middle of 2021.
Ishrat: Made in China
Ishrat: Made in China is one of the most expensive Pakistani films that will release in 2021. The film is an Urdu action-comedy, with a star-studded line-up.
Mohib Mirza and Sanam Saeed return as a pair on screen after Bachana (2016). This film is also the directorial debut for Mohib.
The remaining cast includes Shamoon Abbasi, Sara Loren, Ali Kazmi, Mani, Mustapha Chaudhry, Shabbir Jan, Imam Saeed, Nayyer Ejaz and Hassan Sheheryar Yasin.
Ahsan Raza is the writer of this film, which focuses on rivalries between different gangs.
Sanam went on Instagram to share an image of herself and Mohib. Happy to be part of this project, she posted a caption, writing:
"Its been a long time coming! While we have no idea where cinema is headed in the near future, we thought we'd still keep you hooked.
"Thrilled to be part of Ishrat Made in China (a Muhib Mirza Film). Here's a glimpse from The Cast Reveal' for you all, not the character looks!"
Eminent fashion designer, Hassan Sheheryar who makes his film debut also went on Instagram to express his thoughts. Sharing an image of himself, he stated:
"Proud to officially announce my debut as an actor!
"When Muhib contacted me and told me that he had written a movie role especially for me, I couldn't say no."
"This has perhaps been one of the most thrilling experiences of my life and I'm honoured to be a part of this movie. I can't wait for you all to see it!"
Hassan is playing a negative character in the film. In June 2020, the cast and crew were left stuck in Thailand for several weeks after completing their shooting schedule
The reason for being stranded were travelling restrictions due to COVID-19. Ishrat: Made in China release in 2021.
Kamli
Kamli is a Pakistani film helmed by ace director Sarmad Khoosat. He is also the writer of the film. The film has a super line up, including Saba Qamar, Sania Saeed, Nimra Bucha, Eman Shahid,
Kamli follows a tragic love story, representing a vibrant and humourous rural Punjab.
Lahore is the setting of this film, which follows a devout old man whose life becomes chaotic. This is after a video that features him becomes available on social media.
Talking to Variety, Sarmad highlights the theme of patience in the film:
"What was most important to me was exploring the idea of tolerance.
"Tolerance not just to others (to allow people to exist the way they are) but also tolerance to self – and this is where the concept of shame, need for approval etc. come in to play.
"I have been in situations where I have felt I should have been more tolerant of others and more accepting of my own self."
Sarmad also believes that Kamli will showcase "poetic lyricism and love-lore in an international film aesthetic."
Saba is the face of the film, as several images show her diving underwater. Kamli had a world premiere at the 2019 Busan International Film Festival in South Korea.
This Urdu film was scheduled for release in summer 2020. However, with the coronavirus pandemic, it has been pushed forward to 2021.
London Nahin Jaunga
London Nahin Jaunga (LNJ) is a romantic drama film. Nadeem Beyg is the director, with Khalil-ur-Rahman being the writer.
According to the writer, "it is a complete different story."
It is the same team which made Punjab Nahin Jaungi (2017). As the title suggests, London will feature as a location for the film.
On June 15, 2020, the director went on Instagram to announce that the Pakistan phase of the shooting had come to a finish.
Sharing an image of himself with Mehwish Hayat and Kubra Khan, he wrote a caption, mentioning:
"Camera Close Pakistan Spell.(January)
"Hopefully soon i'd get to wear one with Pounds bill on."
The fun film will see Humayun Saeed and Mehwish Hayat play the lead pair. LNJ also features Kubra Khan, Gohar Rasheed, Sohail Ahmed, Salman Shahid, Iffat Omar and Saba Faisal.
For the first time, Mehwish and Kubra will be seen in a film project together. Mehwish who is one of the most graceful actresses to star in Pakistani films exclusively reveals to DESIblitz:
"I was very disappointed when the filming had to stop because of COVID earlier in 2020. Thankfully all the Pakistan scenes were in the can, all that remained was the shoot in London.
"I cannot say much about the role or the film. Having just dubbed the scenes we've shot, I am very pleased with the way that it has turned out and the way that it is looking.
"I think that the film being produced by the same team that did PNJ and JPNA the audiences have a very good idea what to expect.
"I hope that by the time the film is complete and ready to release things will have returned to normal."
"Hopefully people would also be comfortable going back to the cinemas – but of course safety has to come first."
Audiences can expect the stars to converse in a mix of Urdu and Punjabi in the film. The film will hit the theatres in 2021, perhaps during the Eid-ul-Adha festivities.
Money Back Guarantee
Money Back Guarantee (MBG) is an Urdu comedy-thriller film. The movie is the directorial debut of Pakistani comedian Faisal Qureshi.
Faisal who has a track of delivering action and comedy is also the writer of the film. MBG will have a money heist angle, which will engage viewers with plenty of laughter.
The film has a star-studded line-up. This includes Fawad Khan, Mikaal Zulfiqar, Gohar Rasheed, Shayan Khan, Jan Rambo and Kiran Malik
Former Pakistan cricket legend Wasim Akram makes his film debut with MBG – be it a small part. This film also marks the debut of his Australian wife, Shaniera Akram.
A host of stars will also make a special appearance in the film, including Ali Rehman Khan and Faysal Qureshi.
Shaniera had an interesting and challenging time during the shoot. She went on Instagram to post a behind the scenes image, sharing her experiences and thoughts:
"A nervous Shaniera behind the scenes of my first Pakistani movie!
"My Twelve days on set included a sprained ankle, a bathroom lock in, a painful tetanus shot, sleepless nights, loads of Lays masala chips, language barriers to the next level, a romantic moment and an unforgettable chandelier stunt that gave me an out of body experience.
"Do you think I should get a money back guarantee????
"What an amazing experience working with the great @faisalqureshi_official and such an awesome cast, it was lots and lots of fun!"
The shooting of the film took place in Karachi and Thailand at the end of 2019. The filming, as well as the soundtrack, came to a finish within fourty days. Thus, everyone had to work around a tight schedule.
Using a two-camera shoot, Malaysian Calvin Kehoe is the prominent cinematographer for MBG.
It was initially going to release in 2020, but COVID-19 put a halt to that. Nevertheless, it will release sometime in 2021.
Quaid-e-Azam Zindabad
Qaid-e-Azam Zindabad is an Urdu action-comedy commercial film. It is yet another film by director-producer duo Nabeel Qureshi and Fizza Ali Meerza.
Nabeel exclusively told Instep that the male lead, Fahad Mustafa will be playing a police officer:
"Fahad is playing a cop character."
Nabeel also confirms to Dawn that Mahira Khan who is the female lead in the film has a "unique" role.
This is the first time that Mahira and Fahad will be sharing screen space. The first posters were unveiled by Nabeel on August 14, 2020. This date falls on the independence day of Pakistan.
Nabeel put a caption to the posters stating:  "Aaj ke din – say it loud and clear! Quaid-e-Azam Zindabad. Pakistan Paindabad."
The first poster shows the back of Mahira Khan, standing with a loudspeaker in her hand, facing a caged Lion.
The second poster was also showing the back of Fahad, standing towards a stack of cash, which forms an image of Pakistan founder Muhammad Ali Jinnah.
Fahad also has a gun and some notes in his hands, which overlap each other. Additionally, dressed in a police uniform, he is wearing shades on.
Fahad spoke to The Current about the vision for the film and the injuries he had during the shoot:
"We have tried to pull off Mission Impossible type stuff in Pakistan with Quaid-e-Azam Zindabad."
"I endured multiple injuries while performing these stunts. My heel was injured throughout the course of filming and I couldn't even walk properly but still, I did all the stunts myself and no double was used."
The official teaser came out on October 17, 2020, receiving over 600,000 YouTube hits.
The trailer reinforces the thrilling and entertaining aspects of the film. The movie will release under the banner of Filmwala Pictures.
Watch Quaid-e-Azam Zindabad Teaser here: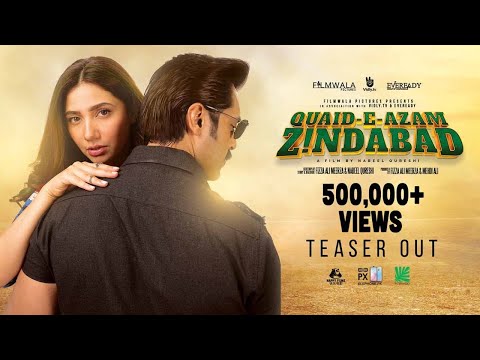 The Legend of Maula Jatt
The Legend of Maula Jatt (TLOMJ) is one of the most exciting Pakistani films to release in 2021.
The story is by veteran scriptwriter Nasir Adeeb and director Bilal Lashari of Waar (2013) fame. Nasir Saab is also the dialogue writer of TLOMJ. This is Bilal's second directorial after Waar.
Amara Hikmat is the producer of the film. This is a production of Encyclomedia and Lashari films
TLMOJ is a Punjabi film, which gives a modern take to the cult classic, Maula Jatt (1979).
The film revolves around the epic rivalry of Maula Jatt (Fawad Khan) and Noori Natt (Hamza Ali Abbasi). Fawad is a big heartthrob in the sub-continent, with Hamza having a very enigmatic personality.
The stunning Mahira Khan (Mukhoo Jatti) and the versatile Humaima Malik (Daaro Nattni) complete the stellar line-up.
In an exclusive conversation with The Express Tribune on December 14, 2013, Bilal announced directing this film:
"This will be my take on Gandasa films which are blamed for the death of Lollywood. I think the Gandasa genre was a missed opportunity for Pakistani cinema.
"And what better choice to utilise it then by paying homage to the cult classic Maula Jatt."
Viewers can expect to hear the famous dialogue from the original in TLMOJ:
'Maulay Nu Maula Na Maray, Tay Maula Nai Marda."
The first look poster of TLMOJ came out on February 27, 2015, via the official Facebook page of the film. The trailer made its YouTube debut on December 21 2018, with many from India getting curious about the film.
This Urdu film was due to release on Eid-ul-Fir 2020 but had to be moved forward due to the coronavirus pandemic.
TLMOJ is likely to premiere during one of the Eid festivities, sometime in 2021.
Watch Trailer for The Legend of Maula Jatt here: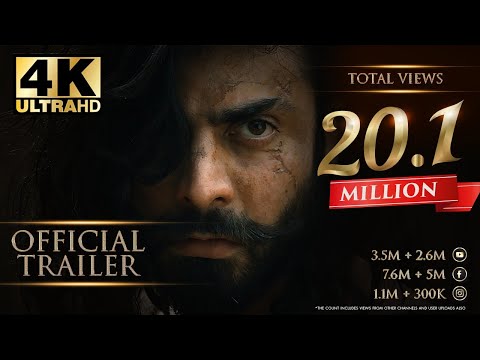 Tich Button
Tich Button is an Urdu romantic action entertainer, which is directed by Qasim Ali Mureed. Faiza Iftikhar who is an author and screenwriter for television has written this film.
For the first time, real-life partners Farhan Saeed and Urwa Hocane feature side by side in a film.
This is also Urwa's first film that she is producing. Hubby Fahan makes his big-screen debut in Tich Button. It is an ARY Film, with their networks President and CEO, Salman Iqbal, being the other producer.
The ARY Films official Instagram account announced beginning of the principal photography.
Posting an image, the caption read:
"The cast and crew of the new film #TichButton is ready to shoot"
Iman Ali, Sonya Hussain and Feroze Khan are the other cast members of the film. Urwa went on Instagram to share a picture of the cast, with a caption that states: "#TichButton in Turkey".
Whilst unveiling the first look she had earlier described the film, saying:
"The film is about love, friendships and filled with fun."
Other than Turkey, shooting for the film has taken place in Nankana Sahib and Lahore. This is one of the most anticipated Pakistani films of 2021.
Zindagi Tamasha
Zindagi Tamasha is a direction of successful Pakistani actor and filmmaker Sarmad Khoosat.
This is the first time that the talented Sarmad has directed a film in Punjabi. Sarmad's sister Kanwal Khoosat is the producer of the film.
The name of the film takes inspiration from a song in the hit film Naukar Wohti Da (1974). The film stars Emaan Suleman, Arif Hassan, Ali Qureshi, Samiya Mumtaz and Imran Khoosat.
Penned by Nirmal Bano, the film explores how people come to deal with the various individual religious identities that exist in society.
Lahore is the setting of the film, showing a close portrait of a family.
This is the film debut for model Ali. He spoke to Lens about his role, expressing:
"My character is Danish, he lives in Lahore and belongs to a middle-class family and he's a very loving, kind and supportive husband."
The film has a terrific soundtrack which includes 'Ajj Sik Mitraa Di.' This is a rendition of a kalaam (speech) written by revered Sufi poet, Peer Syed Mehar Ali Shah.
The poetry and music by Saakin intensify the song and the film as a whole.
The film had a premiere at the 2019 Busan International Film Festival, winning the Kim Ji-Seok Award there.
The movie is also the official Pakistani entry at the 93rd Academy Awards under the 'Best International Feature Film' category.
The film was originally going to release in January 2020. However, it was put on hold after some spiritual leaders had objections to the story.
The censor had given their clearance to this Urdu and Punjabi film. The film will eventually release under the Khoosat Films banner.
Several other Pakistani films will release in 2021. These include Zaraar starring Shaan, Chakkar directed by Yasir Nawaz and Wajahat Rauf's Parde Mein Rehne Do.
Many of the above Pakistani films can gross from Rs. 7 crores to Rs 100 crores, making 2021 a year to remember.
Cinema in Pakistan is surviving on a thin thread, However, there is a ray of hope for 2021.