"It's about what we hide and what we wear on our sleeves"
In 2021, Netflix has some exciting Indian films screening on their over-the-top (OTT) content platform.
From the start to the end of 2021, it will be an eventful year for Netflix Indian films.
The OTT provider has made announcements about several interesting titles and trailer releases. Hence, viewers can expect to watch a variety of Indian films throughout 2021.
Tribangha: Tedhi Medi Crazy was the first Netflix feature Indian film to release on January 15, 2021. This is a social drama about a dysfunctional family, reflecting three generations.
Tribangha: Tedhi Medi Crazy particularly emphasises the relationship between daughter and mother.
The two main characters include Anuradha 'Anu' Apte (Kajol and mother Nayantara 'Nayan Apte (Tanvi Azmi).
The White Tiger is special, with this film generating so much buzz, prior to its release on January 22, 2021.
The Ramin Bahrani directorial is an adaptation of the 2008 best-selling and award-winning novel with the same name by Aravind Adiga.
The White Tiger uncovers the innocent journey of driver Balram Halwai (Adarsh Gourav), climbing up the ladder to success from initial poverty.
He drives for Ashok (Rajkummar Rao) and Pinky (Priyanka Chopra Jonas) upon their return from the USA. Newcomer Adarsh is shining brightly in this film, with his authoritative role.
Audiences will also appreciate the performances of Priyanka and Rajkummar.
With 2021 getting off to a flyer, there is plenty more in store for viewers. DESIblitz looks at 5 Netflix Indian films to check out in 2021.
Bombay Rose
Bombay Rose is a wonderful hand-painted Hindi romantic animation drama. Award-winning animator Geetanjali Rao takes the director's chair for this film.
The film is about the interfaith love story between Salim (Amit Deondi) and Kamala (Cyril Khare). The film is set in the pulsating and chaotic streets of Bombay.
The pair have to test their desires for one another, especially when a division over faith emerges. Family obligations also come into the equation.
Raja Khan (Anurag Kashyap), Mike (Makrand Deshpande), Flower Seller (Geetanjali Kulkarni), and Anthony Pereira (Shishir Sharma) will have their voices heard.
In addition, viewers will get to hear other characters such as Kamala's Grandfather (Virendra Saxena) and Mrs D'Souza (Amandeep Jha).
Sixty artists over an 18 month period were working on this film, using computer frame-by-frame paint animation. Positively reviewing for Film Companion, Baradwaj Rangan writes:
"It's a beautiful film. Bombay Rose subverts not just Bombay cinema's storytelling, but also the implicit assumptions of Bombay cinema."
The official trailer for the film was put out via YouTube by Netflix Film Club on November 12, 2020.
Bombay Rose had a world premiere during International Critics Week at the 2019 Venice Film Festival.
Subsequently, it also had a screening at the 2019 Toronto International Film Festival as part of the Contemporary World Cinema section.
Bombay Rose will be coming out in 2021 and one should contemplate watching it on Netflix.
Watch the Official Trailer for Bombay Rose here:
Cobalt Blue
Cobalt Blue is a Hindi-English romantic drama, which is helmed by filmmaker and author Sachin Kundalkar. Sachin is the writer and director of the film, which also adapts to his 2006 namesake novel.
The film focuses on a traditional Marathi household, unravelling the strands of menage, societal and sexual relations.
The story is about a brother and sister who both start falling in love with the same man. As events unfold, they also defy conventional patterns, threatening to divide the family.
Prateik Babbar, son of late Smita Patel and Raj Babbar is playing the leading role in the film. On December 26, 2020, Pratiek went on Instagram to share a picture with Sachin, alongside a caption reading:
"happy birthday you precious human Mr Kundalkar, thank you for loving me.. for your patience.. your guidance.. & holding my hand through the most precious.. & special film of my career!..
"i love you #4ever ? we are #4ever ? cobalt blue"
Poornima Indrajith, Anjali Shivaraman, and Neelay form the main cast of the film.
Poornima who is the only Malayalam actress in the film will share screen space also with Geetanjali Kulkarni of Sir (2018) fame. She is making her Bollywood debut with this film.
The Director of Photography for the movie is Italian cinematographer Vincenzo Condorelli. In addition, this is a production of Open Air Films.
With the shoot wrapping in 2020, the film is ready to release in 2021.
Desert Dolphin
Desert Dolphin is a Hindi-English coming of age sports drama, which Netflix has the global distribution rights for.
Rural Rajasthan is the setting for this heartfelt narrative. The film revolves around teenager Prerna. Newcomer Rachael Sanchita Gupta is playing this lead character.
In the film, Prerna has a sense of direction in life after she gets to know about Skateboarding. Over time, as Prerna gets better at the sport, she has the determination to compete in the National Championship.
Having said that, she also has to face many challenges, which try to impede her passion and progress. Shafin Patel and Amrit Maghera are the other two newcomers in the film.
Bollywood yesteryears actress Waheeda Rehman and Jonathon Readwin also have key roles in the film. Waheeda known for the film Guide (1965) was quick to sign this film as she explains further:
"Before this, I hadn't heard much about skateboarding or seen a skate-park in India. But, when I heard the story and its unique concept, I felt so inspired that I immediately agreed to do the film.
"To my knowledge, this is also the first time in my career that I have worked with a female director."
Majari Makijany, the daughter of the on-screen villainous Mac Mohan (late) is the director for Desert Dolphin.
According to Netflix, Rajasthan has also felt the lasting impact of this film:
"Desert Dolphin Skatepark, located in a remote cluster of rural villages in Khempur-Mavli district near Udaipur (the city of lakes and palaces), was constructed for the film with the support of Indian and International skate volunteers.
"The skatepark remains free for public use with the aim of continuing the social impact such parks have on rural communities.
"It's one of India's largest and Rajasthan's first skatepark that is becoming a training ground for skaters from all over the country."
Besides India, the shooting of the film has also taken place in the USA. This is amongst the top Netflix Indian films releasing in 2021.
Freedom
Freedom is a drama film, with Netflix teaming up with excellent storyteller Dibakar Banerjee.
As director-producer of Freedom, Dibakar is known for working on Original Netflix anthology projects such as Lust Stories (2018) and Ghost Stories (2020).
However, this is the first time that Dibakar is directing a full feature film.
The film has a star-studded line-up. This includes Naseeruddin Shah, Manisha Koirala, Huma Qureshi, Kalki Koechlin, and Neeraj Kabi.
Netflix defines the interesting plot, with a description, which mentions:
"It is the story of an Indian family interwoven with the personal, ideological and sexual history of India and how desire plays a common role in each."
Dibakar in a statement went onto describe the concept of Freedom with context to the film:
"Freedom is the story of us regular middle-class folks. With family ties, parents, grandparents, children, loves, lies, and secrets lost and suppressed over generations.
"It's about food, ambition, sex, and betrayal. It's about what we hide and what we wear on our sleeves, and about a past and a future that we call India.
Moving away from stereotypical representations and his previous interventions, Deepak also appreciates Netflix for giving him the licence to express his creativity:
"As a filmmaker, I want to move away from cinematic stereotypes, and working on 'Lust Stories' and 'Ghost Stories' with Netflix gave me renewed hope about creative expression in India. 'Freedom' is the next step forward."
The Kashmir Monitor reports that various parts of the shooting have taken place in the beautiful valley.
Freedom is one of the most anticipated Netflix Indian films to release during 2021 on the widely popular online platform.
The Girl on the Train
The Girl On The Train is a crime mystery-thriller drama in the Hindi Language. Ribhi Dasgupta is the films' director, under the production banner of Reliance Entertainment.
The psychological film takes inspiration from the 2015 namesake novel by British author Paula Hawkins.
Bollywood actress Parineeti Chopra features in the lead role of Meera. She plays an alcoholic divorcee who gets entangled in an investigation about a missing person.
Meera takes matters into her own hands when realising something is not right about a house where she was once living.
The train she uses for her daily train journey to work passes this house. During her commute, she fantasises about the lives of a near-perfect couple who are residents of this house
As Meera gets embroiled, she also discovers more about her life, which has a changing impact.
Parineeti gave a statement about why she did this film and her unique character saying:
"I want to do roles that audiences haven't seen me in before and ones that require a lot of prep and homework, which is why The Girl On The Train really worked for me.
"The character is an alcoholic and a victim of abuse, and I haven't explored anything like her on-screen before,"
The film also stars Aditi Rao Hydari and Kirti Kulhari. Kirti is playing a British police officer in the film.
The main bulk of the shooting took place in the UK, particularly London for around seven weeks. This film was meant to release in May 2020. However, this Netflix original will come out on February 26, 2021.
Watch the Official Teaser for The Girl On The Train here: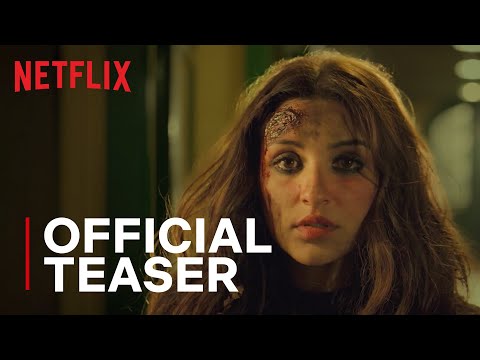 The buck does not just stop here, as other Indian films may release on Netflix in 2021. The Other is one of them.
The Other is an anthology film, courtesy of Karan Johan and his company Dharmatic Entertainment. The impressive cast of this film includes Shefali Shah, Manav Kaul, Nushrat Barucha, and Fatima Sana Shaikh.
Moreover, this anthology movie is bringing diversified people together to stamp their creativeness and uniqueness to the forefront. Furthermore, the final piece should be the perfect amalgamation, which will have relevance to many worldwide viewers.
So there we have it. Overall, fans can look forward to watching some intriguing Indian films on Netflix in 2021. These films will stimulate viewers and evoke various emotions.