"once I finish the scene, no one has ever cut it out."
Amazing writer and director Nasir Adeeb makes his return to Pakistani cinema with a new story for the forthcoming film, The Legend of Maula Jatt (TLOMJ).
Nasir Adeeb was born in Haveli Sialan, a small dera (settlement) of forty people near Sargodha on March 6, 1947. His father Ghulam Hussain was a farmer, with his mother Khatija Begum being a housewife.
As a young boy Nasir Saab resided with his parents, five sisters and two brothers.
After moving to Lahore in 1961, he earnt his first major break with the Punjabi cult classic, Wehshi Jatt (1975). Four years later he came up with the story for the popular film, Maula Jatt (1979), which went onto break many records.
The film had the unforgettable dialogue, Nawa Aya-e-Sohniya, along with the iconic expressions of Mustafa Qureshi.
And after 1996, Nasir Saab makes a come back with the much-anticipated film, The Legend of Maula Jatt.
In an exclusive conversation with DESIblitz, Nasir Adeeb candidly talks about TLOMJ.
Humble Beginning and Signing TLOMJ
Nasir Adeeb reveals his journey with The Legend Maula Jatt began approximately in 2015.
He was teaching Mass Communication at Punjabi University when he had a call from the ever so promising Ammara Hikmat, a female producer in Pakistan.
The reason for her call was to inform him about her intentions of making Maula Jatt part II.
Following an encouraging reply from the veteran writer, Ammara went onto enquire of his fees for writing the story.
He told her that producer Masood Butt gave him Rs 1,80,000 (£867) for the full script of Sakhi Badshah (1996). This was the last film, featuring late Pakistani actor, Sultan Rahi.
However, with a flexible creative working approach, Nasir Saab was more than happy for Ammara to decide any suitable amount.
He made an instant impression with Ammara, with his mature and honest response. Conversing with Nasir Saab, Ammara applauded him saying:
"You are the first person that I have had such a sincere conversation with."
Both left the call on a positive note, with Ammara telling him that a member from her production team will present an agreement and signing amount.
Nasir Saab states a few days later, after delivering a lecture to his students, he met Ammara's colleague Ali Raza at the university.
A seventeen-page agreement was put in from of him, which he began to sign without any hesitation.
Despite Ali requesting him to read the agreement first, the screenwriter had no reservations. He felt with him only writing the script, it was not such a big deal.
Similar to Ammara, Ali was taken aback by his humble behaviour.
Nasir Saab then had a quick glance at the signing amount, expressing that he saw figures showing a five with a few zero's. Believing the amount to be Rs 50,000 (£239), the writer was fine to go ahead.
Ali then handed over an envelope, containing the signing amount, which the writer put into his pocket.
Shortly afterwards when Nasir Saab opened the envelope he found 1000 rupee notes, amounting to Rs 1 lakh (£479).
It is at this point that he believed the agreement was, in fact, stating Rs 15,00,000 (£7200) and not Rs 50,000.
And so this is how his involvement with the film all started.
Rendezvous with Bilal Lashari and Narration
With Nasir Adeeb officially on board with the film, he met the director Bilal Lashari for the first time.
According to the writer, the two had an initial meeting at McDonald's, Main Boulevard in Lahore, Pakistan.
The brief given to Nasir Saab was that the story should be unique, be it with the same characters of the 1979 hit.
Subsequently, he began writing the story, which took him around a month to complete. The writer says he then made arrangements for visiting Bilal at his house to narrate the story.
The scriptwriter did pre-alert the director that he has a tendency to use inappropriate language when telling a story. Bilal was cool about this point.
Nasir Saab said he has always had a knack of reading faces when going through the story with someone. He made some interesting observations when narrating the story for TLOMJ to Bilal:
"During my 50-year film life, I was normally sharing my story amongst ten or twelve people. This was a unique session because I was narrating it to only one person for the first time.
"Also, Bilal had no real expression as I narrated the story uptill the interval."
However, after a slight pause, Bilal mentioned that he needed a few days to have a think about the whole story.
Whilst waiting to hear back from Bilal, Nasir Saab had another call from Ammara.
She explained to the writer that Bilal was not as familiar with Punjabi. Therefore, he may have had some issue comprehending the story.
But she reassured Nasir Saab that Bilal would call him in due course.
Final Shape-up and Shooting
Nasir Adeeb said at the all-important third meeting with Bilal Lashari, a decision was made that the two had to work closely together on the film.
Bilal reiterated that with his Punjabi limitations this was important, especially when reminding him of any dialogues and their meanings.
Additionally, when Bilal shared his plans for the story, Nasir Saab pointed out that both of them were actually on the same page:
"Bilal Saab whatever you have narrated to me is exactly what I had conveyed. The only difference being I had told you in deep Punjabi, whereas you have narrated in a more elite Urdu-English style."
Advising Bilal, Nasir Saab added:
"When we include this in the script, I will then discuss with you on how we can present this scene by scene through the language of film."
Nasir Saab admits their discussions went on for a year as they came up with the final story. With their collaboration, Bilal became like an equal shareholder in the story.
Thus, the story was by Nasir Adeeb and Bilal Lashari. Bilal was responsible for the screenplay, with Nasir Saab also given the title of dialogue writer.
Upon completing the script and the dialogues, the film went on the floors after three years. In contrast, Nasir Saab wrote Maula Jatt in three months.
When the shooting of the film began, Nasir Saab mentions he first recorded the scenes for the attention of Bilal and the main stars of the film.
Like Bilal, most of the main cast members were also alien to the Punjabi language.
Hence, most of them had to really work hard, especially on their Punjabi accents. Nasir Saab claims they were even calling him to find out the meaning of some dialogues:
"There was one dialogue, 'Mein Ethe Ver Viaan Aya Va, Runn Viaan Nai Aya.'
"I had a call from Fawad asking, 'Nasir Saab what is the meaning of this dialogue.'"
"I explained to him that Ver refers to enmity, whereas Runn means a woman. In other words, 'I have not come to marry any girl, but to take revenge."
Nasir Saab did not find teaching them as a challenge. This is because he had previous experience of teaching Punjabi to Urdu speaking actress Aasia (late) for Wehshi Jatt.
But the iconic writer was present on set to make any corrections. By the dubbing stage, all of them were near perfect
He acknowledges that all the stars gave him full protocol and respect for working very hard with them.
The film was made in Pakistan, with shootings taking place at the Shahi Qilla (Lahore), Sheikhupura Fort and Rohtas Qila (Jhelum). Three expensive sets were also specially designed for the film.
Story and Characters
Nasir Saab describes the film as a "beautiful action film, which everyone will enjoy."
He admitted that Wehshi Jatt was the inspiration behind it. Basically, he relies on the same formula, but with a completely different story.
For example Wehshi Jatt, Maula Jatt and The Legend of Maula Jatt all highlight the theme of Inteqaam (revenge).
However, TLOMJ does not continue from where the original had finished. When this film opens, the audience will not make huge comparisons with the old Maula Jatt:
"The characters are the same, but the story, sequence and everything else is different."
Nasir Adeeb also confirmed the respective roles that each artist is playing.
The line-up includes Fawad Khan (Maula Jatt), Mahira Khan (Mukhoo Jatti), Hamza Ali Abbasi (Noori Natt), Humaima Malik (Daaro Nattni), Gohar Rasheed (Maakha Natt) and Shafqat Cheema (Noori Natt's father).
In addition, Babar Ali plays Maula Jatt's father, with Resham portraying the mother of the title character.
Comedian Abid Kashmir' takes on the role of a 'pehalwan' (wrestler) in the film. The film also features an unnamed child artist who has performed remarkably in the film.
Nasir Saab was very impressed by the battling performances of Fawad and Hamza. He discloses that the audience will yet again see Noori Natt having the edge over Maula Jatt.
Nasir Saab references the gandasa as being quite symbolic with the character of Maula Jatt.
He tells us that in Wehshi Jatt, the ganadasa (historical weaponry bladed stick) acted as a form of protest for a poor man. And when the protest transformed into revenge, the film shows him using the gandasa.
In those days he says, the biggest weapons were the Bhalam (spear), Bharcha (pole) and Khulhari (Axe). Gandasa coming as a new addition was buried at the end of Wehshi Jatt.
In Maula Jatt, the gandasa became a highlight when Sultan Rahi took it out from the grave. Defining it as a symbol of Maula Jatt, Nasir Saab recalled the famous dialogue of the original.
"Baar Aa Gandaseya, Tere Bagher Jatt Adha Reh Gaya See."
In other words, to complete a Jatt, the gandasa plays an important role. This will be the case even in TLOMJ.
The Process and Dialogues
Nasir Adeeb confesses that the biggest challenge for him was to deliver another good script, having written the original. But thankfully, the gifted writer faced no real issue.
Nasir Saab says his routine for The Legend of Maula Jatt was no different to the days of Wehshi Jatt.
Operating always from the producers' office, Nasir Saab works according to his mood:
"I sometimes work 22 hours continuously. Sometimes I only work for one or two hours and leave it there. Sometimes I sit down to write, but get up, without writing a single word."
For TLOMJ, Nasir Saab would dictate to his assistant who logged everything into a computer. The writer would keep anything suitable in, whilst changing things that he was not happy with.
Speaking about being a one-man show during the writing process, he commented:
"I have never taken any advice when writing a script. The scene I create, I re-write myself. I write it myself and then dismiss it. Then I write it again and dismiss it again.
"At times it takes me three days to work on one scene. And once I finish the scene, no one has ever cut it out.
"Even Bilal did not cut out a single word. He did, however, ask for one word to be changed, as it would be difficult for some to understand. He told me, 'kindly simplify this word.'
"The word was from a dialogue picturised on Fawad."
The dialogues for The Legend of Maula Jatt are very different from the original. The legendary writer is of the belief that that the dialogues are according to each scene.
Nasir Saab divulges that Bilal Lashari acknowledged TLOMJ as having the best script and dialogues of all three films having watched Wehshi Jatt and Maula Jatt previously.
Impartiality and Copyright
Nasir Adeeb explains from the very outset he made a few things very clear to Bilal Lashari. Most important was that he will not shy away from the truth.
Nasir Saab alludes to the fact that he will always rightfully credit producer Sarwar Bhatti. This is for bringing the characters of Noori Natt and Daaro Natni to the original film.
Despite the Maula Jatt characters being similar to those of Wehshi Jatt, the writer feels that it was Mr Bhatti who had actually recommended to bring them back for the sequel.
Nasir Saab also made a point to Bilal that he would never speak ill of him even if insisted by others.
This certainly is a testimony to the honesty of this wonderful writer.
It is quite ironic, that during the making of TLOMJ, Mr Bhatti filed a case against the filmmakers for copyright infringement.
Despite Nasir Saab offering to mediate, the case became more serious between the two parties.
Throughout the case, Nasir Saab echoed the truth when questioned by lawyers. He thought it was his duty, to tell the truth, and the only the truth.
The case went on simultaneously to the shooting of the film. Then in early 2020, he received a call from Ammara Hikmat, conveying the good news:
"Congratulations Nasir Saab, we have come to a compromise with the makers of the original film."
With this settlement, Mr Bhatti withdrew his case. This paved the way for TLOMJ to release without any further issues or hurdles.
When asked about who had the rights of the original Maula Jatt, Nasir Saab replied:
"I am the original writer of Maula Jatt. Maula Jatt is a character of Wehshi Jatt. In fact, Sarwar Bhatti had initially given the original film, titles of Hath Jodi and Bhagga Bhatti.
"I am the one who took Maula Jatt to where Wehshi Jatt had left from, merging the characters.
"I am the creator of Maula Jatt, I am the writer of the film and the characters too."
It seems like Nasir Saab was definitely like a silent hero during this unfortunate legal saga.
However, he clarified that Mr Bhatti and his company Bahoo films had registered the original and its characters. This gave Sarwar saab legal ownership of the movie and its entities.
Healthy Relationship and Note of Difference
Nasir Adeeb was full of praise for Bilal Lashari, describing him as an "extremely good and compromising director."
The writer feels he never made an issue as a result of any ego. In fact, he was quite open once he understood any matter at hand.
Nasir Saab points out that there was only one issue where the two had a difference of opinion.
He cites this as his Ikhtilafi Note (note of difference), with Bilal opting to not include a song in the film.
The experienced writer had stressed to the director that audiences cannot imagine a Punjabi film without a song. He continued saying to him:
"There is a love for Punjab, be it in Heera Ranjha, Maula Jatt, Sassi Punnu, Mirza Jatt."
"Hence, in Punjabi films, music is a must. Even if it means having one song, featuring Mukhoo and Maula, dancing to a Punjabi song."
Nasir Saab firmly believes that the audience is going to love this super hit film, but will feel there should have been a song.
But the magical writer said that Bilal is sticking to his guns, feeling that there is no real need for a song.
Bilal's first film Waar (2013), an action thriller also was a box office hit and had no song.
However, Nasir Saab interprets the two films as being totally different. He feels superior technology, special effects and a terrorism theme had a major contribution to the success of Waar.
The writer had made room for two songs in The Legend of Maula Jatt, but they were taken out in the final amended script.
Despite the director's refusal, Nasir Saab continues to politely advise him to reconsider his decision. Is Bilal following a western formula with his films?
Well if Bilal has a change of heart, perhaps a small song can be made and act as an add-on feature. Who knows what we will get to see. Maybe fans will receive a totally different surprise.
Expectations and Release
Overall Nasir Adeeb compliments Bilal Lashari for presenting a fresh concept to a Punjabi film like The Legend of Maula Jatt:
"Bilal did wonders with this film, especially with the atmosphere created, the setting, and get up of the artists."
He is also happy with his efforts, having given everything. Realising the final result is not in his hands, he echoed the famous saying:
"Hum Oont Ka Godhha Band Sakhte Hai, Lekin Usko Chori Hone Se Rok Nahin Sakhte." [We can tie the leg of a camel, but we cannot stop it from being stolen].
Similarly, he gave another example, correlating with the coronavirus:
"We must take all precautions from COVID-19, but we cannot escape from corona if that be what the Almighty wills.
Despite his diplomatic nature, he is confident, especially as he holds a very long-lasting belief:
"Whenever there is the revival of the Pakistani film industry, it will happen with a Punjabi film.
"The film will be a hit after being made in Lahore."
Furthermore, Nasir Saab is hopeful of the film exceeding Rs one hundred crores.
It seems the writer is not just stopping at The Legend of Maula Jatt. He is writing the film Laal Jhandi for director Harris Rasheed. He is also writing Katarpur for director Hassan Malik. Both are big-budget Punjabi films.
Nasir Adeeb has done over 400 films, including several as a director, along with numerous writer credits. In 2019, he was honoured with the 'Pride of Performance' in recognition for writing the original Maula Jatt.
He is happily married with five children who are all well educated.
Watch Trailer for The Legend of Maula Jatt here: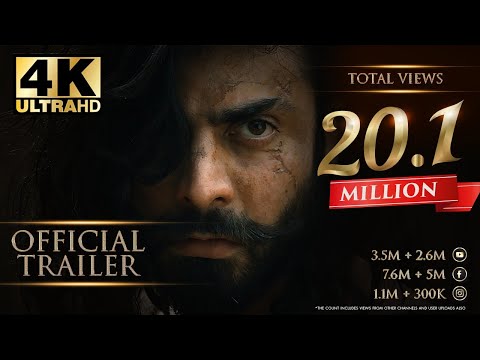 Meanwhile, The Legend of Maula will release once there is an exit strategy to COVID-19. The film will release in fourteen major countries, as well as to other parts of the world.
Besides Punjabi, The Legend of Maula Jatt will also be dubbed in Chinese and English. Subtitling is being arranged for many regions.