"It's been so fun to watch our diverse community celebrate with this owner."
Balbir Atwal, a Desi American convenience store owner, has won US$1 million (£700,000) for selling one of the three winning lottery tickets.
He was overjoyed with his new found wealth after the results of the record-high jackpot of US$1.6 billion (£1.1m) was revealed on January 13, 2016.
The 57-year-old owner of 7-Eleven in Chino Hills in Southern California said: "I didn't believe it and then I looked at it carefully again.
"I'm feeling very great, excited, and thanks to the customer who come here in my store and bought the ticket."
Balbir was presented with a cheque for his winnings on January 14 outside his store, which was packed with local residents celebrating the moment with free Slurpees and an Indian buffet.
The money will be shared between 7-Eleven Corporate and Balbir, although the exact amount is not yet known.
He wants to donate some of it to charities and use the rest for his family and employees.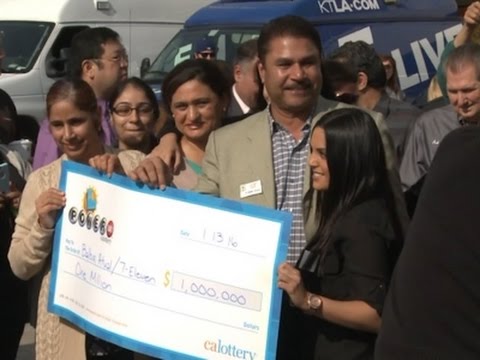 Balbir moved to the US from Punjab, India, in 1981 with little money and understanding of English, in search of the 'American Dream'.
He worked hard to provide a living for his family and eventually purchased four 7-Eleven stores, NBC Los Angeles reports.
Balbir was also one of the first few business owners to set up shops in Chino Hills when it became a city in 1991.
The city praises the Desi American for his contribution and describes him as a 'cornerstone' of the tight community.
Denise Catteren, the city's public information officer, says: "It's been so fun to watch our diverse community celebrate with this owner."
The owner of the winning ticket in Chino Hills has not yet been identified. The other two winners in Tennessee and Florida are also not yet known.
They have the option of collecting their money in one lump sum or through annual payments over 30 years.
Starting at US$40 million (£28m) in November 2015, no one has won the draw until January 2016 after a record 20 drawings.
The winning numbers are 4, 8, 19, 27, 34 and the Powerball number is 10.
The UK also welcomes the new year with a historic lottery jackpot at £66 million on January 13, 2016. A Scottish couple, David and Carol Martin, won £33m and plan to retire early and help flood victims.